Mint Condition
In Franklin Lakes, a good-enough master bedroom suite becomes an enchanting sanctuary in green and cream.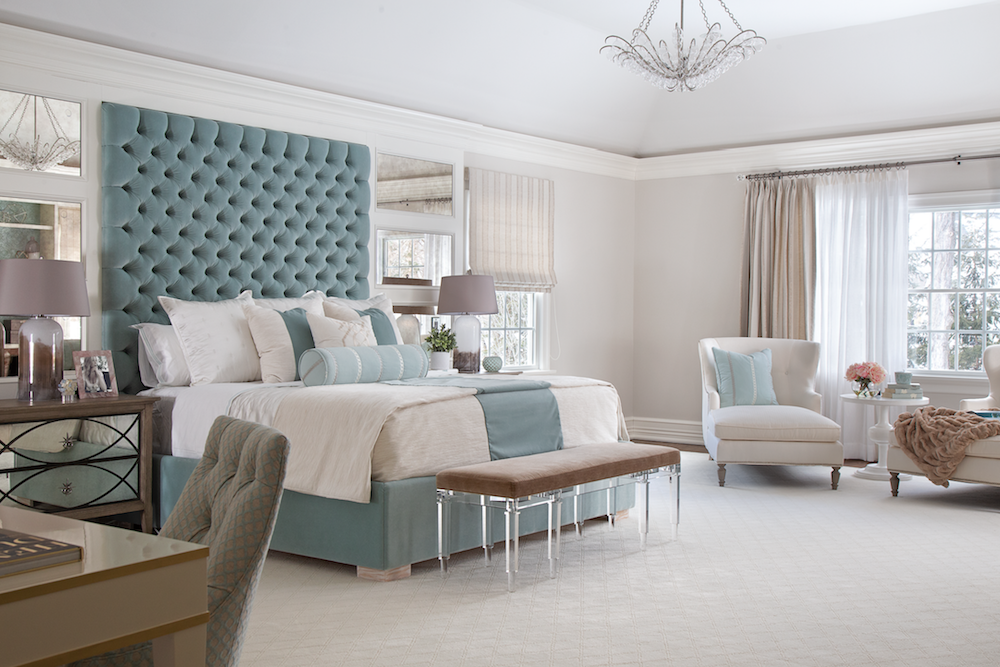 There was nothing really "wrong" with this Franklin Lakes bedroom before interior designer Jennifer Pacca of Jennifer Pacca Interiors in Hillsdale put her stamp on it. "It's a newer home, less than 10 years old, but it was plain," says Pacca. "It just had crown molding and base molding, painted sheetrock walls and the fireplace."
After a few years of living there, the homeowners, two busy physicians with three young children, were ready to change things up. They hired Pacca and her team to design their sitting room, family room and kitchen downstairs, and also the master bedroom suite—with a specific request: "They wanted a sanctuary, a place they could escape to for some quiet time," says the designer. The wife chose the mint green and cream color palette, but was otherwise open to Pacca's ideas.
And certainly a bedroom intended for relaxation had to have an abundance of seating options. Pacca and her team put a window seat next to the storage built-ins as a way to unify the wall. "The fireplace protruded so far out from the wall, I knew I wanted to do built-ins that alleviated that," Pacca says. "The window seat was a natural spot to add it and to tie everything together." Right across from it is another roomy lounge area with two chaises by Bernhardt Furniture and a side table by Redford House, where the couple can read or watch TV. A gold-rimmed desk and upholstered chair by Highland House, placed on the opposite wall, create a haven where the working parents can sit with their laptops and catch up on emails (and life).
Arguably the room's standout, though, is the custom bed. "We had panels created and then added mirrors inside the rectangles, which were carefully designed around the same size as the nightstands," Pacca explains. "Then we had our upholsterer, Iri Upholstery, create the tufted headboard and frame. We wanted it extra thick and luxurious." Made-to-order linens with a stripe down the middle "lead your eye up to that upholstered feature," and mint green wallpaper from York Wallcoverings strategically placed behind the bookshelf adds texture and brings in color from the bed.
The project took about six months, but the classic, clean aesthetic with well-thought-out details will undeniably take this husband and wife into their babies' teen years—and beyond.