Miss The Big Screen? Where To Go Now
Many cinemas were closed for the duration of the pandemic. But as COVID regulations loosen in New Jersey, independent theaters are reopening and giving us back the joy of movie-going.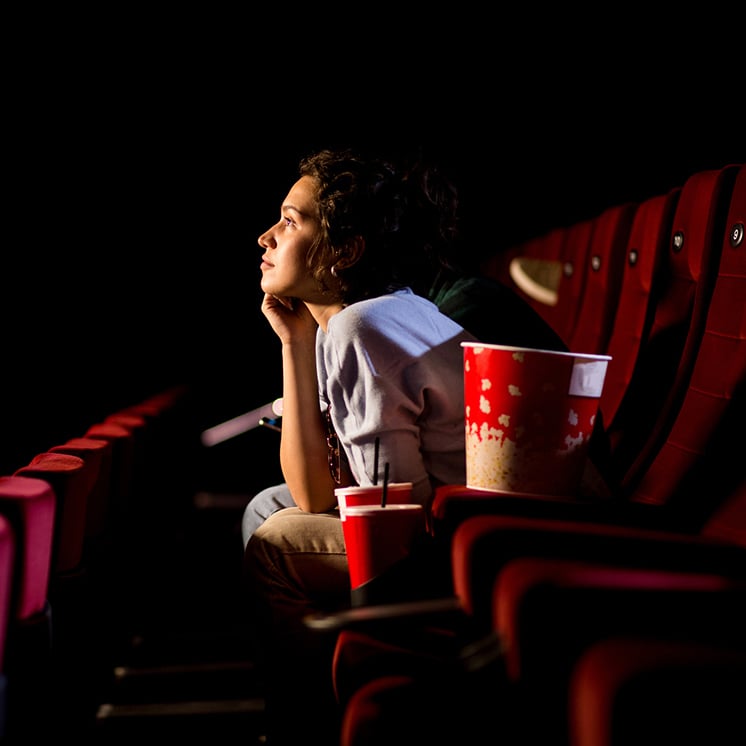 Like gyms, shopping malls and indoor eateries, movie theaters were on the list of things many people avoided during the peak of the pandemic. But with COVID restrictions loosening by the minute, vaccine roll-outs happening all across the state and masking mandates being lifted at most public places, many independent theaters in Bergen County and beyond have reopened for our movie-viewing pleasure—just in time for the summer blockbusters to hit. Unfortunately, a few independent cinemas recently closed for good, including Bow Tie Tenafly Cinemas, Ramsey Theater and Bergenfield Cinemas. Meanwhile, Teaneck Cinemas reopened in the fall of 2020, but has since closed again (hopefully temporarily) due presumably to low ticket sales.
But these four Bergen theaters below are back up and running in the post-COVID age. So, what can you expect at each one? Here are the films they're currently showing, how much they're charging, what COVID protocols they're following and more:
Center Cinemas at the Williams Center, Rutherford. Movies shown at this theater change weekly: on the schedule for June 18–24 is The Conjuring 3 and The Birthday Cake. There is a limit of seven people per group, as this theater is still operating at 50 percent capacity. Face masks and social distancing are also required for all customers, regardless of vaccination status. Admission pricing: $10 adults, $8 children/seniors for all showings before 6 p.m. Tickets can be purchased in advance on the Center Cinemas website.
*1 Williams Plz., 201.939.6969
Township Theater, Washington Township. This theater opened with a rebrand and new ownership in April, changing their name from Washington Township Cinemas to Township Theater. They're showing two films at a time on their three indoor screens—currently it's In The Heights and Peter Rabbit—and have also introduced drive-in screenings and concerts outside on Saturdays and Sundays (Cloudy with a Chance of Meatballs and The SpongeBob SquarePants Movie is on tap this weekend).
The theater installed a high-tech IWAVE air purification system throughout their HVAC system to kill contaminants in the air, and is following CDC guidelines when it comes to masking:  If you're vaccinated no mask is required, but those who aren't vaccinated are encouraged to wear a mask, especially if immuno-compromised. "We are planning on introducing live events too, including live music, live stand-up comedy nights, murder-mystery theater and Broadway reviews," says Laura Rose, who owns and operates the theater along with her husband, Dave Rose. "Our goal is to become an all-around entertainment destination." Admission pricing: $12 for adults, $11 for matinee, $11 for children/seniors, $10 on Tuesday nights, $25 per car for drive-ins. Tickets can be purchased at the box office 30 minutes prior to showtime.
*249 Pascack Rd., 201.497.3500
Warner Theater, Ridgewood. Peter Rabbit 2, The Quiet Place Part II and In The Heights are on the schedule all week at this local Bow Tie Cinemas franchise. Bow Tie Cinemas as a whole has instituted #Cinemasafe COVID protocols, including installing plexiglass partitions at all box office, concession and bar stations, increased cleanings and sanitization and required masking for those who are not vaccinated. Admission pricing: Prices vary for matinees vs. evening showings: adults are $11.50/$13.50 respectively, children are $10.50/$11, seniors are $10.50/$11 on the weekends or $7 for all showings on weekdays. Tickets are $7 for everyone on Super Value Tuesdays. Seating must be reserved in advance: purchase tickets at the box office, online at the Bow Tie Cinemas' website or via the Bow Tie Cinemas app for touchless ordering.
*190 East Ridgewood Ave., 201.444.1234
Westwood Cinema, Westwood. Reopened on Memorial Day Weekend, the art-deco inspired Westwood Cinemas, formerly known as The Pascack Theater, is screening a handful of new films across its six screens, including new releases such as Cruella, A Quiet Place Part II and The Hitman's Wife's Bodyguard. COVID protocols are in place, of course; expect spaced-seating between parties and plexiglass shields at the concession stand, for starters. Admission pricing: $12 adults, $9 children/seniors. Tickets can be purchased online at Fandango or in-person at the box office. P.S.: Call or check Fandango for movie times.
*182 Center Ave., 201.664.3200