Mix and Match
Combining opulent colors and various ethnic styles is one woman's passion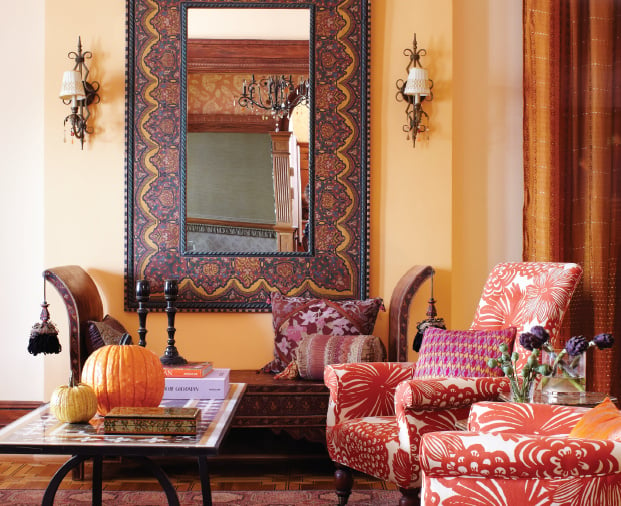 A self-proclaimed "real estate junkie," Carol Jafferjee—owner of two top home boutiques in New Jersey—happily found a diamond in the rough back in 2005, a run-down home on the banks of the Hudson River overlooking New York City. Location! Location! Not only were the views breathtaking, but the home's proximity to the city where her husband, Husein, works and to her two New Jersey shops also made the place perfectly situated.
Carol's keen sense for design and her experience in successfully renovating their former home eased her husband's hesitation. "As soon as I walked in, I knew this house had amazing bones and unlimited potential," she recalls. "I made mental notes of about a dozen things I would do to it—move walls, doors and the like—and I knew it would need all new electric, plumbing and a complete exterior face-lift."
A year later, the home was complete, infused with Jafferjee's unique sense of style, including her bold use of color and pattern. She'd successfully filled the home with everything that she loves and that she had collected over the years while traveling all over the world with Husein and their two children. The places she found most special and influential were India, Turkey, Portugal, Italy and Morocco. Like her shops, her home is filled with exactly what she likes.
"I'm often reminded of my grandmother and her philosophy of cooking, Jafferjee says. "'If you like all the ingredients, the finished dish has to be delicious.'" For Jafferjee, more is more. "I love color, texture and the sometimes unlikely pairing of styles from various countries," she says. "Sometimes, as was the case in the bathroom, one thing is the springboard for the entire room. I fell in love with the arabesque-shaped, cobalt blue tiles, and the room took on its style from there." The bathroom is a perfect example of Jafferjee's expertise in mixing and layering furniture and accessories from all corners of the globe, from the mother-of-pearl inlaid mirrors and vanities from Syria to the silver (nickel) chair from India.
Her bold choices produce stunning results.
For directions to and hours of Carol's shops (and for most of the furnishings and acc essories you see here), go to jafajems.com and fancythatmontclair.com.