Mom's Away
Mom will find peace and serenity—at least for a day or two—at these top-rated, relaxing spas across the U.S.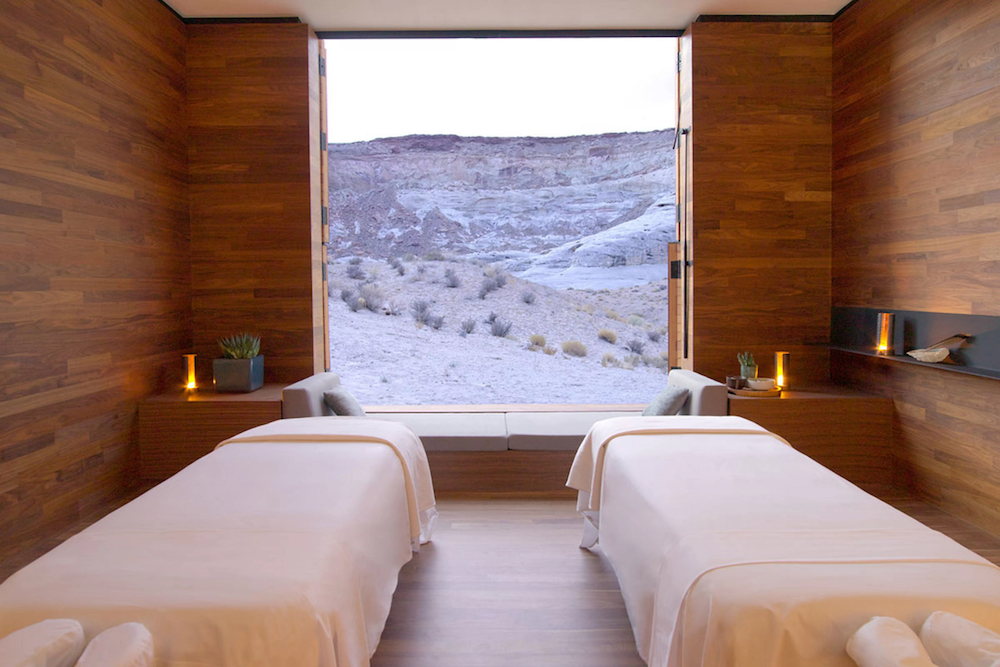 Most mothers will agree: It's almost never about them. Enjoying a morning cup of coffee, for instance, can't go without interruption by a child or spouse.But doesn't she deserve more than a cup of joe and 10 minutes of alone time? A spa getaway is the perfect gift for Mother's Day, whether she'd prefer to fly solo, invite her own mother or bring her gal pals along for some much-needed self-care. Here are five of the country's most luxurious and unique spas and resorts that will pamper mom long after the flowers have wilted.
AIRE ANCIENT BATHS NEW YORK, New York City
In the city that never sleeps, AIRE Ancient Baths New York is a dream. Located inside a historical building in downtown Tribeca, this indoor oasis specializes in baths and treatments inspired by the Roman, Greek and Ottoman empires, including Holistic, Argan and Himalayan salt rituals and tons of different massages. All treatments come with entry into the six thermal baths and steam room with aromatherapy. Did we mention they have a "Wine Bath" too?
THE SPA AT WOODSTOCK INN & RESORT, Woodstock, Vermont
Whether you prefer to enjoy your self-care indoors or out, this New England resort and spa is worth the visit. Like the quaint Vermont town it's in, the spa services blend traditional and modern techniques. The extensive menu of treatments includes many customizations for massages, facials and other body therapies. After your treatment, take a plunge in the pool, find sanctuary in the Great Room, warm up in the Scandinavian sauna or contemplate life in the all-seasons outdoor courtyard. It's about you, mama. Enjoy it to the fullest!
LAKEHOUSE SPA AT LAKE AUSTIN SPA RESORT, Austin, Texas
You'll feel like a brand new woman at this destination resort. Consistently ranked among the best spas in the country, this lakeside hideaway in the Texas Hills is worth the flight. The 25,000-square-foot facility offers treatments derived from Eastern medicine that promote renovation in both mind and body. Revel in any one of its restorative spa or wellness treatments, like facials and body wraps—there are more than 100 treatments from which to choose—and enjoy lunch afterward at the elegant Aster Café. All their services can be booked for groups too, should you want to bring your friends along.
THE SPA AT FAIRMONT GRAND DEL MAR, San Diego, California
In addition to an array of comprehensive spa treatments, The Spa at Fairmont Grand Del Mar offers yoga and fitness classes, relaxation lounges with fireplaces, indoor whirlpools and weekend wellness retreats focusing on mindfulness. Relax in any of the Mediterranean-inspired estate's 11 treatment rooms while indulging in an illuminating facial, a soothing stone massage, herbal reflexology, or body scrub. Should you want to leave the spa looking as good as you feel, you can also book a blowout or mani/pedi.
AMANGIRI, Canyon Point, Utah
Located in the heart of Utah's Grand Circle, Amangiri is a secluded modern resort built among outsized, majestic rock formations and surreal desert vistas. This is for those who want a treatment room with a serious view. Unique offerings such as the Oxygen Facial Amangiri Signature were designed around the four elements of earth, wind, fire and water and reflect the healing traditions of Navajo Native Americans. The spa also specializes in massages, scrubs, wraps and flotation therapy, and boasts on-site wellness coaches, a yoga pavilion and a reflection pool, all with stunning desert views that will make your family back home jealous.