Monmouth Annual Guide to Delicatessens
Got a sudden craving for a sandwich made of an entirely unreasonable super-stack of flavorful meats, pungent cheeses, lettuce, tomato and condiments galore?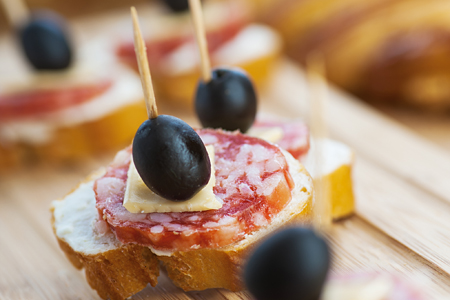 Fortunately, the deli tradition thrives in Monmouth County, and you've got many outstanding choices, from the Shore to the middle of the state. Check them out below.
A&S Salumeria
480 Route 33 West
Millstone
732.792.7050

AJ's Deli
555 Shrewsbury Ave.
Shrewsbury
732.842.5009

Aleo Italian Specialtie
642 Newman Springs Rd.
Lincroft
732.747.0111

Asbury Park Deli
11 Atkins Ave.
Asbury Park
732.776.7715

Bagel Guys Deli
75B Brighton Ave.
Long Branch
732.229.0100

Bagelicious Café & Gourmet Deli
508 Cliffwood Ave.
Aberdeen
732.566.5777

Beckman's
704 Tenth Ave.
Belmar
732.556.6166

Bing's Deli
222 Main St.
Avon-by-the-Sea
732.988.6746

Brennan's Delicatessen
70 Monmouth Rd.
Oakhurst
732.229.8890
44 West River Rd
Rumson
732.530.0302

Carluccio's Heros
184 Route 9 North
Marlboro
732.617.2227

Citarella's Meats & Deli
57 Prospect Ave.
Red Bank
732.741.9059

Colts Neck General Store
38 County Rd. 537 West
Colts Neck
732.462.5185

The Country Store & Deli
454 Route 3
Millstone
732.446.2098

Dearborn Market
2170 Route 35
Holmdel
732.264.0256

DeMarco's Catering
& Gourmet Deli
1121 Route 34
Aberdeen
732.566.2112

DJ's Delights
620 Mattison Ave.
Asbury Park
732.869.1100

Elsie's Sub Shop
74 Monmouth St.
Red Bank
732.741.7682

Enzo's Deli
281 E. Main St.
Oceanport
732.542.5010

E Street
1818 Route 35
Wall
732.280.7300

Fairwinds Deli
798 River Rd.
Fair Haven
732.842.5030

Frank's Deli
1406 Main St.
Asbury Park
732.775.6682

Fred & Murry's Gourmet
Kosher Delicatessen
4345 Route 9
Freehold
732.462.3343

Grateful Deli
541 Main St.
Loch Arbour
732.686.1028

Grossman's Deli & Grill
2005 Route 35
Oakhurst
732.531.4709

Hazlet Train Station Deli
640 Holmdel Rd.
Hazlet
732.264.0176

Jerry and Harvey's Old Fashioned
Brooklyn Noshery
96 Route 9
Englishtown
732.972.1122

Jersey Shore Deli
613 Hope Rd.
Eatontown
732.544.8838

Joseph's Delicatessen
516 Warren Ave.
Spring Lake
732.449.1412

Locals Deli
91 E. River Rd.
Rumson
732.842.8745

Lucky 7 Deli
1017 Route 36
Union Beach
732.739.9777

Main Street Deli
240 Main St.
Keansburg
732.471.0040

Mike's Dairy & Deli
160 First Ave.
Atlantic Highlands
732.872.8743

Mike's Deli
2381 Route 34
Manasquan
732.528.5788

Milkbox Deli
771 Route 34 & Middlesex Rd.
Matawan
732.583.4344

Monmouth Clubhouse Deli
825 W. Park Ave.
Ocean
732.493.8002

Neptune Deli
1528 Monroe Ave.
Neptune
732.502.3221

Nicasia's Deli
253 Main St.
Keansburg
732.495.9450

Nino Jr's Italian Specialties
2005 Route 35
Oakhurst
732.531.6644

Pat's Little Deli
1011 Route 70
Brielle
732.528.0853

Richard's Deli
155 Brighton Ave.
Long Branch
732.870.9133

Rosario's Deli
3257 Route 9
Freehold
732.431.1411

Sal's Original
1075 Broad St.
Shrewsbury
732.460.0166

The Sand Witch Shop
71 Waterwitch Ave.
Highlands
732.872.4150

Seabreeze Deli
111 Route 71
Spring Lake Heights
732.449.8118

Slater's Deli
866 Route 36
Leonardo
732.291.3466

Stonebridge Bagels & Deli
1278 Yardville-Allentown Rd.
Allentown
609.738.3222

Strokers Deli & Subs
566 Broad St.
Shrewsbury
732.842.4292

Taliercio's
544 Route 35
Middletown
732.576.1888

Tinton Falls Deli
1191 Sycamore Ave.
Tinton Falls
732.544.9760

TJ's Dockside Deli
226 W. Front St.
Keyport
732.497.0555

Tom Bailey's Gourmet Market
1323 Third Ave.
Spring Lake
732.282.0920

University Subs & Deli
142 Wall St.
West Long Branch
732.222.0537

Valente's Italian Deli
2100 Belmar Blvd.
Wall
732.681.1896

Willow Deli
290 Willow Dr.
Little Silver
732.741.9224

Zaitooni Deli
11 Mechanic St.
Red Bank
732.842.4400