Monmouth Medical Center Performs 2000th Robotic Surgery Procedure
A milestone in robotic surgery.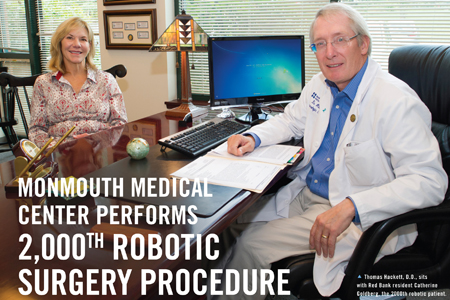 Monmouth Medical Center recently reached a milestone in robotic surgery when gynecologic oncologist Thomas Hackett, D.O., performed the hospital's 2,000th robotic surgical procedure.
Fittingly, Dr. Hackett was among the first surgeons who pioneered robotic surgery at Monmouth when it was introduced in 2006. Monmouth Medical Center was the first hospital in Monmouth County to offer patients the option of robotic hysterectomy, and as a result of this new technology, a majority of hysterectomy patients, like Red Bank resident Catherine Goldberg, are being discharged home post-op on Day 1. Many are reporting that they have not needed pain medication upon discharge.
The 2000th robotic patient, Goldberg underwent surgery on August 30 to treat uterine cancer. She was discharged after just one night in the hospital, and called the care she received from Dr. Hackett and Monmouth Medical Center excellent.
"The surgical procedure as well as the post-operative recovery has been relatively seamless, and the care I received throughout my entire stay, from admission to discharge was excellent," she said. "A nurse by profession, I certainly can speak to excellent care, and I feel that my surgery and the outcome as well as the care I received from the entire staff, are two mutually important aspects of the excellence of the care at Monmouth. I know folks who default to New York City for their surgery based on the reputation of a surgeon, but they may or may not receive the best bedside care in that hospital."
Initially concerned surgery would prevent her from traveling to Europe in October, she notes that she was back to feeling like herself in days and looks forward to accompanying her husband, Daniel Goldberg, M.D., a refractive surgeon who is a pioneer of LASIK surgery and an accomplished corneal and cataract surgeon, to a lecture he will deliver in Amsterdam.
Dr. Hackett notes that patients who choose robot-assisted hysterectomy over traditional surgeries are released from the hospital sooner, experience less pain, blood loss and scarring, return to their regular routine quicker and have fewer infections and other post-surgery complications. The Chief of Gynecologic Oncology for Monmouth Medical Center, Dr. Hackett is a recognized expert in the field of robotic surgery.
Monmouth Medical Center is the only hospital in the region to employ two surgical robots and the latest technology for minimally invasive complex procedures in adult and pediatric urology, gynecology and general and thoracic surgery. Its highly skilled experienced team of surgeons utilizes groundbreaking robotic technologies to perform innovative procedures and yield better results than traditional surgery. Robotic surgery offers patients many benefits, including quicker healing time, less blood loss, lower risk of infection and shorter hospital stays.
"This is a significant milestone, as we've seen firsthand how patients are benefiting from this minimally invasive alternative to traditional surgery," said urologist Michael Esposito, M.D., who with urologist Pierre Mendoza, M.D., serves as medical co-director of the Institute for Robotic Surgery at Monmouth Medical Center "We feel it's important for patients to understand the benefits of choosing an estalished program like the Institute for Robotic Surgery at Monmouth."
Using the most advanced technology available today, robotic surgery enables surgeons to perform delicate and complex operations through a few tiny incisions with increased vision, precision, dexterity and control. The robotic surgical system consists of several key components, including an ergonomically designed console where the surgeon sits while operating, a patient-side cart where the patient lays during surgery, four interactive robotic arms, a high-definition 3D vision system, and proprietary EndoWrist® instruments. It is powered by state-ofthe- art robotic technology that allows the surgeon's hand movements to be scaled, filtered and translated into precise movements of the EndoWrist instruments working inside the patient's body.
Groundbreaking Robotic 'Firsts'
Monmouth Medical Center's surgeons have performed some of the region's groundbreaking robotic "firsts," including:
• Robotic Gall Bladder Removal through Belly Button (single-site cholecystectomy) of a 44-year-old Ocean Grove resident Jennifer Wells performed by Mark R. Schwartz, M.D., a board-certified general surgeon at Monmouth Medical Center. Using a single one-inch incision hidden around the patient's belly button, Dr. Schwartz used robotic technology to successfully detach and remove the gallbladder. Following the procedure, the patient has a barely visible scar coming out of her belly button. Traditional surgery would have required a six-inch incision just below the rib cage, as well as a much longer recovery period and more scarring.
• Robotic assisted lobectomy was performed to remove part of the lung on 75-year old Red Bank woman with early stage lung cancer. She resumed normal activities two weeks following surgery. The surgery was performed by thoracic surgeon Loki Skylizard, M.D., Chief of Thoracic Surgery, Director of Minimally Invasive and Robotic Thoracic Surgery and Director of the Thoracic Surgical Oncology Program. The robotic system allows surgeons better visualization and improved fine motor skills in a very small space, whereas traditional surgery to treat lung cancer – thoracotomy or Video-Assisted Throcoscopic Surgery – requires one large incision or several incisions and exposes a large portion of the lung. The robotic lobectomy may result in significantly less pain and trauma for patients.
• Urologist Pierre Mendoza, M.D., performed the first partial nephrectomy in New Jersey for a patient with kidney cancer using a new near-infrared fluorescence imaging guided system available on the da Vinci Si Surgical System. The specially designed camera and endoscopes enable surgeons to capture images of tissue and surrounding blood vessels by injecting a unique fluorescence dye that is activated by near-infrared light. Monmouth Medical Center is among a select group of hospitals in the country to first utilize this revolutionary technology.