Mother and Daughter Makeover Challenge
It's the moment you've been waiting for! After five months of fitness training, nutrition advice and cosmetic treatments, we present the "new and improved" Janet and Samantha Kilroe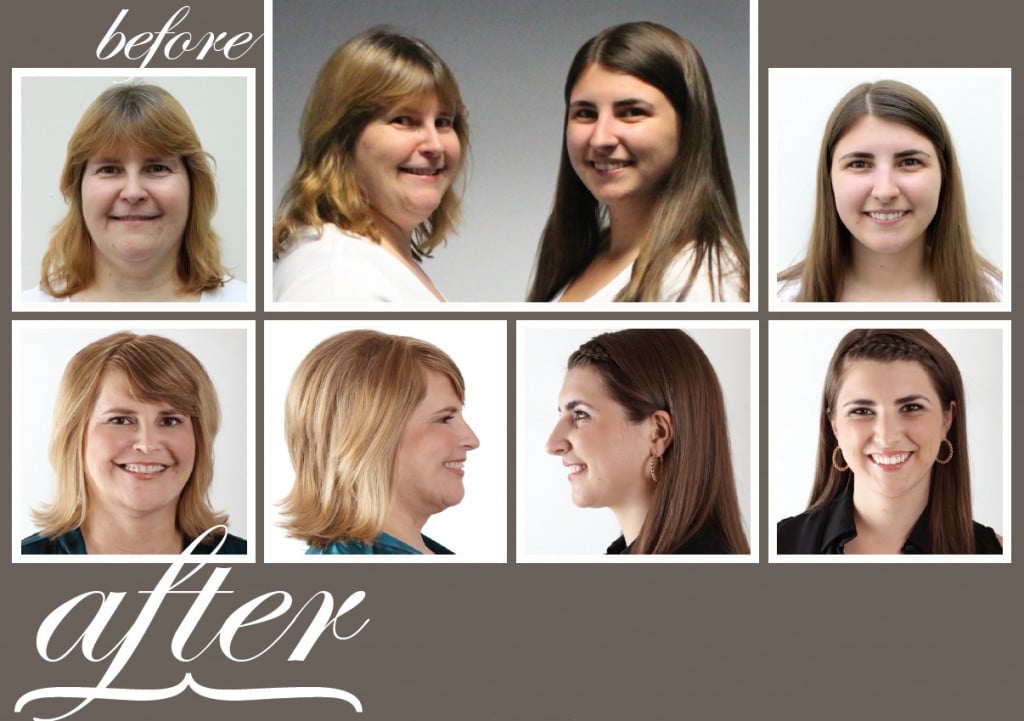 It's been about five months since Janet and Samantha Kilroe were named the winners of our second annual Mother/Daughter Makeover Challenge contest. Upon hearing the news, Samantha told us: "I was filled with so much joy as I realized how this incredible opportunity could change our lives. I have never in my life seen my mom truly excited about something."
Over the next five months, the pair worked closely with our group of talented and knowledgeable advisers, including two fitness trainers, a nutritionist, a plastic surgeon, a cosmetic dentist, an esthetician, hair and makeup stylists and fashion and accessory experts. "Talk about feeling like a million dollars—this was a wonderful memory that will never be forgotten," says Janet.
The path to reclaiming your health and wellness is never an easy one, but for this pair, the "challenge" aspect came quite literally—the Kilroes faced a major medical setback and a family loss during the process: In July, Janet had to undergo surgery to have her thyroid removed, and in October Janet's mother, who had been ill since June, passed away. "Mom got to see a sneak preview of our pictures before she left us—we are grateful for that," says Janet.
But even when facing tragedy, the Kilroes remained strong, working diligently toward their goal. "This is really an important aspect of the process because life is full of obstacles and we want to make this change a permanent part of our lives, which means continuing on despite bumps in the road," says Samantha.
FITNESS AND NUTRITION
The Kilroes spent each week at Ethos Fitness & Spa completing both cardio exercises and strength-training workouts under the direction of personal trainers Elena Lebedeva and Molly Throdahl and received guidance on their diet from a nutritionist. "I have been training people for more than 10 years, however with Janet, I learned from her," says Lebedeva. "She never complained and has tremendous willpower. I gained a good friend for life." By the end of the process, Janet had lost 10 pounds, increased her muscle strength by 20 to 30 percent and increased her stamina by 100 percent.
Samantha was diligent in sticking with her fitness plan, but became frustrated when the scale showed her weight was stagnating after an initial loss. "We checked her fat percentage and found that her lean mass was increasing and fat mass was decreasing," says Throdahl. "Even though she her weight plateaued, she was leaner and stronger due to an increase in muscle!" Overall, Samantha lost 14.2 pounds of fat.
FACE AND BODY
Both ladies received one-on-one face time with H. William Song, M.D. For Janet, Dr. Song performed Botox and facial fillers in addition to Ultherapy, a nonsurgical lifting procedure, on her jawline. He also treated her jawline and her abdominal area with SmartLipo, which reduces fat and is less invasive than traditional liposuction. "Every woman needs a Dr. Song in her life," says Janet. "He gives you a whole new you—someone you don't mind smiling at in the mirror every morning." Samantha underwent laser hair removal on her underarms and received a treatment to improve skin texture on her arms.
"Its always fun to see the transformation occur mentally as well as physically," says Dr. Song. "Samantha and Janet should use this opportunity to remember to take time for themselves."
DENTISTRY
Richard Bucher, D.M.D, F.A.G.D., of Laser Dentistry of North Jersey helped to improve Samantha's and Janet's smiles by performing laser whitening procedures. Janet also received a crown on a tooth that had several cavities and was given clear braces to realign her teeth in six months, a technique called a "Six-Month Smile," which Dr. Bucher specializes in. "The dental work he did will keep my pearly whites healthy for a long time," says Janet. "A visit to the dentist has always been stressful for me but when going to him, I can leave the stress at the door and be confident I'm receiving the best care available."
Samantha received a bridge replacement and had a lingering baby tooth removed, a process that frightened her initially but was surprisingly pain-free. "I may actually be over my fear of going to the dentist," she says. In the end, both Samantha and Janet were all smiles. "I've noticed they've become more confident and outgoing since I first met them," says Dr. Bucher.
MAKEUP/HAIR
Once all their hard work was complete, the ladies were ready for their close-up during a glamorous photo shoot. But first they needed the finishing touch: a new look courtesy of Daniela Musano (makeup) and Brenna Drury (hair) of Araya Rebirth. Drury layered and lightened Janet's hair to create a look that was both chic and easily maintained. For Samantha, Drury added long bangs and layers, applied a glaze and braided the front of her hair to create the illusion of a headband. Musano discussed with both women the best colors for their complexions and gave them tips on creating a day-to-evening makeup look. "I love to show women how even just a little bit of makeup can enhance their confidence, beauty and most of all sense of self," says Musano. "Being a girl is fun, and we deliver that message from start to finish with the Mother/Daughter Makeover Challenge!"
FASHION
Before the final photo shoot, Sue Bahng of Ginger N' Cream met with the Kilroes to discuss clothes and accessories that would best complement their personalities and newly toned figures. "We picked something for Samantha that was youthful and different from her normal, everyday wear," says Bahng. "We chose a blouse that was slightly longer, which elongated her legs, and highlighted her waist with a simple thin belt. "For Janet, we wanted to make her appear elegant and polished. The outfit was something that accentuated her beautiful eyes and framed her face. The silkiness of the blouse paired with a slim pencil skirt made a perfect combination for a feminine silhouette."
LOOKING AHEAD
Now that the process is complete, both Samantha and Janet plan to stick to their new, health-centric lifestyle and feel that they have been given the tools they need to succeed in their goal to keep moving forward. "This experience has changed our lives in ways that words cannot describe," says Samantha. "It's helped me to feel much more confident and comfortable with who I am. I have never seen my mom so positive, both about herself and about life. The sponsors have all been outstanding. They truly care about us, and that has made the process so much more amazing! It makes me so happy to look forward and see a brighter, healthier, happier future."
Laser Dentistry of North Jersey
Richard Bucher, D.M.D., F.A.G.D.
9 Post Rd., Oakland
201.337.9496
laserdentistrynj.com
Omni Health Professionals
H. William Song, M.D.
12 Terhune St., Oakland
201.368.3800
omnihealthpro.com
Araya Rebirth
10 Garber Sq.
Ridgewood
201.445.7005
araya-rebirth.com
Ethos Fitness & Spa
85 Godwin Ave.
Midland Park
201.251.4500
ethosfitness.com
Ginger N' Cream
350 Center Ave.
Westwood
201.664.2440
Related Read: The Best and Worst Foods for Weight Loss