Mountain High
Snow tubing is just one of the thrills that await at the recently upgraded Mountain Creek Ski Resort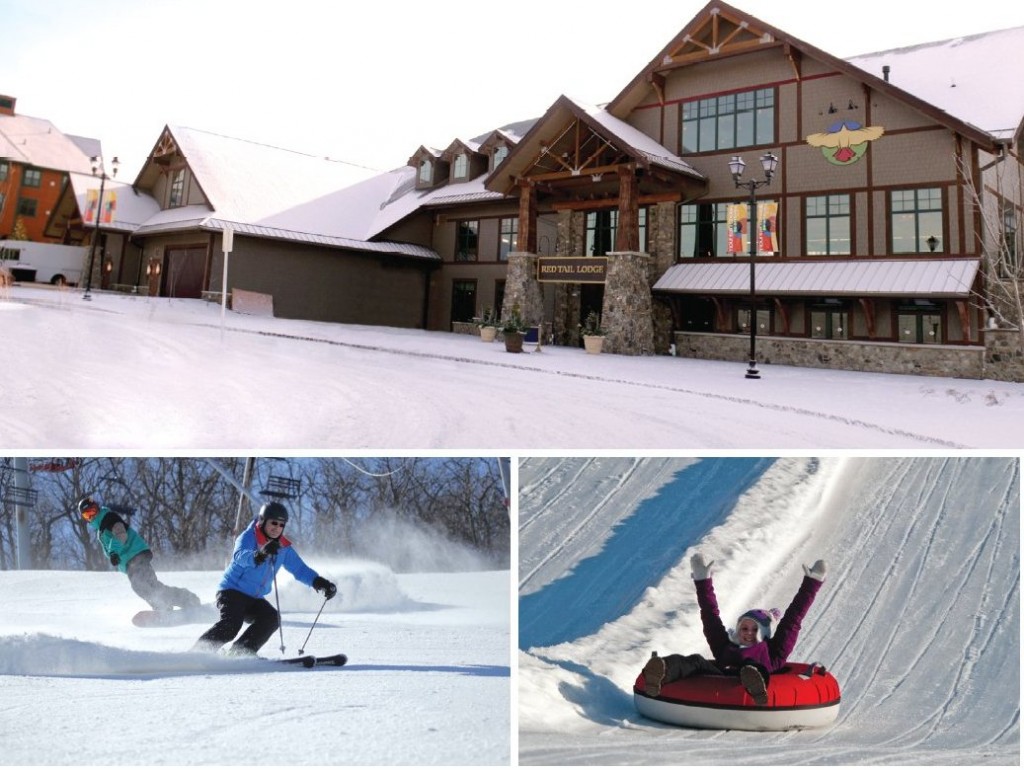 GETTING THERE:
MOUNTAIN CREEK
200 Route 94, Vernon
973.827.2000, mountaincreek.com
Drive time: about 1 hour
As I stood at the top of the hill with the long, wavy track stretching down to the bottom before me, I thought, "What have I gotten myself into? I'm too old for this!" But I dutifully sat on my tube and prepared to be launched down the hill at Mountain Creek's new Drop Zone Snow Tubing Park. Soon I was sliding, spinning, practically flying down the hill, which was exhilarating and terrifying all at once. I fi nally came to a stop. I had survived. And I was smiling! I looked over at my daughter Caitlin in the next lane, and she was grinning from ear to ear. "Let's go again!" she yelled. So we grabbed our tubes and stepped onto the Magic Carpet, which took us back to the top of the hill in a very civilized fashion. This isn't sledding in your local park. This is tubing taken to new levels.
The new tubing park is part of a $20 million upgrade that Mountain Creek ski resort has made since merging with Crystal Springs Resort in the spring of 2010. New features include a 55,000-square-foot base lodge; an automated ski and snowboard rental system; a revamped learning area; two BagJump air bags, which allow daring riders to try a big jump without the hard-landing consequence; and a Mountain Coaster, which was just completed this past summer.
On the ground floor of the new rustic-chic Red Tail Lodge are the ticket area, rental center, locker area, a retail shop and a coffee bar serving Starbucks drinks. Under a soaring ceiling on the main level you'll fi nd a cafeteria-style restaurant and eating area, a bar tucked into a corner by a large fi replace, and a fine dining restaurant called The Hawk's Nest. Another table-service restaurant and bar, Schuss, is on the third-floor mezzanine. Outside on the patio is the Biergarten, which was packed when I visited on a fairly mild day last February.
The lodge makes day trips to Mountain Creek a pleasure, but for those who want to stay overnight, The Appalachian offers slopeside lodging right at the base of Vernon Peak. The studio and one- and two-bedroom units come with kitchens and gas fireplaces, and the hotel features a heated outdoor pool and hot tub, heated underground parking, ski/board storage lockers, a family game room and a fitness center.
During my stay, the restaurant at the hotel was under construction, so Caitlin and I walked over to the lodge to have dinner at The Hawk's Nest. The décor there is casually elegant with distressed wood tables, high-back leather chairs, a large stone fireplace and four huge antler chandeliers. It was a treat to sit and watch the skiers coming down the mountain (the resort offers night skiing) as I enjoyed a giant Bavarian pretzel and a perfectly cooked and well-seasoned rib-eye steak. Then I dove into the homemade cinnamon donuts for dessert because heck, I'd been skiing all day. Surely I'd earned dessert! I'm not sure how many of the 167 acres of terrain I covered during my day on the mountain, but even if I hadn't burned off the calories, the splurge would have been worth it.
Related Read: A Tranquil Hudson Valley Resort