My Evening with Rachel Zoe
One of our writers meets Rachel Zoe, celebrity stylist and reality star.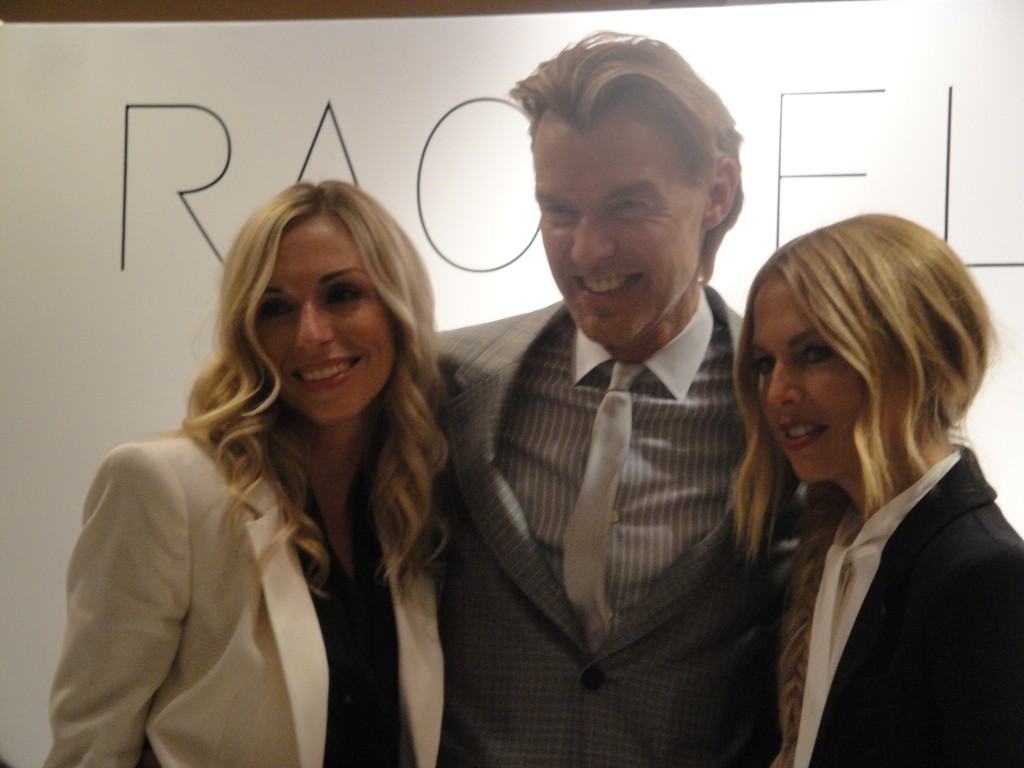 As I shimmied into a pair of Rachel Zoe ivory tuxedo pants, my back was to the dressing room door. At that moment I heard a voice that I would recognize anywhere. "I literally thought that I was looking at myself, but not in a narcissistic way," said the voice. I spun around quickly (I swear I have never moved so fast), and there she was—Rachel Zoe! She was so tiny and even more beautiful in person. I was completely in awe (and tongue-tied)!
If you're not familiar with Rachel Zoe, she is the Martha Stewart of the fashion world. She is a personal stylist for celebrities such as Kate Hudson, Demi Moore and Cameron Diaz. She stars in her own reality series, The Rachel Zoe Project, on Bravo. She also consults for Piperlime.com, has written a book, Style A to Zoe: The Art of Fashion, Beauty and Everything Glamour, and is my idol. We look very similar, and I like to think of myself as the "suburban Rachel Zoe." That's my dream, anyway. I am a personal stylist, author of the blog "by Allison" and the fashion editor for Bergen Health & Life magazine!
For someone in my line of work, Rachel Zoe is quite an inspiration. She did not have any formal fashion training, and through sheer talent and motivation, she has become a household name. Her most recent accomplishment is the Rachel Zoe Collection—a contemporary line of clothing, shoes and handbags. Which leads me to how I came to be standing in the same dressing room with my idol…
On a whim, this past July I entered the Neiman Marcus "Oh So Zoe" Challenge. It was an interactive contest held on Neiman Marcus' Facebook page. Anyone could enter the challenge; you just had to "like" Neiman Marcus on Facebook. This contest was held to promote the debut of RZ's collection. The prize was to meet RZ and Ken Downing (the fashion director of Neiman's) at the store in Beverly Hills! Oh, and I forgot to mention that the winner was also to receive a $2,500 gift card! To enter, I had to style a virtual ensemble with pieces from her fall line and fill out a Mad Libs-style paragraph using well-known "Zoe-isms."
I turned in my entrée, daydreamed of winning, and then it was time to get back to reality. I put the contest out of my mind until one Thursday evening in late July (the 28th to be exact). I checked my e-mail and "You are a Rachel Zoe Finalist" popped up in my inbox! I was speechless to say the least. I had to send in my contact information and was told that someone would be in touch soon. Soon? How long is soon? I agonized until the following afternoon when I received another e-mail on my phone that read, "You are the Rachel Zoe Winner!"
"No way," I mumbled to myself and put the phone down. Then the excitement started to flow through me. "Oh my God, oh my God…" started running through my head as I quickly picked up my phone to read the full e-mail. There wasn't much to the message. It consisted of two sentences telling me that Rachel Zoe selected my entry and my contact would be in touch soon. At that point, I started jumping up and down, screaming! Of course the next thing to run through my head was, "What am I going to wear?!"
For the next few weeks, my head was in the clouds. Let's just say that it was very hard to concentrate on anything knowing that I was going to be in Beverly Hills soon. My excitement came to a head the night before my flight. I finally received my itinerary for "my big day." I was to report to the store at 3:30 p.m. sharp. I would have my hair and makeup done, after which I was to have a styling session with Ken. Rachel would then join us for a bit before the start of a casual presentation of her line (she and Ken would discuss the pieces from her collection as those fashions were modeled for the attendees). Cocktails and a chance for all of the attendees to meet Rachel and Ken would conclude the evening.
The morning of the big event, I woke up feeling jittery/anxious/excited. You would have thought that it was my wedding day. Greg, my husband, and I decided to get out and take a walk. The funniest part was that he was just as nervous as I was. In a situation like this, what else is there to do than hit Rodeo Drive? After some window-shopping and breakfast at Tiffany's, we headed back to the hotel. Before I knew it, we were headed up the escalator to the third floor of Neiman Marcus (where they were setting up for the show), and there was Ken!
Ken Downing is fabulous! He is the fashion director of Neiman Marcus, an influential person in the world of fashion and as nice and genuine as they come. He instantly made me feel very comfortable. Well, as comfortable as I could be at that point! After chatting for a few minutes, I was whisked away for my VIP treatment. My hair was the first stop on the agenda. I was thrilled to finally have my hair curled the way that I have always attempted to make it look. Next stop, the Le Métier de Beaute counter to have my "face" applied. What a fantastic job they did! I loved my eye makeup most of all. If only I could replicate the look. Now, I felt very special…like a movie star.
After all of this pampering, it was time for my styling session with Ken. I met him in the RZ department to pick out his must-haves for the season (which was pretty much the entire RZ collection). In between shopping and having our picture taken, I got some one-on-one time with Ken. He told me how he and Rachel first met, joked about acting natural in front of the camera and told me how he thought Rachel and I could be sisters! He really knows how to sweet-talk a lady—I was totally smitten.
Eventually, I made my way to the dressing room. The PR team had set aside a nice big room (along with a glass of champagne) in order for me to try on all of the clothes that Ken had selected. As I would try an outfit on, Ken would give me his opinion and add possible ways to mix and match the pieces. We were a chatty group, and after getting off topic several times, we discovered that we were running out of time!
We were down to the ivory tuxedo or the black maxi dress when Rachel arrived. After she made the funny comment about thinking that she saw herself in the mirror, probably due to my curled hair (a style in which she frequently wears her hair), she started to obsess over the bow on the black blouse that I was wearing. Apparently she is quite a perfectionist when it comes to tying a bow. I soon found out that Rachel loves herself a bow blouse as well as a tuxedo. She really wanted me to wear the ivory tuxedo. She referred to herself as quite the "tuxedo pusher" lately. The reason for this is that the tux is very versatile. You can wear it as one piece, or break it up and wear the jacket with a dress or the pants with a T-shirt—so many options. If you didn't already know, RZ is very funny! After all of the tuxedo talk, she also referred to herself as a "baby pusher." This comes from the love for her 5-month-old baby boy. Well, I can't disagree. Tuxedos and babies are equally fabulous!
I also had the pleasure of meeting some of Rachel's team—Mandana Dayani, Rachel's VP and Eric Sartori, the design director of the RZ collection. They also helped me to decide what to wear. I loved the tux, but since I was buying the outfit that I was going to wear, I just didn't think that the ivory tuxedo pants were a good fit for my lifestyle. Eric jumped in and mentioned that the RZ flare jeans had the same cut as the tuxedo pants. This was the perfect solution! He found me a pair, I tried them on, the seamstress came in and marked the correct length, and they were hemmed to fit in about five minutes (no joke!).
During this hubbub, Eric spied my new animal print booties. He showed Rachel, and I died! They started to discuss how they liked the color of the animal print, and then asked me who made them. I completely blanked! For the record, they are Madison Harding booties. That was definitely one of my favorite moments!
At long last, a group decision was made. I would wear the ivory tuxedo jacket, the black bow blouse, flare jeans and black pumps—all Rachel Zoe, of course! At this point the show was starting in five minutes. The third floor was packed, and we didn't have seats. Rather than having us stand, the public relations team (they were phenomenal) seated us right next to the stage where Rachel and Ken were sitting. It was unbelievable! At the end of the show, Ken introduced me to the crowd as I stood in front of everyone trying to look cool, calm and collected. What a moment to remember!
After the show, Rachel and Ken helped many star-struck customers shop. I was included in a few photo ops and then was able to relax. At which point, Greg and I turned around, and there was Rodger (RZ's husband), who is equally awesome. Greg was so happy to have a conversation with someone that didn't revolve around how great my bum looked in the ivory tuxedo pants!
As always, all good things must come to an end. As the cocktail/shopping party that followed the fashion show wrapped up, I said my goodbyes and thank yous. As fabulous as the evening was, I was exhausted. The rest of the night I couldn't shake the same bittersweet feeling that I had after I had taken off my wedding dress. Happy from the celebration, relief that it was over and filled with excitement for what lies ahead.
The next morning I woke up filled with a new source of motivation. This trip was very inspiring! I felt recharged, ready to head home, work hard and make my dreams a reality. As always, I stewed for a bit over what to wear. I settled on my animal print booties, my RZ jeans and the tuxedo jacket with a V-neck tee. I felt sophisticated, cool and a little like Rachel Zoe.
---
Related Read: Lucky Charm Jewelry