Nature Calls
Take a break from the malls and get outside—it's summer, after all! Luckily, there are plenty of bucolic spaces in Bergen County to enjoy fresh-air activities and find zen.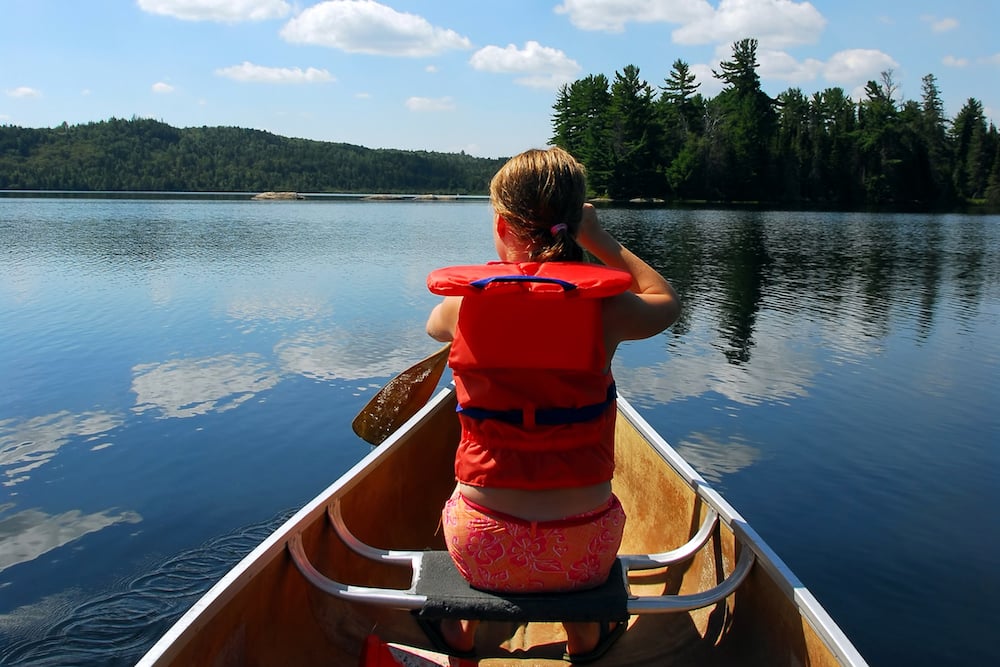 Boating
For canoe, rowboat or kayak owners, the area has several places to ply the waters. (Don't own a boat? Rent one!)
FOSCHINI PARK
River St., Hackensack
FRANKLIN LAKES NATURE PRESERVE
Nature Preserve Way, Franklin Lakes
JOHNSON PARK
River St., Hackensack
KENNETH B. GEORGE PARK
Riverside Way, River Edge
LAUREL HILL PARK (canoes and kayaks available for rent)
Laurel Hill Rd., Secaucus
MEADOWLANDS COMMISSION'S RIVER BARGE PARK AND MARINA
Outwater Ln., Carlstadt
NEW YORK WATERWAY
River Rd., Edgewater
OVERPECK PARK KAYAK CENTER
(kayaks available for rent) Fort Lee Rd., Leonia (shown)
PALISADES INTERSTATE PARK
Rte. 9W Alpine & Englewood
WANDA CANOE CLUB
Industrial Ave., Ridgefield Park

Hidden gems from the experts
If you love boating:
Hugh Carola, program director
HACKENSACK RIVERKEEPER, HACKENSACK
"Overpeck Park is one of the best places for canoeing and kayaking because you can bring your own boat or rent a boat. It's great for families, for novices and for people who haven't paddled in a while and are a little rusty. It's also a good place to practice your form and to try different kind of boats out if you're looking to buy your own."
Captain Bill Sheehan, The Riverkeeper,
HACKENSACK RIVERKEEPER, HACKENSACK
"The Hackensack River offers a lot of wildlife viewing and there are some nice quiet areas even though you're stuck between two highways in the most densely populated county in the most densely populated state. As soon as you get down to the southern part of the county by the Meadowlands, you feel like you're in the wilderness even though you can look over your shoulder and see the New York skyline."
If you love birding:
Don Torino, president,
BERGEN COUNTY AUDOBON SOCIETY, PARAMUS
"I love to bird at two spots that many folks are not aware of: Losen Slote Creek Park in Little Ferry and Teaneck Creek Conservancy in Teaneck. Both locations have a unique habitat and are located in the middle of suburbia, which makes them an oasis for many incredible bird species."

Places to go bird-watching
Ornithology enthusiasts are at home in Bergen, with a wide variety of winged species and great spots for ogling them. See the sites below; learn more at bergencountyaudubon.org and njaudubon.org.
CELERY FARM, Franklin Tpk., Allendale. This 107-acre wildlife oasis in the middle of the suburbs is home to 240-plus species of birds, more than 53 of which breed there.
DEKORTE PARK, 2 DeKorte Park Plz., Lyndhurst. This New Jersey Meadowlands park is on the Atlantic Flyway, one of the three key routes used by migratory birds in the U.S.
LORRIMER SANCTUARY, 790 Ewing Ave., Franklin Lakes. A self-guided trail system winds through 14 acres of oak and maple, where you might hear migrant songbirds.
MEHRHOF POND WILDLIFE OBSERVATION AREA, Mehrhof Rd., Little Ferry. This grassy plot of land adjacent to the 28-acre Losen Slote Creek Park opened in April 2018 and has been attracting bird watchers for many reasons: There are plenty of egrets, herons, bald eagles and more to spot.
OVERPECK COUNTY PARK CREEK, 40 Fort Lee Rd., Leonia, on the banks of Overpeck Creek. It's great for spotting wading birds, waterfowl and shore birds. Migration season brings opportunities to spot bald eagles, osprey, broad-winged hawks and more.
STATE LINE LOOKOUT, Palisades Interstate Parkway North, Alpine. This is the highest point along the Hudson Palisades, 520 feet above
the river. It's one of the state's 14 official hawk-counting sites.
TEANECK CREEK CONSERVANCY, 20 Puffin Way, Teaneck. The 1.2 miles of wetland walkways make for a prominent bird-watching spot. Don't forget to catch "Migration Mileposts," which feature trailside artwork that celebrates the birds of the Atlantic Flyway.

Biking
Cyclists, rejoice! THE SADDLE RIVER COUNTY PARK BIKE PATH extends for almost six miles through the towns of Ridgewood, Glen Rock, Fair Lawn, Paramus, Saddle Brook and Rochelle Park along the Saddle River and Ho-Ho-Kus Brook. It goes by the historic Easton Tower on Route 4 as well as a scenic waterfall at Dunkerhook Park. The trail also weaves past ponds, picnic areas, playgrounds, tennis courts and athletic fields.

Dog Parks
Dogs need lots of exercise, and your living room is not the place to do it. Here's the solution:
FORT LEE DOG PARK
Stillwell Ave., Fort Lee
OVERPECK COUNTY PARK
Henry Hoebel Area
Fort Lee Rd., Leonia
RIVERSIDE COUNTY PARK (NORTH)
Joseph A. Carucci Area
Riverside Ave., Lyndhurst
SADDLE RIVER COUNTY PARK
Wild Duck Pond Area
E. Ridgewood Ave., Ridgewood
SADDLE RIVER PARK
Dunkerhook Area., Paramus
SAMUEL ELKIN COUNTY PARK
Rose St., Wallington
VAN SAUN COUNTY PARK
Continental Ave., River Edge
WESTWOOD DOG PARK
Sand Rd., Westwood
WOOD DALE COUNTY PARK
Prospect Ave., Hillsdale

Fishing
What could be better for a relaxing day outdoors than a fishing expedition? Happily, the county offers many promising spots. Here are a few of our faves:
You can launch your kayak or canoe at 157-acre Overpeck Lake in Ridgefield Park, where you might find a largemouth bass, catfish or carp tugging at your line. Largemouth bass and catfish also can be found at 120-acre Ramapo Lake in Oakland, but you're more likely to catch pickerel and yellow perch there. Angling for trout? Head to the Ramapo River, which is accessible at points in Mahwah and Oakland. Every spring the NJ Division of Fish & Wildlife stocks the river with rainbow trout. For a fishing spot on the Hudson, cast off at the Englewood Boat Basin in Englewood Cliffs. There are plenty of fish here, and you'll get a gorgeous view of the NYC skyline.
Don't forget that a New Jersey fishing license ($22.50, $12.50 for seniors) is required for anyone between the ages of 16 and 70. Pick one up at Dick's Sporting Goods in Paramus or Ramsey Outdoor in Ramsey.
COOPER'S POND
Church St., Bergenfield
DAHNERT'S LAKE COUNTY PARK
Midland Ave., Garfield
DARLINGTON COUNTY PARK
Darlington Ave., Mahwah
ORADELL RESERVOIR
Oradell

Golf
Eager to get back in the swing? You can practice your strokes at one of the driving ranges in the county or head straight to the course—there are several open-to-the-public ones to choose from in our area.
DRIVING RANGES
21 GOLF DRIVING RANGE
1 Rte. 46 West, Palisades Park 201.941.4455 21golfrange.com
BOGOTA GOLF CENTER
30 Cross St., Bogota 201.489.2400 bogotagolfcenter.com
CLOSTER GOLF CENTER
153 Homans Ave., Closter 201.768.0990 clostergolfcenter.com
COURSES
DARLINGTON GOLF COURSE
279 Campgaw Rd., Mahwah 201.327.8778 golfbergencounty.com
ORCHARD HILLS GOLF COURSE
404 Paramus Rd., Paramus 201.447.3782 golfbergencounty.com
OVERPECK GOLF COURSE
273 E. Cedar Ln., Teaneck 201.336.7298 golfbergencounty.com
PARAMUS GOLF COURSE
314 Paramus Rd., Paramus 201.447.6079 paramusgolfcourse.com
RIVER VALE COUNTRY CLUB
660 Rivervale Rd., River Vale 201.391.2300 rivervalecc.com
ROCKLEIGH GOLF COURSE
15 Paris Ave., Rockleigh 201.768.6354 golfbergencounty.com
SOLDIER HILL GOLF COURSE
99 Palisade Ave., Emerson 201.336.6031 golfbergencounty.com
VALLEY BROOK GOLF COURSE
15 Rivervale Rd., River Vale 201.664.5890 golfbergencounty.com
MINIATURE GOLF PARAMUS MINIATURE GOLF
314 Paramus Rd., Paramus 201.447.6079, ext. 13 paramusminigolf.com

Hidden gems from the experts
If you love nature:
Mike Limatola, president,
FYKE NATURE ASSOCIATION, RAMSEY
"The Celery Farm in Allendale is truly one of the best nature-centric places in Bergen County. The 107-acre preserve is visited by more than 250 species of birds and many other animals. There is more than a mile of flat trails and a variety of environments, from the wooded north sections to the lake at the south end. Migrating and nesting birds are easily viewed from three raised observation platforms and trails."
Michael Levine, vice president,
RAMSEY OUTDOOR, RAMSEY
"It's in Passaic County (Wayne and North Haledon), but High Mountain Reserve Park is full of hiking trails. You can climb to the top and get a really cool view of the New York City skyline. It's not a very well-known spot and probably doesn't get a lot of traffic but it's one of my personal favorites."

Parks
Tired of the scenery in your backyard? Head to one of the many parks in the county, where you can take a leisurely stroll along a well-manicured path, ride your bike, picnic beneath the trees, launch a canoe or kayak, or try your hand at fishing. The possibilities are endless.
ARTESIAN FIELDS COUNTY PARK
Boulevard and Gilbert St., Elmwood Park
BELMONT HILL COUNTY PARK
Palisade Ave., Garfield
BORG'S WOODS NATURE PRESERVE
Allen St. and Fairmount Ave., Hackensack
DAHNERT'S LAKE COUNTY PARK
Midland Ave., Garfield
DARLINGTON COUNTY PARK
600 Darlington Ave., Mahwah
FORT LEE HISTORIC PARK
Hudson Ter., Fort Lee (shown)
FRANKLIN LAKES NATURE PRESERVE
Nature Preserve Way, Franklin Lakes
HACKENSACK RIVER COUNTY PARK
Hackensack Ave., Hackensack
JAMES A. MCFAUL ENVIRONMENTAL CENTER
150 Crescent Ave., Wyckoff
OVERPECK COUNTY PARK
40 Fort Lee Rd., Leonia
PALISADES PARK RECREATION AREA
Undercliff Ave., Edgewater
PASCACK BROOK COUNTY PARK
Emerson Rd., Westwood
RAMAPO VALLEY COUNTY RESERVATION
608 Ramapo Valley Rd., Mahwah
RIVERSIDE COUNTY PARK
Riverside Ave., Lyndhurst
SADDLE RIVER COUNTY PARK
Dunkerhook Rd., Paramus
SAMUEL NELKIN COUNTY PARK
Rose St., Wallington
VAN SAUN COUNTY PARK 216
Forest Ave., Paramus
VOTEE PARK
Palisade Ave., Teaneck
WOOD DALE COUNTY PARK
Prospect Ave., Woodcliff Lake