Neurosurgeons Of New Jersey
Dorothea Altschul, M.D., F.A.H.A., F.S.V.I.N., Breehan Chancellor, M.D., M.B.A., Richard C.E. Anderson, M.D., F.A.C.S., F.A.A.P., William S. Cobb, M.D., Ph.D., F.A.A.N.S., Anthony L. D'Ambrosio, M.D., M.B.A., F.A.A.N.S., Michael G. Kaiser, M.D., F.A.C.S., F.A.A.N.S., Gaetan Moise, M.D., F.A.A.N.S., Alfred T. Ogden, M.D., F.A.A.N.S., Jonathan Yun, M.D., F.A.A.N.S.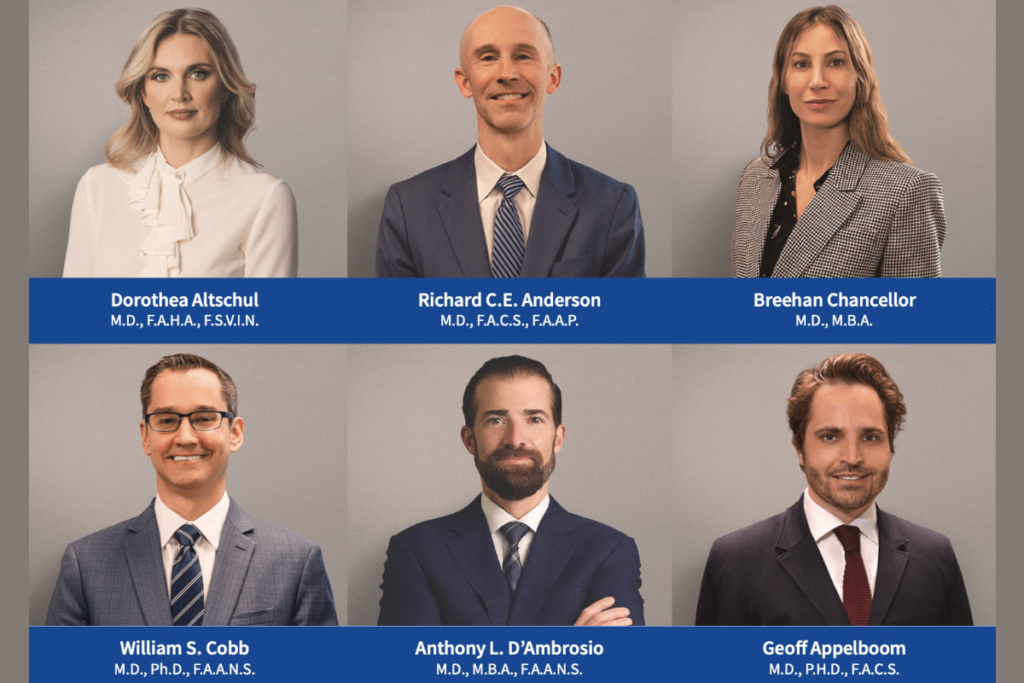 1200 East Ridgewood Ave., Ridgewood, NJ 07450 • 201.327.8600 • www.neurosurgeonsofnewjersey.com/doctors-nj/
Neurosurgeons of New Jersey brings together a highly specialized group of physicians who have made it their mission to save lives. The doctors are committed to providing patients with the most appropriate approach for addressing their particular neurological condition. "Our surgeons were educated and trained at some of the most prestigious universities and teaching hospitals across the country," says Dr. Anthony D'Ambrosio. "But it's here in New Jersey where we hang our hats. Our deep commitment and devotion to patient care and our continued pursuit of clinical excellence starts and remains in New Jersey." Neurosurgeons of New Jersey is highly skilled in a wide variety of conditions, treatments and research including brain tumors, spine surgery, cerebrovascular disease, pediatric neurosurgery, and Gamma Knife Radiosurgery. "The technology used in neurosurgery is changing all the time. Every day, science and technology take this rapidly evolving specialty to new levels."
"At Neurosurgeons of New Jersey, we have an unwavering regard for new treatments and remain steadfast in our work toward trailblazing new approaches," says Dr. Gaetan Moise. One of the latest tools the doctors are grateful to have in their toolbox is a minimally invasive surgical procedure being advanced through The Valley Hospital that proves safer and less painful for patients. Through a very small incision, our surgeons insert a tiny camera and instruments that visually guide them on a monitor. "Continued innovations in minimally invasive surgery are beneficial for both the patient and the physician," says Dr. Dorothea Altschul. "Shorter hospital stays, and fewer complications mean a faster route toward recovery."
Each physician at Neurosurgeons of New Jersey has developed a high degree of specialization in their chosen discipline. Through highly trained, sub-specialized groups and cross-discipline consultation, the surgeons bring clarity to complex situations and achieve excellent outcomes. In furtherance of their mission, Neurosurgeons of New Jersey is proud of their new academic affiliation with NYU Langone Health, one of the most respected academic neurosurgery programs in the country serving as a national and international center for the most complex brain and spine cases. Now, together with access to resources and specialty staff at NYU, the practice offers a depth and breadth of surgical experience that no other practice in New Jersey can match.
With locations dispersed throughout New Jersey and a new office in Nyack, NY the specialists at Neurosurgeons of New Jersey are conveniently located throughout the state. In response to to the COVID pandemic, they developed their own telehealth platform, Axion Connect, expanding access to safe care and on-demand appointments. Furthermore, the group participates in almost all insurance networks and has an insurance specialist on staff to help patients manage the complex insurance process. From children to adults, the goal is to deliver compassionate care to help patients achieve the quality of life they deserve.
On behalf of the entire practice, Drs. Dorothea Altschul, Richard Anderson, Breehan Chancellor, William Cobb, Anthony D'Ambrosio, Michael Kaiser, Gaetan Moise, Alfred Ogden and Jonathan Yun, would like to say thank you for being recognized amongst the many wonderful physicians receiving New Jersey's Top Doctors honor.