New Weapon Against Parkinson's
Treatment by a movement disorder specialist can reduce mortality and improve quality of life.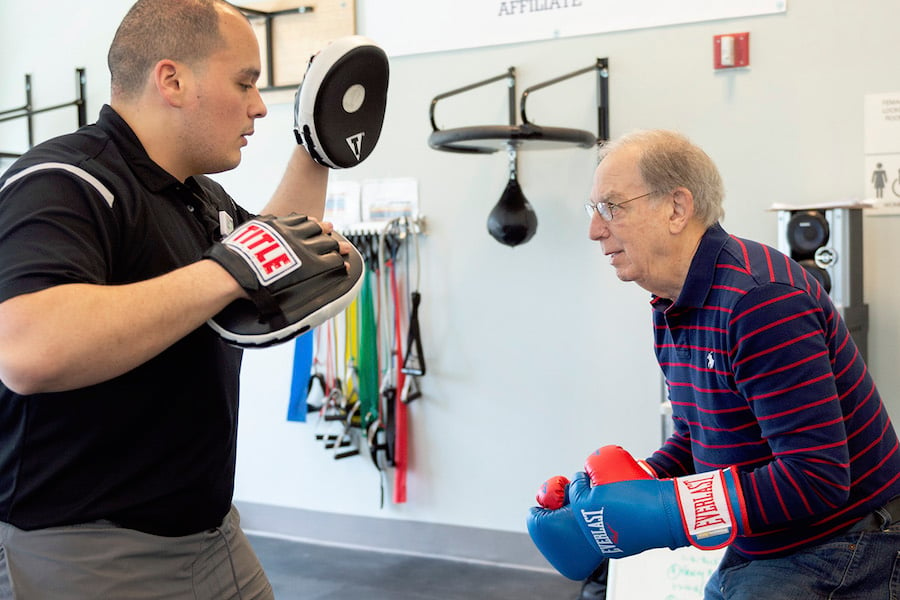 PARKINSON'S DISEASE IS A NEUROLOGICAL DISORDER in which certain parts of the central nervous system and brain degenerate for unknown reasons. It is typically treated by a neurologist. But Parkinson's is also classified as a movement disorder, because the disease causes tremors, rigid or slowed movement and impaired walking and hand control. Those symptoms can also be treated by a specially trained physician known as a movement disorder specialist.
"More than a year ago, Saint Barnabas Medical Center launched an active Parkinson's Family Advisory Committee to address the needs of the community," says Stephen P. Zieniewicz, FACHE, President and CEO of Saint Barnabas Medical Center. "This group identified the need to recruit a movement disorder specialist in this region."
In May, Saint Barnabas Medical Center welcomes Arash Fazl, M.D., Ph.D., a Barnabas Health Medical Group provider, who brings with him impressive credentials. Dr. Fazl received his Ph.D. in neuroscience from Boston University and an M.D. from Tehran University of Medical Science. He completed his residency at Mount Sinai Hospital in New York City and then his fellowship training at the Fresco Institute for Parkinson's and Movement Disorders at NYU Langone Medical Center.
"We welcome Dr. Fazl to our medical staff and look forward to his building on the foundation that we have developed for our patients and their families," says Zieniewicz.
"Parkinson's is the most prevalent kind of movement disorder, but not the only one," he says. "Other conditions that fall in our area of expertise include non-Parkinson'srelated tremors, balance and gait disorders and tics such as those that accompany Tourette's syndrome." With Parkinson's patients, a neurosurgeon provides the only surgical remedy for advanced stages of the disease, a procedure called deepbrain stimulation in which an implanted device sends electrical impulses to specific parts of the brain. "But to best serve all patients," says Dr. Fazl, "there needs to be a movement disorder specialist as well."
These specialists are not well known to the public, but with an aging population the prevalence of Parkinson's goes up, so the need for them is becoming more apparent. "Studies show that mortality drops and quality of life improves when someone is cared for by a movement specialist," Dr. Fazl says.
Dr. Fazl's academic interests are in understanding brain modulation and the underlying mechanisms of movement planning. "It's the basic science of how we generate movement, what brain areas are involved in planning and executing it," he says. He worked with the neurosurgery team at NYU during deep-brain stimulation surgery to study movement. "We routinely recorded neural signals from specific brain areas to determine the exact area in which to place an electrode," he says. They asked patients, who were awake during the surgery, to perform a certain movement, and recorded how the neurons in that area fired and how the body responded.
"We studied how that brain area behaves during each stage of motor planning and execution," Dr. Fazl says. "This will shed more light on how the whole system works together." When the correct area is located, permanent electrodes, which work like a cardiac pacemaker, are implanted to control the neurons that are causing tremors or slow movements. At Saint Barnabas Medical Center, Dr. Fazl will partner with the neurosurgical team of Paul Gigante, M.D., to offer deep-brain stimulation to his patients.
Surgery is reserved for severe cases of the disease, says Dr. Fazl. Although there is no known cure for Parkinson's, there are other avenues of treatment. "There are many drugs that can control symptoms and help patients feel better, especially in the disease's early stages," he says. And new treatments in the research pipeline promise exciting advances. "In the next decade we will see many breakthroughs in medication management of the disease," Dr. Fazl predicts. "We will be taking the fight against Parkinson's to a different level."
Patients in the region will be fortunate to have a specialist at Saint Barnabas Medical Center who is ready to lead that fight. To learn more about Dr. Fazl or to become a patient, please email BHMG@rwjbh.org.
Exercise Rocks!
There is no known medical treatment to slow the progression of Parkinson's disease. But there is one way to slow, in many cases, the symptoms of the disease: exercise. "I cannot overemphasize how important this is," says Arash Fazl, M.D., Ph.D., the new movement disorder specialist at Saint Barnabas Medical Center. "We have seen it over and over in studies and in clinics. Patients with Parkinson's who take exercise seriously fare much better than those who don't."
Saint Barnabas Medical Center offers numerous exercise programs and support groups for Parkinson's patients. Weekly exercise classes, held at the Saint Barnabas Wellness Institute at JCC Metrowest, include tai chi chih, Water Warriors and strength training.
Rock Steady, a boxing class, is available at the Ambulatory Care Center (ACC). As a certified Rock Steady site, the ACC teaches noncontact boxing techniques and focuses on balance, coordination, voice activation and fine motor control. "One patient said it was easier to write a check after starting Rock Steady," says Diana Toto, director, Sports Medicine and Business Development. For improving morale and camaraderie in patients with the disease, she says, "there are also psychological aspects. There is something to be said for the team dynamic."
Stuart Cooper, a retired civil engineer who lives in Livingston and in Florida, has been involved in the exercise program from its inception. "I couldn't do jumping jacks before boxing, now I can," he reports. "And my handwriting is improved." Exercise has helped control his tremors and improve his cognitive function and "general well-being," he says. Asked if his quality of life has improved, he replies: "Absolutely."
To learn more about Dr. Fazl or to schedule an appointment, call 973.322.7023 or email bhmg@rwjbh.org.