Nidhi Kumar, M.D.
This Saint Peter's University Hospital cardiologist practices what she calls "holistic cardiology" with her patients and in her own life.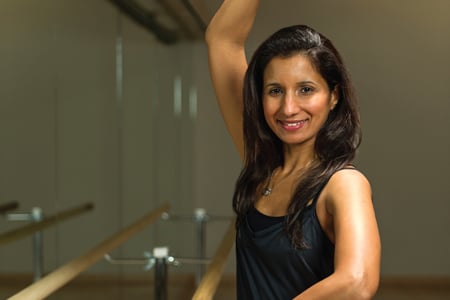 Exercise plays an integral role, says Dr. Kumar, 36, who lives in central New Jersey with her husband, Raj, 41, an investment banker, their two daughters and a Labradoodle. Dr. Kumar, a native of New Jersey, attended Columbia University and Robert Wood Johnson Medical School, followed by a residency in Internal Medicine at New York University, where she went on to become a chief medical resident. She completed her cardiology fellowship at Mount Sinai Medical Center in New York City and joined the cardiology practice of her father, Ashok Kumar, M.D., "the next day," she says—but she's actually been associated with Saint Peter's since age 12, when she worked as a hospital volunteer.
Could you describe your holistic view of medicine? Medical care is paramount, but lifestyle and your general attitude toward life are also important. Having a negative attitude or bad habits can cause chest pain, just as real cardiac problems do. Exercise is critically important in this regard.
How so? I think exercise is 50 percent mental— it contributes to mental health as much as to physical health. I tell my patients if you just exercise for your body you are missing the point. You need to work out what's going on in your head as much as you need to work out what's going on in your body.
You take a different kind of exercise class yourself. What is it? It's called the Lotte Berk Method, which involves exercises performed with the use of a ballet barre. It focuses on strength, endurance and balance, the tenets we should all live by both in exercise and in life.
Were you a dancer yourself? No, I played soccer and lacrosse growing up. After my first child was born, I discovered the exercise program at a studio in Manhattan, where I still take class regularly.
—D.L.