No-Fuss French
Resto, a tiny BYO on Madison's main drag offers an innovative menu of contemporary French fare every four to six weeks, depending on what's in season.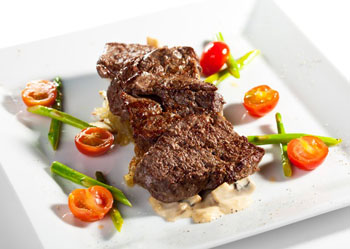 It seemed cuisine worth dressing up for. When we arrived on a recent Saturday night at Resto, a tiny BYO on Madison's main drag, we knew a bit of what we were in for, having perused the offerings beforehand.
We had learned that chef-owner Robert Ubhaus changes his innovative menu of contemporary French fare every four to six weeks, depending on what's in season. Given this and the restaurant's "rustic chic" décor of cheery yellow walls, sleek wooden furniture and pleasant oil paintings, we figured it as a perfect date-night spot—and were thus surprised to find diners in shorts, casual jeans and sandals. Yet as our meal unfolded, we came to realize that though the food is an upscale delight, Resto's relaxed vibe is key to its charming, unpretentious personality.
This quality extends to the staff. Our friendly, knowledgeable waiter gave us plenty of time to make our selections and patiently answered all of our questions with a smile. We were a bit dismayed by the unusually warm temperature inside the restaurant—but when it came to the food, there was little to complain about.
Our starters were a colorful mix of classic favorites with a creative twist. Take the trio of oyster shooters: Three fresh mollusks arrived on a bed of seaweed alongside three shot glasses, each containing a different pepper-herb juice (red pepper–thyme, yellow pepper–marjoram and green pepper–oregano). Happily, the flavorful, potent juices complemented the oysters just right.
The gazpacho was a chilled purée of yellow tomatoes, cucumbers and olive oil with an olive oil–paprika sauce drizzled on top. While the zesty broth was delicious, it slightly overpowered the jumbo lump crabmeat placed in the center. Our favorite appetizer was the tiny, round Juni cheese soufflé—light, airy and perfectly browned. We also enjoyed the small mâche salad served on the side, featuring saffron-pickled cauliflower and a tangy horseradish dressing.
Between our starters and entrées came two pleasant surprises: a complimentary martini glass filled with a creamy purée of chilled tomato, fennel and a touch of milk, and a warm greeting from Chef Ubhaus himself. But he was soon back to work, whipping up our main dishes. The grilled ranch-cut medallions of beef featured six tender, well-seasoned pieces of sliced steak served over a crispy, flavorful galette made of potato "strings" and fava beans. Though the dish was slightly salty, this was tempered by a pleasantly sweet drizzle of raspberry glaze.
A hearty vegetarian dish, the eggplant Provençal farci comprised a hollow eggplant half stuffed with tasty Flageolet beans, tomatoes, capers, olives and other veggies, but it was the heap of melted chèvre that made the dish a real "wow."
For dessert, we adored the creamy apple pie crème brûlée. Glazed to perfection with bits of apple inside and a bundle of blueberries on top, the preparation was divine without being overly rich. The "milk and cookies" dessert featured heavenly mascarpone mousse sandwiched between two spongy, homemade dark-chocolate cookies. Our advice: Enjoy it without the super-tart strawberry crème anglaise served on the side.
By meal's end, we learned it matters little what one wears to a restaurant such as Resto—nothing can mar the elegance on the plate.
RESTO
77 Main Street, Madison,
973-377-0066; www.restonj.com

HOURS
Dinner: Monday, 5–8:30 p.m.; Wednesday, 5–9 p.m.; Thursday, 5–9:30 p.m.; Friday and Saturday, 5–10 p.m.; Sunday, 5–8 p.m.

WHAT YOU SHOULD KNOW
• Entrées range from $24 to $33
• $45-per-person chef's tasting menu available Sunday through Thursday
• BYOB
• Major credit cards accepted