Northern Lights
Just a few hours away, Quebec City shines with Gallic charm all winter long.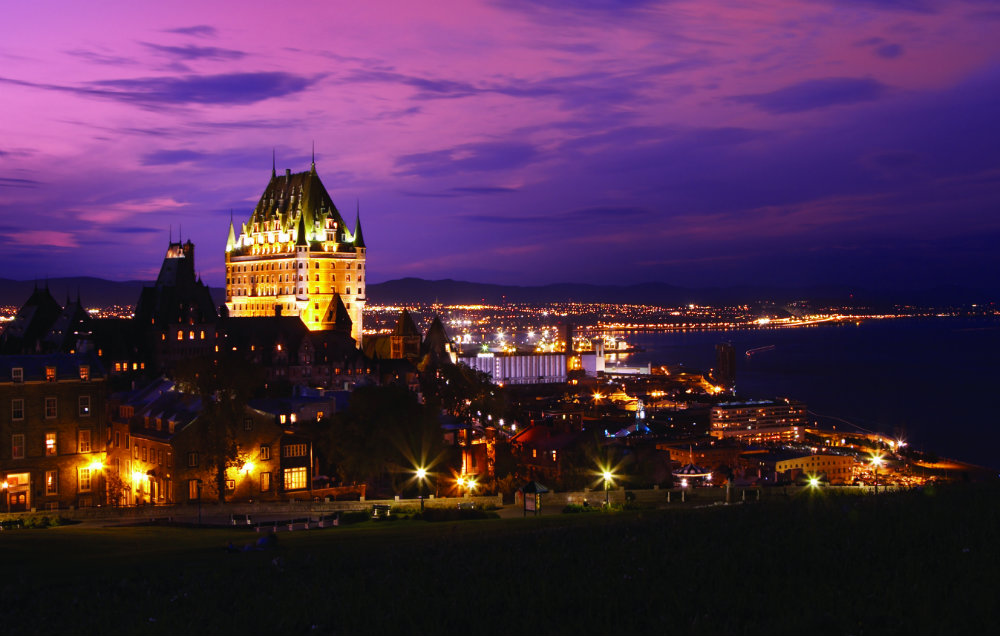 I admit it: I hate winter. Frigid temperatures and snow that looks beautiful for an hour and turns to slush for a week are not my idea of fun. I don't ski (except on water), and I'd rather don a straw fedora than earmuffs. But I was assured that Quebec City, the French-speaking capital of Canada's second most populous province, would change my chilly attitude toward the season. Apparently, natives here don't merely survive the coldest time of year; they celebrate it.
I don't mean just some hasty solstice rite. They honor Old Man Winter with an annual two-week outdoor carnival, the now famous Carnaval de Québec. This year's event, which wraps up on February 15, includes an ice sculpting competition, parades complete with brightly lit floats, clowns and marching bands, mini-golf (on ice, of course), dog sledding, ice fishing, music and fireworks. (Look for next year's dates on quebecregion.com.)
And there's more to wintertime pursuits than just the carnival. Start your trip at the top with a visit to Vieux-Québec (old Quebec), which sits atop a bluff and is enclosed by sections of the old city wall—the only remaining ramparts from a fortified city in the Americas north of Mexico. It's been named a UNESCO World Heritage Site.
Just outside the walls you'll find Battlefields Park, which includes the Plains of Abraham, where British and French troops clashed in 1759 in a battle that claimed both commanders' lives. (The Brits won, but the town's French language and culture stubbornly persisted—and as if to prove the point, a beautiful garden here is named for Joan of Arc.)
From the narrow, car-free streets of Vieux-Québec, descend a staircase called L'Escalier Casse- Cou (the breakneck stairway) to the Lower Town, where remnants of the first permanent settlement in New France have been lovingly preserved. The many boutiques, shops and cafes, mostly housed in restored 17th- and 18th-century buildings, will guarantee that you do more than just window-shop. Don't stop there. Footsteps away is the
redeveloped Vieux-Port, or Old Port, where you'll find a seamless blend of old and new—homes, antique shops, art galleries and some of the city's best restaurants. Bone up on Quebec culture in the Musée de la Civilisation, which provides bilingual exhibits on contemporary and early French Canadian history.
Speaking of history, consider being a guest at the Fairmont Le Château Frontenac, the 120-year-old beating heart of the city. The four-diamond hotel, which looks like an 18th-century palace high above the mighty St. Lawrence River, underwent a $75 million lobby-to-roof facelift this past May, making it even more clearly the place to lay your head in Quebec City. The main lobby reveals the majestic atmosphere at once. A custom 15-foot chandelier—fashioned from slender pieces of glass modeled after the icicles that form during Quebec's winters—shines over the grand staircase, while Italian blue onyx backlit panels, inspired by the beautiful St. Lawrence River, welcome guests to the reception area.
Make time for a meal at Champlain, the hotel's signature eatery, showcasing innovative Québécois cuisine. There you'll find Lobster Stew with Gentilhomme Wine from Vignoble Clos Lambert. It features butternut squash ravioli, fried oyster mushrooms and bisque foam. Carnivores might enjoy the Grilled Beef with Gribiche, mashed ratte potato with garlic flower, butter and black pepper juice. Actually, all of Fairmont's restaurants have been transformed under the watchful eye of Baptiste Peupion, who was chef de cuisine at the Shangri-La Hotel in his native Paris. He began his career at some notable Michelin-starred restaurants, including the three-star Louis XV at Hotel de Paris, Monaco. If you prefer a quick bite, try the 1608 Wine & Cheese Bar. Inspired by the year of Quebec City's founding, it offers one of the largest assortments of Quebec cheeses in Canada, perfectly matured inside a dedicated cheese room. A great selection of quality wines by the glass makes for perfect pairings.
Of course, you may not be indoors for long. For Québécois, it seems, the snow is an invitation to leave behind the comfort of the blazing hearth and frolic outside, despite daytime temperatures that hover around 20 degrees Fahrenheit. You might consider gliding on cross-country skis or snowshoes to explore the sinuous alleyways. I chose the slip-sliding method instead. At Battlefields Park, speed demons can book a one-way ticket on the Glissades de la Terrasse, where toboggans plummet down a 300-foot-long ice slide at nearly 40 miles per hour. Laid-back souls can opt for a horse-drawn calèche or horsedrawn sleigh ride instead, as I did.
I'll admit it: With the right clothes, winter in Quebec City can be a surprising delight: free outdoor ice rinks playing romantic tunes, bewitching steeple-vistas of vintage architecture, great restaurants and plenty of outdoor vendors selling hot drinks. Could it be that I've become a convert? Absolument!