Nosh On These Half-Dozen Nachos In Bergen County
Celebrate everyone's favorite Mexican-inspired snack with the best of the best nachos in Bergen County.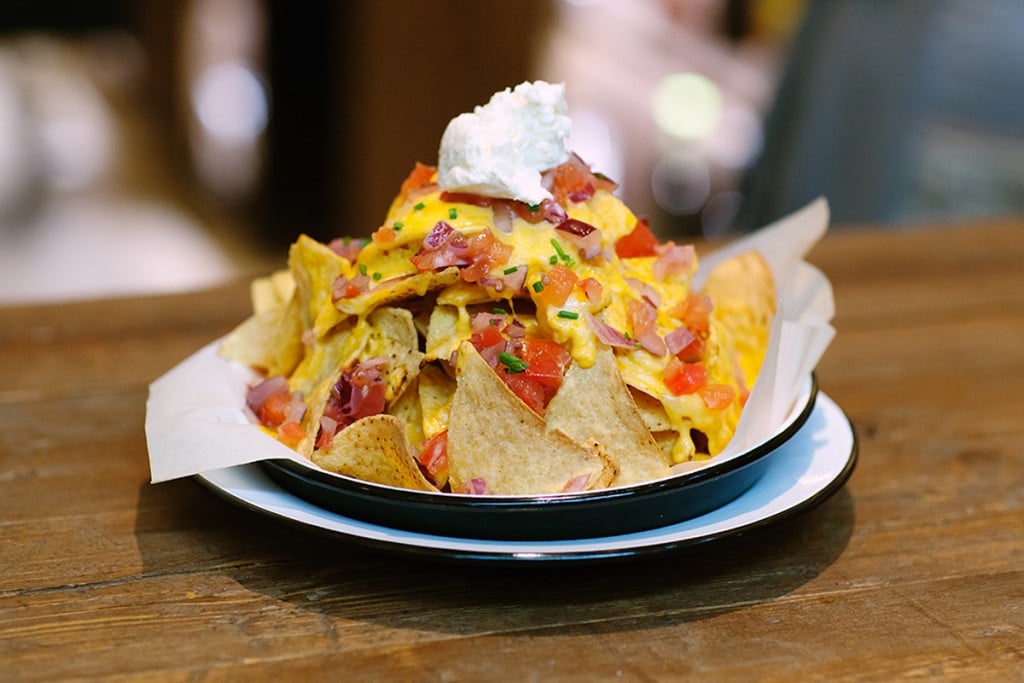 You may have celebrated National Guacamole Day back in September, but what's guac without the chips to dip in it? National Nachos Day is Nov. 6, a day dedicated to one of America's favorite salty snacks. Whether you like yours topped with meat or beans, eat 'em while watching the game or as a precursor to dinner, you simply cannot have nachos without cheese. And a lot of it.
To celebrate the day of dressed-up tortilla chips, stop by any of these local Bergen County spots that have delicious nachos worth trying:
Allendale Bar & Grill, Allendale. This family-friendly spot has traditional nachos "piled high," as well as Irish nachos. Instead of guac, pico de gallo and beans, this variety is topped with bacon, scallions and cheddar jack cheese.
*67 W. Allendale Ave., Allendale, 201.327.3197
Blue Moon, Englewood and Wyckoff. If you're looking for a healthier twist on the Mexican staple, try Blue Moon's vegetarian zucchini nachos, featuring zucchini rounds instead of chips and topped with beans, pico de gallo, avocado, cilantro and melted cheese. For those who want more traditional nachos, the Nachos De Luna are just as tasty!
*23 E. Palisades Ave., Englewood, 201.541.0600; 327 Franklin Ave., Wyckoff, 201.891.1331
La Fortaleza, Garfield. An appetizer menu with a half-dozen types of nachos makes this place a local favorite; choose from vegetarian, cheese, chicken, steak, marinated pork or shrimp. Each option comes with all the fixings, including refried beans, melted cheese, pico de gallo and jalapenos.
*361 Midland Ave., Garfield, 973.928.4470
ReBar and Kitchen, Lodi. You won't find standard tortilla chips on this menu—instead you'll get thin slices of fried potatoes when you order the Irish nachos, one of their most popular starters. It comes with cheddar jack cheese, lettuce, tomatoes and jalapenos and your choice of beef or pulled pork.
*123 Essex St., Lodi, 201.368.8181
Tacoria, Paramus. Eat This, Not That dubbed this Mexican joint with multiple locations in New Jersey as having the best nachos in the Garden State. Their traditional Viva La Nachos are made from hand-cut tortillas and smothered in black beans, salsa, cheese, crema, peppers and protein. For a sweet treat, try the Nutella nachos, topped with cinnamon, sugar and Nutella.
*305 Rte. 17 S., Paramus, 201.265.4206
Tito's Burritos & Wings, Ridgewood. We're not really sure why "nachos" isn't in Tito's name, as theirs are seriously delicious. Their "original nachos" come with black beans, cheese, sour cream, pico de gallo and guac, and you can top it off with the veggies or protein of your choice, including ground beef, grilled steak, sautéed or crispy shrimp or shredded, grilled, blackened chicken or chicken strips.
*166 E. Ridgewood Ave., Ridgewood, 201.857.4619
What's your favorite nacho spot in BC? Tell us below or on Instagram @bergenmagnj!