Not Your Bubbe's Latkes
No Hanukkah gathering—no matter how small this year—is complete without potato latkes. You can't go wrong with this classic recipe with a twist from a Teaneck-based nutrition coach.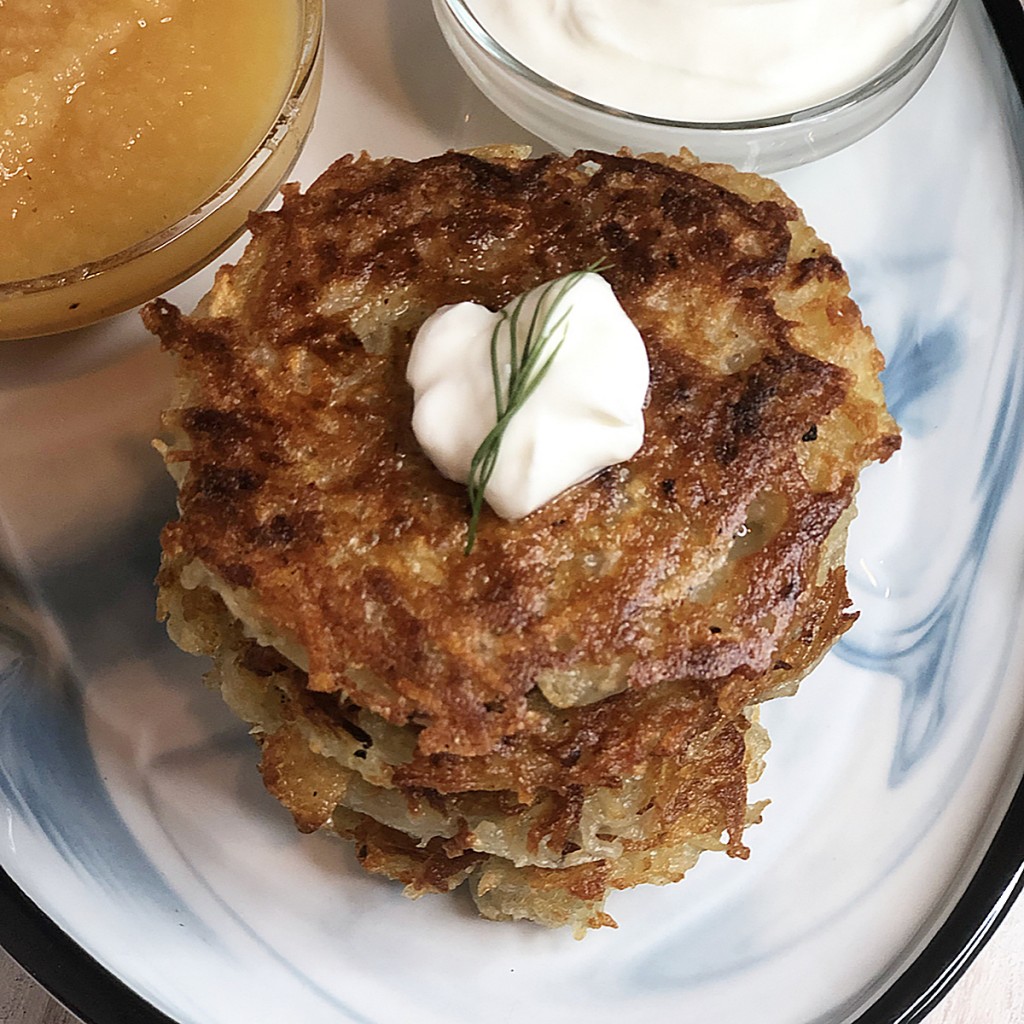 Over the eight nights of Hanukkah, the first of which this year fell out on Thursday, Dec. 10, it's customary to eat fried foods to commemorate the miracle of the oil lasting eight days instead of one. This means Jews are given a reason to indulge in all-fried-everything, including jelly donuts, referred to in Hebrew as sufganiyot, and, of course, potato pancakes, which are traditionally dredged and fried in oil. And while experimenting with recipes is fun, there is nothing wrong with going the classic route this Hanukkah, whether you're feeding just your immediate family or a few additional guests. Jewish holidays are all about tradition, after all!
"I always prepare potato latkes for my family on the first night of Hanukkah," says Gila Guzman, an IIN (Institute for Integrative Nutrition) health coach who lives in Teaneck. "After the first night, to change it up, I add vegetables to my basic recipe such as zucchini, sweet potato, butternut squash and even spinach." Below, Gila shares with BERGEN her recipe for classic potato latkes—"crispy on the outside and creamy on the inside"—plus her alternative potato/veggie version. "You can serve them with applesauce or sour cream, or try fun toppings such as fig jam or a creamy, spicy dipping sauce."
Classic Potato Latkes (vegan & gluten-free)
Yields: 4-6 servings
Ingredients: 
2 lbs. potatoes (OR 1 lb. potatoes and 1 lb. vegetable of your choice: zucchini, sweet potato or butternut squash)
1 onion
2 Tbsp. flour of your choice (I use oat flour and Bob's Red Mill 1:1 Gluten Free Baking Flour, or you can use regular flour)
½ tsp. baking powder
1 tsp. salt
½ tsp. white pepper
avocado oil, for frying
¼ cup fresh chopped herbs such as dill or parsley (optional)
Directions:
Peel potatoes and place them in a bowl of ice water so they don't turn brown. Grate the onion and potatoes (and veggies, if using) either using a hand grater or a food processor with the shredding disc. Place the shredded potatoes, veggies and onion into a clean tea towel and squeeze well to remove liquid. Discard liquid and place the now-squeezed shredded onion, veggies and potatoes into a bowl. Add remaining ingredients and mix well.
Place two tablespoons of oil in the frying pan. Heat the oil.
Fill a ¼-cup measuring cup with latke batter and place the latke in the frying pan. Press down with the back of the measuring cup to spread out the latke.
Fry the latkes on medium heat about 4-5 minutes per side or until crispy. You may need to add additional oil in between batches as you fry the latkes.
Transfer the latkes to a metal cooling rack that is placed upon a cookie sheet. This will make it easier to reheat the latkes before you serve them. Serve with dipping sauce of your choice and enjoy!
Follow Gila on Instagram @coachgilaapproved and on Facebook at facebook.com/mainassethealth.