Oakland Oasis
An active family of five now has everything they need for outdoor fun— right in their own backyard.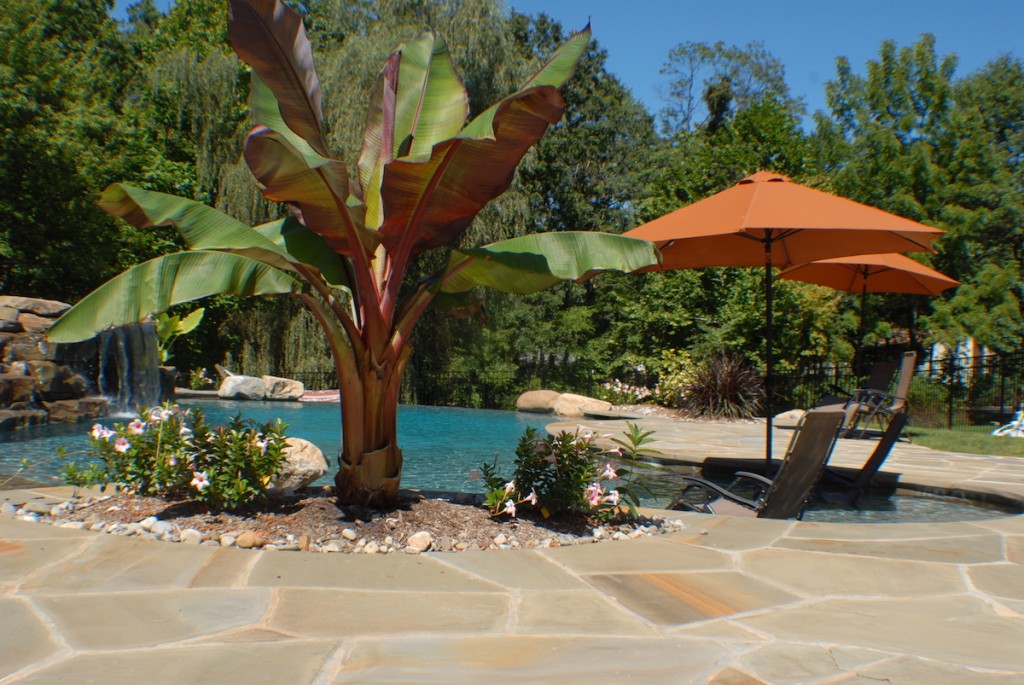 An Oakland couple gave John Butler one sweeping directive when they hired him to redesign their uninspiring backyard: Be creative. For the president of, and partner at, Mahwah-based Arapahoe Landscape Contractors, the order meant transforming a plain grassy yard flanked by rocks and woods into something visually stunning yet practical. The homeowners, after all, needed a fun and entertaining space for their three teenaged children, their friends and two rambunctious dogs.
"It was important to the couple to create a feeling of wanting to be at the house, especially among the teens," Butler says. "They're an active family, so the design started with the pool."
Butler and his team passed on a pool outline filled with angles and instead designed one to resemble a more natural swimming hole. Shaped with numerous curves, an infinity edge, a swim-in grotto and a waterfall measuring 20 feet wide by 4 feet tall, the pool is easily the optical centerpiece of the yard. Not as noticeable are the features inside the water: a beach entry for young ones and waders and a sun shelf for those who want to sit and relax in the deep end.
To deploy the natural theme around the pool's edge, the designers laid a bluestone patio using material from Braen Supply in Haskell, which also provided stone for the waterfall.
"We gave it a tropical feel to soften the look of the rocks and hardscaping," Butler adds. Arapahoe paired ornamental plants with annuals as well as a banana tree, strategically placing the new foliage in the backyard layout. "We think of this as a lagoon paradise. It's oriented on the property so that when you look out from the house during winter, you don't have to look at a boring pool cover."
Butler had to employ a different type of creativity to overcome a 4-foot grade change from the first floor of the house to the pool area. But rather than open another excavation job, his team "embraced" the difference in elevation and built a raised patio adjacent to the home with large radial steps leading to the bottom landing.
"We also added a gazebo and a built-in barbecue," he says, "so that with the steps acting as additional seating, the raised patio is a great place for the family and friends to hang out."
At the homeowners' request, Arapahoe completed the backyard project at a gradual pace. The work was divided into three phases, and the final stone was set into place nearly three years after groundbreaking. But with the kids now ages 15, 18 and 20, the smart, creative design of the yard is doing its job: bringing the family together at the house.
"A well-used home is always a work in progress," says Butler.