Operation Walk 2013
Monmouth Medical Center Grants Life-Changing Knee Replacement Surgery to Morristown Resident through Operation Walk 2013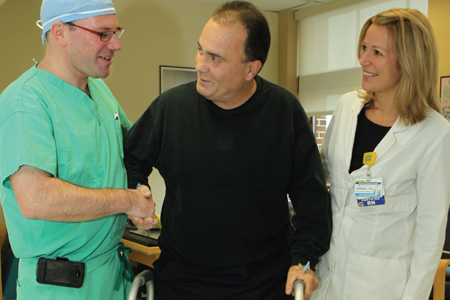 While more than 1 million hip and knee replacements are
performed in the U.S. each year, countless men and women
continue to live with severe arthritic pain and immobility
because they cannot afford joint replacement surgery.
Such is the case of Todd Patterson, 48, a carpenter
from Morristown who has faced progressive, debilitating
knee pain for more than 20 years. In December, Todd had
bilateral high-end knee replacement surgery at Monmouth
Medical Center and inpatient rehabilitation at HealthSouth
Rehabilitation Hospital of Tinton Falls at no cost as part of
Operation Walk USA 2013.
Operation Walk USA, now in its third year, is a non-profit
medical humanitarian effort providing free hip and knee
replacement surgeries for uninsured patients in the U.S. who
do not qualify for government assistance programs. Through
Operation Walk USA 2013, approximately 230 patients received
free joint replacements from 130 volunteer orthopaedic
surgeons at 70 participating hospitals, December 2 through
December 7, 2013. Leading Operation Walk at Monmouth
Medical Center—one of three hospitals in New Jersey
participating—was David L. Chalnick, M.D., an orthopaedic and
joint replacement surgeon and medical director of Monmouth
Medical Center's Joint Replacement Center.
Todd's injury began as the result of a motorcycle
accident while he was in college nearly two decades ago.
Four years later, he injured his knee again when he fell from
a church roof during a construction job. About 10 years ago,
arthritis set in and has grown progressively worse, causing
Todd to experience severe pain every day.
"Over the years, the wear and tear on my knees
worsened the condition. Eventually my right knee became
really damaged because I spent such a long time favoring my
left knee," said Todd, who has been unable to work because
of the condition. "I'm so grateful that Dr. Chalnick and
Monmouth Medical Center are willing to help me get my life
back. I'm thankful to get the chance to return to work."
"Todd had bilateral severe bowlegged deformities.
Normal knees are slightly knock-kneed. I performed knee
replacement surgery on both knees–essentially reshaping his
legs–to correct his severe deformity and allow Todd to walk
more normally and hopefully pain free," said Dr. Chalnick,
who also participated in Operation Walk last year as a way to
give back to patients.
"Monmouth Medical Center prides itself on providing
quality medical care for all our patients. Through programs
like Operation Walk and the kindness and compassion of
our dedicated physicians such as Dr. Chalnick, we're able to
provide this high quality care to patients in need," said Frank
J. Vozos, MD, FACS, President and Chief Executive Officer at
Monmouth Medical Center.