Our Endangered Canopy
Bergen's trees help give the county its character—and so much more. But they're threatened.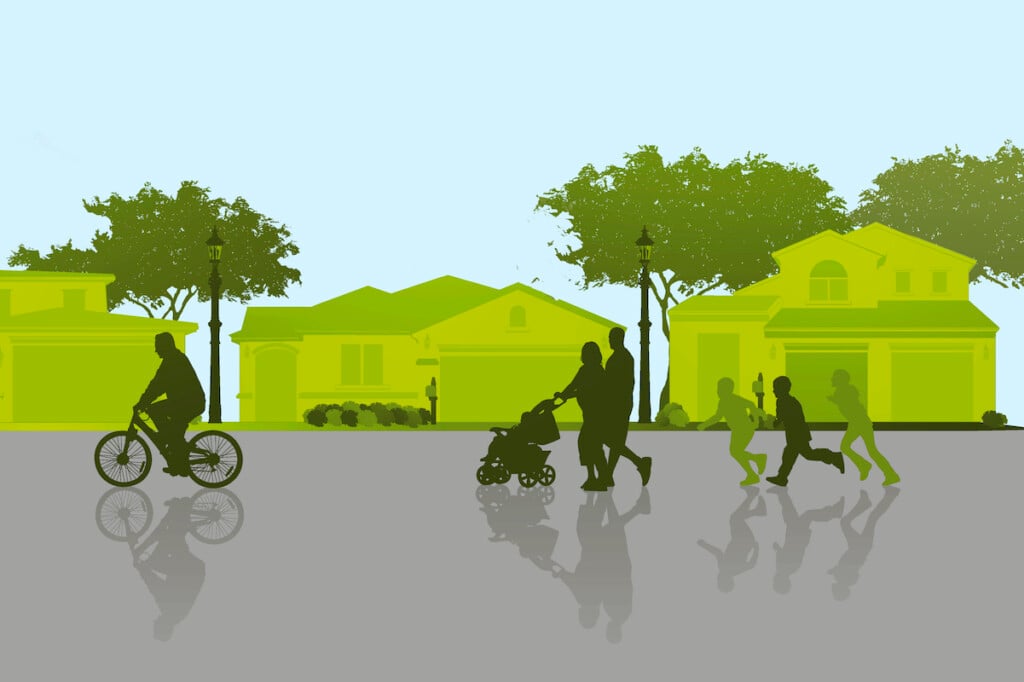 Andrea Piazza looks around near her Fair Lawn home and sees what isn't there. She's lived in the neighborhood for some three decades, and in that time she's seen dozens of trees die or be taken down. While there's also been some replanting, it hasn't been enough to replace all the trees that have been lost.
"In my neighborhood, and in lots of neighborhoods on my side of town, we have less than 25 percent tree canopy," she says, referring to the portion of land that would be tree-covered if you were looking at it from above. To get a sense of what that means, consider that the nonprofit conservation group American Forests calls a 40 to 60 percent canopy ideal in suburban areas like ours that were originally forested, and deems a 15 percent canopy optimal in a desert environment.
While Bergen County has long prided itself on its leafy streetscapes, parks and preserves, our trees are under threat from a variety of sources, some of them biological, some human caused. Over the past year, for instance, we've seen an influx of spotted lanternflies in numbers that can best be described as biblical; other non-native insects, like the emerald ash borer and the Asian long-horned beetle, likely pose an even greater threat. We've also lost trees to development and—in the case of Leonia's Overpeck Park, where more than 100 trees were felled in a former nature preserve to create a "great lawn,"—to the cause of soil remediation. (As of this writing, Bergen County Executive Jim Tedesco has promised to form a committee to consider alternative plans for the site, in response to objections from environmental groups and private citizens, some of whom have called for the barren area to be replanted as a preserve.)
Climate threatens our trees as well: Last year's hot, dry summer killed many younger trees around the county, and older trees may start to show its effects over time, especially if the next several summers offer similar droughty conditions. Finally, we're always losing trees to old age, and these grand old specimens aren't always replaced in a timely manner.
Tree-lined streets and what's been called an "emerald necklace" of parks are two of the amenities that draw new residents to Bergen and keep longtime residents from moving elsewhere. To a degree, the value of a tree is calculable: It's been estimated, for instance, that one or more mature trees can raise the value of a property by up to 15 percent. But trees have more than monetary value. "Trees make for a healthier community," says Joel Flagler, a Rutgers professor and the agricultural agent for Bergen County. They clean the air by absorbing carbon dioxide and releasing oxygen, he explains, and numerous studies have shown that living among trees can decrease stress and increase well-being. In the hotter months, their shade is invaluable: "It can be 10 degrees cooler in a neighborhood that's tree-lined, as opposed to a tree desert," observes Gail Rottenstrich, a Fair Lawn council member who sits on the town's Shade Tree Committee. Trees also help prevent flooding and soil erosion. In one year, for example, a single mature red maple can soak up 260 gallons of water. Aesthetically, the benefit of trees is immeasurable.
These are just some of the reasons that make saving the county's precious tree canopy imperative. Luckily, a growing number of municipalities and residents are taking the idea to heart. Unfortunately, not every threat has an easy solution; nevertheless, there are numerous ways residents and municipal officials can respond to make sure that Bergen stays green for generations to come.
• The problem: If last summer was the season of squish, 2023 could be the year of the shrug. Flagler notes that the New Jersey Department of Agriculture (NJDA) has been scouring the data on lanternflies and determined that, so far, the only plants it's killed are grapevines, tree-of-heaven and saplings. NJDA calls the lanternflies "tree stressors," which means they're more likely to do serious damage when combined with other stressors, such as diseases, other pests and drought.
Remedies: Until we have more definitive data, you may want to follow NJDA recommendations: Stomp lanternflies, scrape egg masses with a credit card into an alcohol-filled receptacle, use circle traps (commercially available) on tree trunks and, as a last resort, apply a pesticide, preferably one that can be injected into the tree. (Note, though, that the insecticides most commonly used against lanternflies can be harmful to bees that pollinate the tree.)
• The problem: emerald ash borers (EABs). Like the spotted lanternfly, the emerald ash borer arrived here uninvited from Asia, but it poses a much more significant threat to our native ash trees. The beetle lays its eggs in tree-bark crevices, and the emerging larvae tunnel deeper, feeding on the tree layer just beneath the bark. The EAB has caused the death of thousands of native ash trees across New Jersey. In Fair Lawn alone, says Rottenstrich, it's infested at least 700 trees, most of which will have to be taken down over the next several years.
Remedies: Working with a certified arborist or licensed tree expert, towns can identify trees that are infested but still relatively healthy and treat them by injecting pesticide through the bark, a process that can be repeated every two to three years. Glen Rock treated its ash trees this way in 2021, and Candy Hall, co-chair of the Glen Rock Shade Tree Committee, says that "the treatment so far has been highly successful, and the majority of treated ash trees have survived."
If you have ash trees on your property, monitor them for early signs of the beetle before the trees start to die off so that they can be examined and potentially treated by a licensed tree expert. These signs include D-shaped holes in the bark, thinning of the crown and woodpecker damage (though the latter two can also result from drought or infestation by other insects). If a tree is already showing serious symptoms, such as major canopy die-off, your best option is to take it down and plant another variety in its place.
• The problem: beech leaf disease. Scientists don't yet know the cause of this malady, which appeared about a decade ago and attacks beech-tree foliage, causing it to discolor and curl, eventually killing the entire tree.
Remedies: Monitor beech trees for signs of the disease by holding leaves up to a light source and looking for dark bands between the veins. Currently there's no known method of treatment. If you spot signs of the disease, consult an arborist about taking down the tree and replanting a different variety in its place.
• The problem: drought. In New Jersey, as elsewhere, summers appear to be getting hotter and drier, threatening trees of all species. "We're learning that it can take four or five years of normal rainfall for trees to recover from the effects of a single year of drought," says Flagler.
Remedies: Liz Stewart, an arborist who works with many Bergen municipalities including River Edge, where she sits on the Shade Tree Commission, advises both municipalities and homeowners to make sure that newly planted trees are watered deeply and regularly for the first three years after planting. When planting street trees, towns should choose varieties that can withstand drought. "The growing strip in which we plant street trees is a really hostile environment," Flagler says, noting that roots can't survive under the street, and thus trees' access to water and air is limited. One of the best native trees for street planting, he advises, is the American linden, with its concentrated root system and tolerance for drought and pollution.
• The problem: construction and remediation. When it comes to construction projects, from major industrial developments to modest home additions, trees are often collateral damage. In Old Tappan, for instance, the construction of a senior living facility is planned for a largely undeveloped tract of land that is home to an abundance of native wildlife. Some 200 mature trees will be cut down to make way for the structure. And trees that have grown for years on landfill, as in Overpeck Park, are often cut en masse when the soil needs to be replaced.
Remedies: Before major construction or remediation projects, municipalities can bring in a licensed tree expert to determine how to minimize tree loss. Don Torino, president of the Bergen County Audubon Society, believes that the Overpeck remediation was probably necessary, but perhaps not on such an extensive scale. In addition, he says, the trees were taken down during the height of nesting season, threatening the survival of hundreds of baby birds. Homeowners considering an addition or other construction work can also consult with a licensed tree expert (and their architect or contractor) to find out how trees can be moved or otherwise saved.
• The problem: ignorance, misinformation and mismanagement. Stewart believes that this triple threat represents the greatest danger to Bergen's trees. "If you have a tree canopy that you want to protect," she says, "you have to manage it properly."
Remedies: First, towns and residents need to choose the right tree for a planned site. Street trees should be tolerant of the difficult conditions we're asking them to endure, from de-icing salt to cramped growing conditions. Towns should also avoid so-called monoculture: planting a single species of tree along a large stretch of road. While the aesthetic effect of monoculture planting is often striking, Stewart notes that "if a pest or disease comes through, it can wipe out a whole street's trees."
When considering new trees, homeowners need to determine the specific requirements of those trees: How much light and water do they need? How large will they be at maturity? Too often, says Flagler, homeowners "don't realize a tree is going to quadruple in size, and in 10 years, it's brushing against the house and blocking the windows and the roots are starting to invade the cellar and push up the sidewalk."
It's also important to plant the tree correctly, digging a large enough hole to accommodate the entire root ball and removing any protective covering such as burlap, nylon roping and wire. (For more information on tree care, consult the Cooperative Extension of Bergen County at bergen.njaes.rutgers.edu/contact-us/.)
Consider planting native trees like red maples, northern red oaks and river birches, which are more likely to survive in our soil and climate conditions than popular non-natives like Norway maples and Callery pears. (For a list of trees native to Bergen, go to npsnj.org, the website of the Native Plant Society of New Jersey.) Native trees don't just have an ecological edge; they also support wildlife. By planting a native tree, says Torino, "you'll be providing food for the birds and creating a stopover migration area, and helping butterflies too because many species depend on these trees."
Understanding the value of trees is essential for the survival of our tree canopy. Rottenstrich notes that all Fair Lawn residents are entitled to a street tree, but many don't request one. Some homeowners, she acknowledges, may not be aware of the tree-planting program, while others simply don't want the "problems" that come along with trees, such as falling leaves and other debris, and the need for pruning. That's why the town has launched an education campaign to teach residents about everything that trees provide. Hall offers a concise summary of those benefits: "Often called the lungs of our planet, these living organisms do their work quietly, without fanfare, and generally under a massive amount of stress," she says. "We ask the public to please be respectful and kind to them; our trees are a limited and valuable resource that isn't easily replaced."