Our Protectors
While most of us cherish the safety of home, Bergen's first responders stay in harm's way—because it's their job. Here, five of them speak.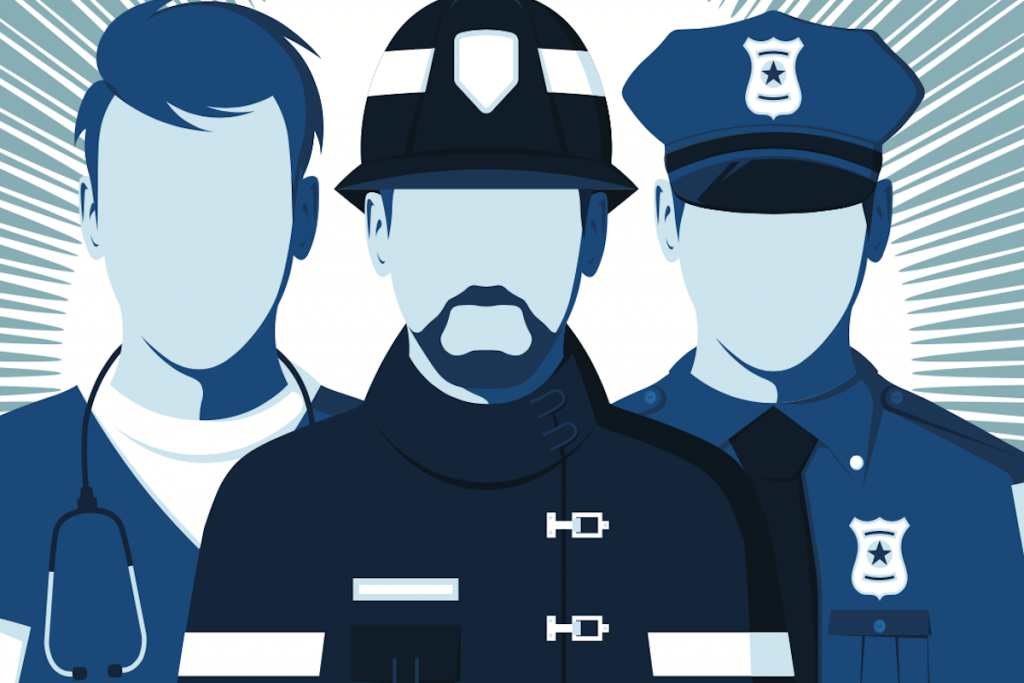 It's a human instinct to flee and seek safety when danger approaches. There is a breed of people, however, who do quite the opposite. First responders, time and again, risk their own well- being to protect the welfare of others. As we remain secure in our homes, Bergen County's police officers, firefighters and medical professionals continue their 24-hour watch over the community—even as the threat of COVID-19 looms over each of them. Read how five emergency workers have adjusted to the new (though hopefully temporary) normal.
Stephen Brunnquell, M.D. President, Englewood Health Physician Network Internist, Park Medical Group
BERGEN: How has your daily routine changed since the COVID-19 pandemic began?
Brunnquell: "All of our jobs are different now. Our routines bear no resemblance to what they were a month ago. Before, we would have follow-up appointments and visit with sick patients. We also had podiatry and ENT [ear, nose and throat] visits. Now our physicians and staff rotate in our sick office, which sees patients with fever and respiratory issues, anything suspicious for coronavirus. People who need annual physicals or other routine visits have to wait. Most people like rhythm and routine, both in and out of work. That's all gone now. Maybe you and your significant other had date night—you can't do that anymore."
Being on the front line is round-the-clock work. How much of a toll is this taking?
"Everyone's hours have increased, and some haven't had a day off since the pandemic broke. It takes a physical and emotional toll on everyone. It's sad when we lose someone who is at the end-of-life stage, but it hits at quite another level to take care of critically ill people who are in mid-life and were previously healthy."
You're caring for everyone else, but how much are you concerned for your own safety?
"Our staff is trained to decontaminate, but many are afraid of taking this home, so they self-isolate from the rest of their family. We draw strength from loved ones, but people are scared of making their families sick. The anxieties, fears and worries—it's all emotionally draining."
What happens when the helpers need help?
"I've been trying to coach my colleagues and staff to remember to take care of themselves, get rest and eat well. We launched a program for physicians to get mental and emotional support if they need it, and there are therapists who have been volunteering and donating their time. If you think about the numbers, we'll all feel scared at some point. But it's OK to be afraid. Your feelings and emotions are never wrong. When you talk about it, you realize the vast majority of those with COVID-19 experience mild symptoms. It's important to stay up-to-date, but the constant diet of news is tough for all of us. Instead, try to read, watch an old movie and catch some Seinfeld reruns."
And how do you stay positive?
"I'm doing OK. I don't have little children anymore, and I use FaceTime to talk to my grandkids. I know we have a great staff, and seeing the outpouring of support and volunteerism keeps me going."
It might be too early to look at positives, but is there anything we can learn from this?
"This has forced us to do things differently and take new approaches. For example, under normal circumstances it could have taken us a while to get our telemedicine program running, but it took us just 72 hours to get all the doctors on board. It's not the same as seeing patients in person, but using smartphones we can connect with COVID-19 patients every day while they are isolated."
Brian Corcoran, Emergency medical technician, President, Hackensack Volunteer Ambulance Corps
BERGEN: How has your routine changed since the pandemic began?
Corcoran: "Our staff has been required to wear personal protective equipment (PPE) on each call. This consists of eye protection, an N95 respirator mask, a gown or a Tyvek suit and a double layer of latex gloves. All of this takes time to put on, is restrictive in movement of the EMT and is quite costly to the organization."
Hackensack is one of the busiest ambulance corps in the county. Can you estimate how many calls have been related to the coronavirus?
"For the past three weeks, approximately 85 percent of our dispatches are COVID-19 pandemic-related, whether patients are acutely ill or scared that they have the disease and requesting transport to the hospital for testing."
What has been the most challenging part of the job throughout this time?
"The most difficult part is asking our volunteers and staff to keep reporting to work to take care of the sick and injured, when each day the guidance from the CDC is that in order to stay safe, people need to remain in their own homes. The dedication of our staff is second to none, and I appreciate each and every one of them for doing what they do in these uncertain times."
Is it frustrating to see residents not following the mandatory health guidelines?
"My advice is to carefully follow all instructions from the CDC and the federal, state and local governments. Most of all, remember that social distancing and remaining safe in your own home are the best ways to flatten the curve and give our hospitals a fighting chance in battling this horrific disease."
Is there anything residents should remember when calling EMTs for help?
"It's important to know that local first responders, many of whom are unpaid, are there for you in your time of need. But we need as much information as possible to respond quickly and efficiently. That means making sure house numbers are clearly visible and remaining on the phone with the 911 operator if you call."
Anthony Cureton, Bergen County Sheriff
BERGEN: How has your routine changed since the pandemic began?
Cureton: "We've always been attentive to details, but we're more so now. You have to be conscious of the environment, not only paying attention to who and what's around you, but now also giving extra attention to things you're touching and will be touching. There's a responsibility to make sure your immediate work area is clean and disinfected for your own safety and for the next person who takes your spot."
You put yourself at risk every day you go to work. How do you mentally prepare for that?
"I've been in this for 30 years. As a first responder, this is what my job is—all the officers have the same mentality. We have to make sacrifices in order to keep others safe, because all we want to do is help people."
Does potential exposure to COVID-19 worry you and your staff?
"One of the things that we've been dealing with is anxiety. That's something none of us has been accustomed to. Being concerned for our health is something new to officers—our health is something many of us, in general, have taken for granted. This virus has no defining elements, and there was no guide to study or practice. We're all thinking about it, but we take every precaution. We've had to lock down the jail, decontaminate and suspend some of the services. Officers in the courts interact with all sorts of people, so they have to be extra-cautious too. Practicing social distancing is critical right now. Many of us are relearning how to communicate and work with one another, now while maintaining a safe distance."
What has been most challenging?
"The nationwide issue is outfitting officers with protective equipment. There are some supplies available, but some is not enough. Every officer in a car gets a PPE package with mask, gloves and wipes, which were donated by the Policemen's Benevolent Association locals 49 and 135. It's been challenging policing some of the new rules and regulations, but we take the community policing approach and open dialogue. Whether it's putting the jail on lockdown or keeping visitors out of Van Saun and the county parks, everyone understands what's happening."
Do you worry about keeping the virus out of your home?
"I made a promise to myself and others not to bring this home. I change in the garage before entering the house. This relieves some of the anxiety. In normal circumstances, I meet a lot of people and shake their hands. With everything happening in the world right now, everyone understands that a simple handshake isn't the best thing to do."
Is there anything we can learn from this crisis?
"One thing I do see is that we are capable of altering lifestyles when necessary. And it's been great to see the synergy and people coming together to support each other, especially the medical community, which has been carrying us throughout the pandemic."
Bryan Drumgoole, Coordinator, Fort Lee Office of Emergency Management Detective, Fort Lee Police Department Deputy chief, Fort Lee Fire Department
BERGEN: How has your routine changed since the pandemic began?
Drumgoole: "Each department has implemented many changes in the way it operates. From shift changes to practicing social distancing while responding to calls to disinfecting vehicles and apparatus after calls, procedures have been put in place that we now perform regularly. The one common denominator is that all changes were done to protect the responders while still maintaining the highest level of service possible."
Many people are finding it difficult to remain indoors all day. Has enforcement of new regulations been a challenge?
"It has been difficult, but the community is a strong one that has come together to follow all of the guidelines put into place."
Unlike many others, you don't have the option of working from home. What keeps you going out when others stay in?
"The residents rely on government, emergency services, volunteers, borough employees and many others to be there for them. The community has always been there for us, so it is our obligation to be there for them. When you do something you love, it also makes it that much easier. I love our town and will always be there for its people."
With the added anxiety the pandemic brings, how do you stay positive?
"When I get home, my two young children usually come running toward me. No matter how bad or good a day I've had, just them running toward me puts everything into perspective."
Jordan Zaretsky Chief, Teaneck Fire Department
BERGEN: How has your routine changed since the pandemic began?
Zaretsky: "We knew in the beginning that Teaneck was going to be the epicenter in Bergen County, so the town's administrators all met face-to-face early on. But as things got worse, we were told to work remotely when possible. So now I've been talking to the guys, other administrators and other chiefs on Zoom. It's been an odd situation because chiefs are part of the administration staff but we are usually in the office, walking around and interacting with the guys."
What necessary changes did the department make because of the pandemic?
"We had to look at the resources we needed. Staff can only do inspections on a limited basis, but now we have a safety officer on every shift and one going out on every response. These officers are another set of eyes for the command person, another set of eyes to be sure we follow all safety and inspection protocols. Even if we end up paying a lot of overtime, we can't afford not to do this. Every touch surface is decontaminated twice a day, and we do the same to the apparatus at least once a day. The idea is that if the virus comes into our space, we're going to kill it immediately."
What about changes in the field?
"As a department, we've changed and have three types of response. First is our fire response, when there is a structure on fire. Our members know how to deal with these. They have personal protective equipment that encapsulates them, separate breathing apparatus and decontamination at the end. We know that fire is going to demolish the virus, so in a way, these calls present less hazard in terms of COVID-19. Our second type of response is to non-fire emergencies, such as carbon monoxide. For these, our instruction is 'three steps slower'—we respond but take every measure for us to be safe. We won't send a lot of companies. Instead, one person will knock on the door and ask a series of questions. Depending on the triage, then we'll ask all the occupants to exit the home and our teams will go in wearing their protective equipment. This slows down response in a non-fire situation. Our third response is the EMS call. This protocol has changed so that any patient we interact with is protected. We try to keep track of the COVID-19-positive occupancies—police and fire departments know this information for our protection— and we know the number is a lot bigger than what's reported [because testing isn't available for everyone]. But we just assume everyone is positive so the rules don't change. When a person needs medical care, everyone puts on a mask and a big white plastic suit. Afterward, we clean and decontaminate everything except the masks [which are disposed of], but these protocols slow our response."
What challenges has the department faced?
"Initially there was a communications hurdle. Protocols were mandated but there was some righteous indignation—people heard us say it, but they didn't hear us. And we saw early on that residents had a slow emotional understanding of what's going on; COVID-positive residents would ask us for help in situations where the fire department ordinarily wouldn't get involved. We want to be professional and helpful, but I can't expose my guys to risk if they're not trying to save lives or property."
Firefighters are considered 'the bravest,' but are there fears of this virus?
"Our members are absolutely afraid of this. We have two guys who tested positive and another 17 in quarantine because of exposure or their families have been exposed. Our department has a lot of young guys, but we also have members who are in the at-risk age range with preexisting medical conditions. Our command staff agreed to do everything it could to make work safer than home, and that's why we slowed some of our response."
Are the concerns and extra work wearing down the department?
"It's an unprecedented time, and the anxiety is certainly taking its toll. But this is why we're here. If we don't respond to emergencies, then why are we here? Our guys personalize that message. They understand their responsibility. Social distancing is also getting to them. They can't do training exercises right now and they say they're bored. I'm pleased as punch that they want to train, but I'd rather them be bored and safe than sick. I want '#makeitboring' to be a trend."
You mentioned Teaneck is the epicenter. How can anyone prepare for a pandemic?
"During the Ebola crisis, we talked about 'when' things would happen, not 'if.' We spent money on backup equipment during Ebola, and we were able to come up with protective devices when Holy Name Medical Center needed them. For this pandemic, we were able to donate N95 masks to Holy Name and the New Jersey Firemen's Home in Boonton. We were ready, and we're looking for ways we can support other first responders. First responders are expected to be prepared, so sometimes we have to think outside the box when planning."
—as told to Darius Amos