Outdoor Cats, Endangered Birds
Charming as furry felines can be, they have a natural appetite for winged creatures. Can Bergen County handle the inevitable clash?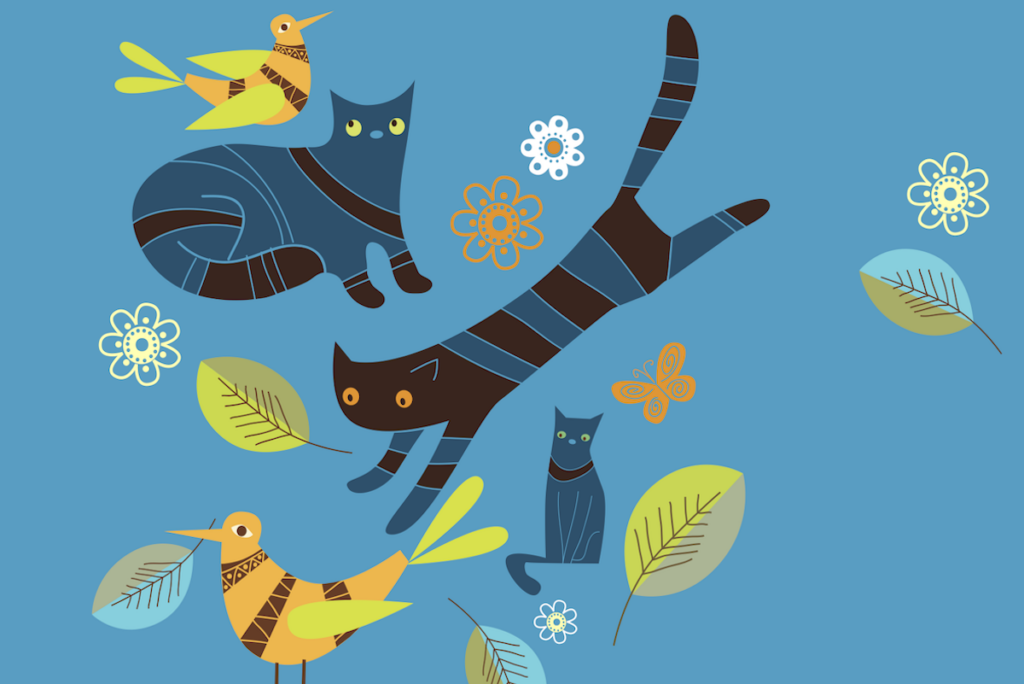 Not all that long ago, I had an indoor-outdoor cat named Bluebell. She had glossy black fur and a propensity to bring back souvenirs of her travels: muddy paws, burrs snagged on her hindquarters and the occasional bite from a scrap with a neighborhood tough. Then one day she brought home a cardinal, his scarlet feathers flashing between her clamped jaws. When she dropped the bird at my feet, he rose, phoenix-like, toward the kitchen ceiling and proceeded to swoop about in a desperate attempt to escape, until I managed to unceremoniously shoo him out the open door with a broom. As I swept up the feathers, I vowed I'd never allow another cat outdoors.

In New Jersey's more crowded counties, Bergen among them, outdoor cats pose a grave risk to birds and other small wildlife. Don Torino, president of the Bergen County Audubon Society, estimates that, across the U.S., cats are responsible for the deaths of some 2.5 billion birds a year. He says that among the causes of bird deaths that relate to human activity, "cats are at the top of the list." To underscore the significance of that number, consider that the second item on the list is window strikes, at just 600 million a year. In fact, bird populations around the world are facing a steep decline due to habitat loss, climate change and other environmental factors, and cat predation is yet one more threat to their survival.

A relatively small percentage of pet cats in the U.S. are allowed outdoors—estimates put the number between 20 and 32 percent. A much more significant threat to birds, here in Bergen and elsewhere, is that of ferals— homeless, free-roaming cats that were either born in the wild or dumped by previous owners. The nonprofit National Feline Research Council estimates the nationwide total of ferals at 32 million. It's likely, then, that their population in Bergen is in the thousands or even tens of thousands.

The dangers posed by outdoor and feral cats aren't limited to the cats' prey. Pet cats that regularly spend time outdoors are more likely than their strictly indoor counterparts to become lost, to be injured or killed—either by another animal or by a human, particularly one driving a car—and to pick up parasites and contract diseases. And feral cats live a life defined by dangers, including disease, hunger, predation by larger animals, death or injury by cars (especially in highly populated areas).

Luckily, in Bergen County, a group of organizations and individuals is working to keep the number of feral cats in check, benefiting not just our birds but also the cats themselves.
TRAP-NEUTER-RELEASE
In 2010, in response to the problem of feral cats in New Jersey, the state legislature considered declaring cats an invasive, nonnative species, which could have made it legal to hunt and kill them. The idea didn't sit well with the state's animal lovers, however, and the bill never became law. Instead, counties and municipalities have increasingly relied on the approaches known as TNR and TNVR, for trap-neuter-release and trap-neuter-vaccinate-release, in which, as the names suggest, feral cats are humanely trapped, neutered and in many cases vaccinated against common feline diseases like rabies and feline leukemia, and then, for the most part, released back into the areas where they were trapped. Frequently, that means dropping them back into cat colonies, groups of cats that can often be found near sources of food, such as a restaurant dumpster or a friendly human.

TNR isn't a complete solution to the problem of feral cats, but it does help keep feral populations from exploding. "It's basically a birth control program," says Deborah Yankow, director of the Bergen County Animal Shelter & Adoption Center, which works with cat rescue organizations and individuals who either trap the cats themselves or bring them to the attention of Yankow and her colleagues. Last year, the shelter neutered some 420 feral cats, 90 percent of them female. (Yankow doesn't know for sure why females are so much easier to trap than males, but William Byrnes, the county's supervisor of animal control, suspects it may have to do with their nesting instinct.) That number is particularly impressive when you realize that most cats reach reproductive age at six months and the average litter size is between three and five kittens—which means that spaying (the female version of neutering) one female cat can prevent the birth of up to ten cats in a single year.

While the shelter releases most adult cats back into the suburban wild, it tends to hold onto kittens for potential adoption. "We network with rescuers, and it works really, really well," Yankow says. Kittens and mother cats are trapped together, and nursing kittens stay with their mothers until they're old enough to be adopted out. While most adult ferals are usually considered too wild to be socialized, kittens haven't learned to fear human contact and are eminently adoptable. (The shelter does occasionally try to adopt out those adults that appear to be particularly friendly toward their human handlers.)
RESCUES
There are several cat rescue organizations serving Bergen County, and like the shelter, they take in both feral cats and cats whose owners can no longer care for them (or choose to give them up). Feral Cats of Bergen County (FCBC), founded and run by Michele Staada, is one such rescue. But while Staada traps, neuters and vaccinates her rescues (the latter two functions through a local vet), she doesn't release them but instead socializes them, both kittens and adult cats, so that they can all be adopted. Asked if it's really possible to socialize adult ferals, she responds, "A thousand percent." As proof, Staada—who works as a home designer when she isn't rescuing homeless felines—cites Maribelle, an adult feral she took in two years ago, who fought fiercely against any form of human contact. Today, Mirabelle is a constant presence in Staada's Hawthorne shop, Beautiful Windows, welcoming customers with leg rubs and other forms of feline affection. 
The benefits of socializing and adopting out ferals are obvious. For the ferals, they include a life of comfort and safety: FCBC and other rescues, including Caring About the Strays (CATS) in Westwood, make it a contractual obligation that adopters keep their cats indoors. And for the birds, the benefit is immense: fewer predators, including both the adopted cats and the feral kittens that won't be born.

LET THEM BE?
When it comes to pet cats, the obvious solution to bird predation is to keep them indoors. But many owners object on the grounds that allowing cats to roam free and prey on birds and other small animals is merely acceding to the natural order. Don Torino argues otherwise. "It's not natural," he says. "They haven't evolved in our ecosystem, so they don't belong in it." Native feline predators, like bobcats, inhabit sprawling territories. "There might be one pair of bobcats in a 10-square-mile area," Torino explains. In that same area there could easily be hundreds of feral cats.

Some owners complain that their cats are so intent on getting outside that they devote their lives to finding new and ever more inventive ways to escape. For these cats, there's a way to at least cut down on their predation. Research has shown that when cats wear the rainbow-hued collar cover marketed under the name Birdsbesafe, the number of birds they kill is reduced by up to 87 percent. The cover, which looks like a large scrunchie, derives its effectiveness from the fact that songbirds, with their acute color perception, are able to more easily spot a predator wearing one.

Nevertheless, the best approach for protecting birds from pet cats is to deny them access to the outdoors. Marissa Molta, who volunteers with FCBC, has five cats of her own, one of whom spent most of his life outdoors and does whatever he can to convince her to let him return, at least for a visit. But much as she wants him to be happy, she knows that keeping him safe is more important.

"I have foxes in my yard, and I've seen coyotes in the neighborhood," she says. "It's just too dangerous out there"—a sentiment with which the county's birds would no doubt readily agree.
HOW TO HELP FERAL CATS AND PROTECT WILD BIRDS

• Adopt a former feral. Contact a local organization that works with and adopts out ferals: Bergen County Animal Shelter & Adoption Center (co.bergen.nj.us/animalshelter-adoption-center), Caring About The Strays (care4strays.org), Cat Crew Rescue (facebook/catcrewrescue.com), Chance at Life Cat Rescue (chanceatlifecatrescue.com) and Feral Cats of Bergen County (feralcatsofbergencounty.com). "Once we feel that a cat is socialized, we can see its true personality and determine what type of home would be good for it," says Michele Staada, founder of Feral Cats of Bergen County.
• Support local rescues. Ask what they need most, or donate cash. Caring About the Strays has a resale shop that supports its efforts and accepts donations of clothing, jewelry and household items. You can also support rescues by volunteering. In addition, some rescues, including Cat Crew Rescue in Oradell, rely on local residents to foster cats while they wait for "forever" homes.

• Report feral cats. If you see a cat you think is feral, notify a rescue organization or the county animal shelter, a designated no-kill shelter (no animals in its care are euthanized). Don't wait, especially if the feral is a kitten, since kittens are easier to socialize than adults.

• Keep your own cats indoors. If you feel that's impossible, fit them out with a Birdsbesafe collar cover (birdsbesafe.com).

• Don't "dump" your cat. If you can no longer care for a feline pet, don't release it into the outdoors (an all-too-common practice known as "dumping"), where it will certainly suffer as well as endanger the declining bird populations. Call the county animal shelter or a local rescue organization, which will work to find the animal a new home.