Overcoming Cancer
A woman recalls how a positive attitude—and top-quality treatment—helped make a scary diagnosis just a memory.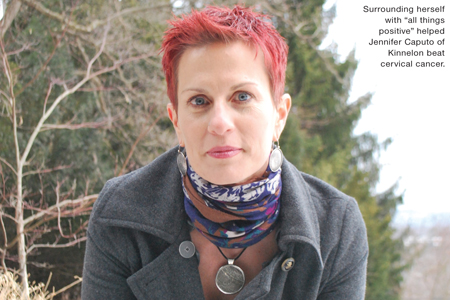 Jennifer Caputo will never forget the phone call she got at her son's all-star baseball game in August 2007. "I saw that it was my doctor's covering physician, so I went to my car and sat in the back seat, and she told me, 'I think you have a little cancer.'"
Caputo, now 45, is a library media specialist who lives in Kinnelon with her husband, Steven, 44, a police detective, and their daughter Brady, 20, and son Drew, 18. At the time of that fateful phone call, she had been having periodic hemorrhaging over the previous 18 months, but tests had been inconclusive. "I wasn't devastated by the call," she says. "It was more like, 'OK, so that's what this is. We'll deal with it.'"
Her doctor still wasn't sure of her diagnosis, however, so Caputo was referred to Thad Denehy, M.D., associate director of the Division of Gynecologic Oncology & Reconstructive Pelvic Surgery at Saint Barnabas Medical Center. Dr. Denehy conducted more tests, including two biopsies and imaging scans, and confirmed that she indeed had cancer— but fortunately, the cervical cancer had not spread past her cervix. Caputo underwent radiation and chemotherapy treatments to shrink the tumor before having a total hysterectomy.
She got through it all by staying positive. "I purposefully surround myself with all things positive," she recalls. "What should have been the worst time in my life was absolutely amazing." The radiation technicians supported her desire to bring all her cards and letters of good wishes into treatment with her and often let her choose the music played during the sessions. "They became like my family because I was there every day," she says.
Dr. Denehy, says Caputo, "was my rock star." And her radiation oncologist, Raquel Wagman, M.D., "was my angel. She had such a soothing voice, comforting touch and sweet demeanor. Everything about her was calming and peaceful."
Six weeks after her hysterectomy, Caputo was back at work, and now, six years later, she is cancer-free and feeling great. Other than her routine annual checkup, no other treatment is necessary. —d.l.