Overcoming the Odds
Thanks to his team at MMC, Len Kiczek is beating prostate cancer - a disease that runs in his family.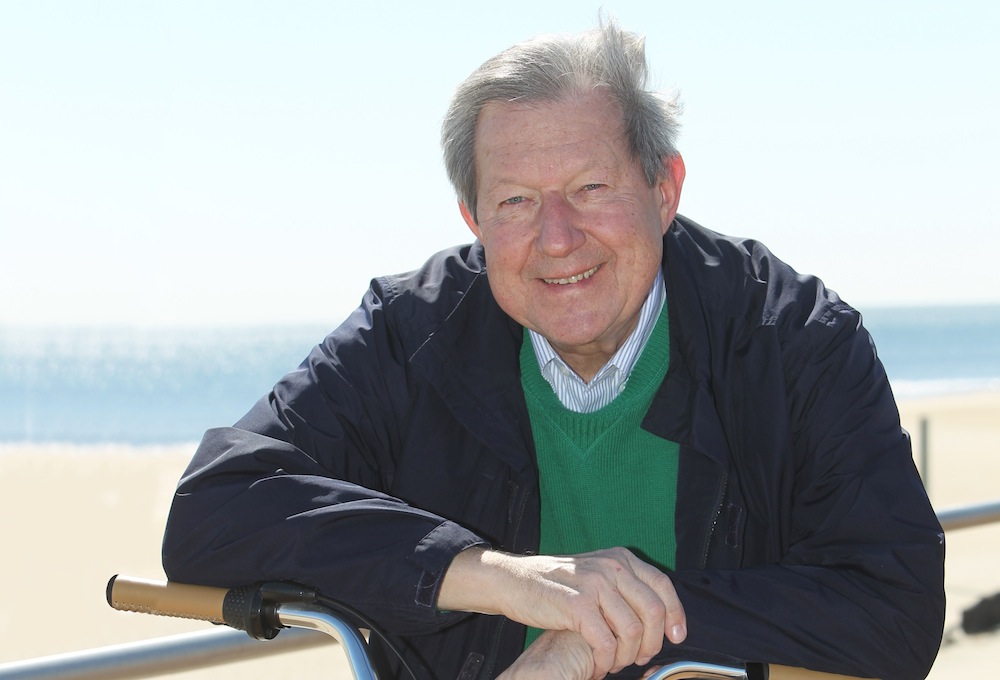 PROSTATE CANCER CLAIMED THE LIVES OF HIS GRANDFATHER, father and brother, but despite his family history, Len Kiczek is winning the battle with the deadly disease. Seven years after receiving treat- ment from the Prostate Cancer Program at Monmouth Medical Center (MMC), the 67-year-old father and grandfather is cancer free.
Aggressive PSA Testing
Beginning in the mid-2000s, Len began undergoing regular prostate- specific antigen (PSA) blood tests to screen for prostate cancer. Testing continued in 2008 when he and his wife, Gina, moved to Long Branch, where Len was seen by now retired MMC urologist Arnold Grebler, M.D. When PSA results showed elevated numbers, Dr. Grebler referred Len to his colleague Mitchell Weiss, M.D., a board-certified radiation oncologist at MMC who underwent training at Memorial Sloan Kettering Cancer Center. At the direction of Dr. Grebler, Len had a biopsy for prostate cancer in which a small tissue sample was removed from the prostate for further examination. The pathology report revealed the presence of cancer cells but was considered "favorable risk" prostate cancer.
Drs. Weiss and Grebler provided Len with an overview of surgical and non-surgical treatment options, including prostate removal, external beam radiation and brachytherapy. After consulting with his physicians and assessing what was best for his busy lifestyle as a solo law practitioner, Len's individualized treatment plan became clear.
In 2009, he underwent hormone therapy—also known as androgen deprivation therapy (ADT) or andro- gen suppression therapy—to re- duce levels of male hormones and ultimately shrink the prostate can- cer. In 2010, after the completion of hormone therapy, Len underwent brachytherapy—Permanent Seed Implant (PSI)—a non-surgical,minimally invasive treatment overseen by both Drs. Grebler and Weiss, who also serves as chairman of radiation oncology at MMC. During the same-day procedure, 72 seeds were implanted in the prostate gland, giving a high radiation dose to the cancer, and sparing the surrounding healthy tissues. Len was back to work and his usual routine within two days of the procedure, and for every six months following the first five years of treatment, he followed up with a urologist and oncologist and had blood work taken.
Cancer Free
Today, Len's outlook remains promising. Seven years after receiving prostate cancer treatment, Len reflects on how he knew right from the get-go that he was in good hands at MMC. "The highly trained physicians explained options in great detail and made me feel comfortable every step of the way," he says. "Thanks to Monmouth's expertise in treating prostate cancer, I continue to be cancer free. This is a huge relief to my family and me."
Non-surgical treatment options for prostate cancer
They resemble grains of rice, so small that dozens can be cupped in the palm of your hand. But when these tiny radioactive capsules are placed directly into the pros- tate gland, they deliver a powerful punch in fighting the second-leading cause of cancer death among American men.
Since 1998, this pioneering radiation implant therapy, also called permanent seed brachytherapy (PSB), has been performed at Monmouth Medical Center (MMC)— the region's leader in providing state-of-the-art cancer and urological services and the first hospital in central New Jersey to offer real-time, dynamic computer-assist- ed planning for men with early-stage prostate cancer undergoing PSB. A team of highly skilled urologists, radiation oncologists and physicists is performing this permanent, low-dose radiation seed implant procedure, which dramatically limits the radiation dose to surround- ing tissue and organs.
Through the procedure, 3-D contours of the prostate are obtained at the time of the procedure and acquired by the planning computer directly stationed in the operat- ing room. Using a sophisticated software program, the computer optimizes both the number and position of the seeds to deliver a precise planned dose.
"The intra-operative planning program is critical for identifying the approach to be followed in placing the seeds," says Jules Geltzeiler, M.D., chief of urology at MMC. "It also provides 'real-time' dose calculation and dynamic feedback as the procedure is progressing to achieve the desired dose goal to the prostate, while maintaining critical dose constraints to the urethra and rectum."
As a result, the titanium capsules, which contain a radioactive substance, then can be implanted into the prostate with pinpoint accuracy. "This is a significant advancement in seed brachytherapy that allows us to optimize and immediately look at the dose to the prostate from the seeds as we are implanting them," says Mitchell Weiss, M.D., chairman of Radiation Oncology at MMC. "It gives us a tremendous advantage in limiting dose to the urethra and rectum while delivering the proper dose to the gland itself.
"When we evaluate the implant by CT (computed tomography) scan one month after the procedure, which is considered the gold standard and should be done in every case, we have been delighted to find that the dose goals have been maintained," he adds. "We have been amazed at the lack of urinary and rectal symptoms in our patients. It's very encouraging."
For more information about brachytherapy treatment for prostate cancer, call the Prostate Cancer Program at the Leon Hess Cancer Center at Monmouth Medical Center at 732.923.6855.