Parade Premiere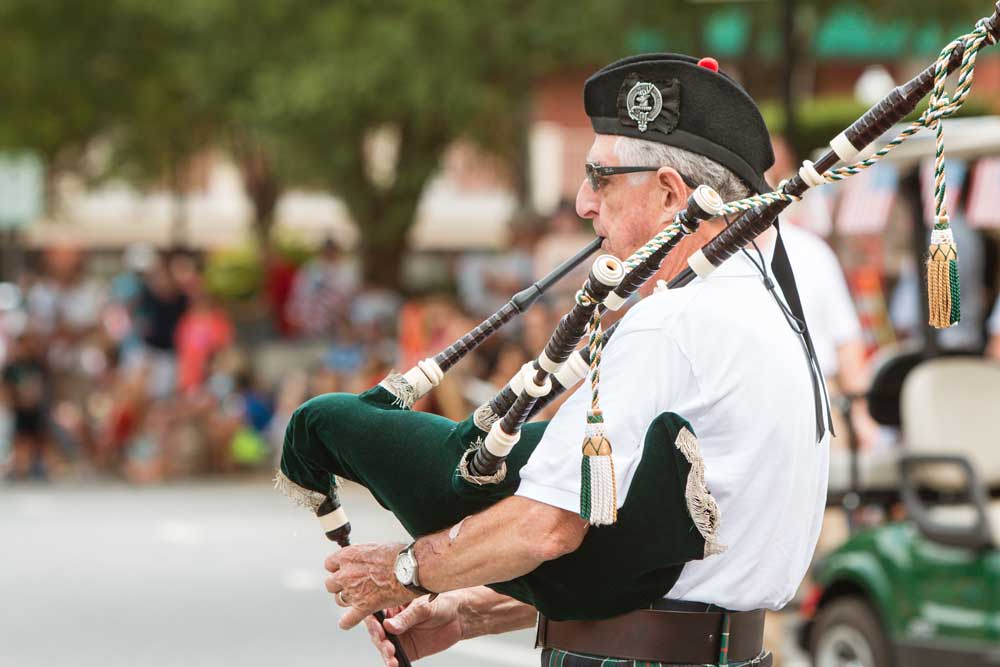 Rutherford residents needn't travel far to enjoy a St. Patrick's Day parade this year: The town is hosting its very first on March 4.
The idea was proposed to Mayor Joe DaSalvo by Patrick O'Neill, a local police officer and member of the Emerald City Pipe & Drum Band who travels down to Belmar's parade every year. It was O'Neill's hope—and now reality—that local musical groups and Irish organizations could participate in an event closer to home.
Meanwhile, the Bergen County Irish Association is holding its 37th annual parade on Sunday, March 11 at 2 p.m. on Washington Avenue in Bergenfield. Resident Thomas O'Reilly will serve as this year's grand marshal, and there will be performances from local Irish stepdance troupes and musical groups.
Kudos
The New Jersey Center for Teaching & Learning (CTL) in Trenton awarded 35 NJ teachers $5,000 scholarships; with a donation from Bayer USA, CTL was able to help the educators earn certification in physics so that NJ students have as many science, technology, engineering and mathematics (STEM) role models as possible. Out of the 35 teachers, eight of them call Bergen County home:
Galia Kisiova, Cliffside Park High School
Frances McCoy, Cresskill Middle/High School
Nicole Gersht, Holmstead School in Ridgewood
Rob Salgado, Pascack Hills High School
Steven Gross, Ridgewood High School
Rachel Godfrey, Sage Day School in Rochelle Park
Marsha Hirsch, Sage Day School in Rochelle Park
Keri Parry, Wood-Ridge Jr./Sr. High School
Culinary Corner
TGIF
Looking for a new Friday night dinner spot? Try Kinyobi in Hackensack—after all, its name literally means "Friday" in Korean. The establishment's owner used to cook for friends and family on the weekends and decided to turn this passion into a business. Now, the culinary wiz is serving authentic Korean fare with a twist—like traditional bulgogi (marinated beef) inside of sliders and burritos, topped with guacamole and white kimchi. Other specialties include fried meat, veggie dumplings and spicy sweet chicken wings with crispy fries on the side.
India Uhia recently visited Kinyobi with her boyfriend and was more than pleased. "We tried the vegetable pancakes, wings and fried dumplings," she says. "The portion sizes were perfect, and you could tell that everything was freshly prepared."
Kinyobi, 838 Main St., Hackensack, 201.646.3267, kinyobinj.com
Turkish Delight
The brand-new Usta Grill in Cliffside Park is promising "spontaneous, homemade" Turkish dishes like kofte (meatballs), paninis, stews and cold bean salads, which are served seven days a week until 9:30 p.m. Owners Adem Kazanci and Kemal Buyukbaran are running the show, with Adem in charge of all chef's duties (including pastries); the restaurateur has been cooking since he was 13 and most recently worked at a kosher steakhouse in Brooklyn.
Usta, 601 Anderson Ave., Cliffside Park, 201.917.5850, ustagrill.business.site
Dominican Digs
Authentic Dominican food is on tap at El Malecon, one of Fort Lee's newest restaurants. Along with mainstays like empanadas and pasteles, owner Leo Reyes is offering dishes that include pollo guisado (chicken stew), mondongo (tripe soup) and pernil al horno (roast pork), plus specialty drinks like tamarindo and morir sonando that are made from natural juices.
El Malecon offers specials every day of the week, with discounted lunches for local students and faculty. And when the weather gets warmer, guests can enjoy outdoor seating. El Malecon, 1400 Anderson Ave., Bldg 2, Fort Lee, 646.817.8081, elmalecon.net
You're Invited
You might not find a pot of gold this St. Patrick's Day, but would you settle for a cold Guinness and some traditional pub grub? We sure would, and that's why we'll be heading to one (or more) of these Bergen County Irish pubs. Anyone care to join us?
The Shannon Rose
There are plenty of shareable eats—try the Ploughman's Sampler (nachos, corned beef spring rolls, bacon Cheddar boxty and boneless wings)— plus signature cocktails like the Dublin Mule (Tullamore D.E.W. Irish whiskey, Gosling's ginger beer, mint syrup and fresh lime).
1200 Route 17, Ramsey, 201.962.7602, theshannonrose.com
Davey's Irish Pub
Popular faves include the Dublin Grilled Cheese (sharp Irish Cheddar with Irish bacon and Grilled Tomato on white bread), which patrons wash down with one of the 16 varieties of beer that are on tap.
5 Park St., Montvale, 201.391.9356, daveyspub.com
Hearth and Tap
The gastropub has plenty of delicious eats, including the Grass-Fed Burger (with Grafton Irish Cheddar, butcher bacon, onion ring, on a brioche); cocktails include the Smashing Pumpkins, made with Tyrconnell Irish Whiskey, Pumpkin Spice simple and Corazon bitters.
125 N. Kinderkamack Rd., Montvale, 201.307.6300, hearthandtap.com
Biddy O'Malley's
Along with draft beer like Guinness Stout, Harp Lager and Smithwicks Ale, the bistro/bar has a full wine and cocktail menu—plus mouthwatering menu items like Goffle Road Farm's Chicken Liver Pâté.
191 Paris Ave., Northvale, 201.564.7893 and 36 N. Van Brunt St., Englewood, 201.608.5545, biddyomalleys.com
Tommy Fox's
Alongside burgers, pasta and steaks, the pub has a slew of authentic Irish eats like Shepherd's Pie, Bangers and Mash, Dublin-Style Fish and Chips and—of course—corned beef and cabbage.
32 S. Washington Ave., Bergenfield , 201.384.0900, tommyfoxs.com
Spring into Action
April showers may bring May flowers, but it's never too early to prepare for spring! Check out of the offerings at some of Bergen's nurseries, and get a head start on your garden now:
Rohsler's Nursery
There are more than 1,500 varieties of perennials, plus native shrubs, plants for pollinators, hybrids and a "preferred customer club" to reward patrons.
100 Franklin Tpke., Allendale, 201.327.3156, rohslers.com
Eisele's Nursery
Family-owned and operated since 1939, Eisele's has eight acres of plants, trees and shrubs, all sourced from local growers. Also on offer: annuals, perennials, vegetables, mulch, fertilizers and garden tools.
232 Oradell Ave., Paramus, 201.262.1015, eiselesnursery.com
Riverside Nursery
Boasting a 12-acre garden center, Riverside specializes in large caliper trees, along with tropical, annuals and perennials. Head to its website for useful lessons in "plant education," aka tips on installing/watering new plants, deer resistant plants and more.
237 Ramapo Valley Rd., Oakland, 201.651.0222, riversidenursery-nj.com
Charlie's Nursery
The family-owned and operated nursery is already gearing up for spring, when its palm crosses, Easter lilies, bulbs and pansies are especially popular.
275 River Rd., North Arlington, 201.998.8206, charliesnurserynj.com
Galaxy Gardens
There are trees, flowers, grass and greenery, of course, but Galaxy also carries a complete line of products that are totally for the birds (think wild bird food, bird baths, bird feeders and bird houses).
223 Woodcliff Ave., Woodcliff Lake, 201.573.1515, galaxygardens.com
Kitty Love
Muffin, 6-year-old Maine Coon & Rag Doll mix
Owner: Heather Cece, Ramsey
The mischievous Muffin frequently gets into trouble when she steals Heather's sponge curlers every morning and uses them as toys, but her naughtiness doesn't last long: By the time she's done playing, she's exhausted and ready for a catnap.
She's not the only fluffy feline in the Cece clan: Muffin has a brother named Jesse that the family also adopted. So how do the siblings get along?
"Jesse loves to interrupt Muffin while she's napping," Heather says. "Even though they're from the same litter, he definitely acts like her little brother."
Mix it Up
Stir up your current style at Mixology, a new fashion boutique in Closter that stocks tees, jeans, dresses and accessories. Tweens and their moms can shop together for trendy apparel from household names like Levi's and Junk Food or smaller niche brands like Robertson & Rodeo and NIKIBIKI. Mixology even has its own line of accessories that features colorful shades, glittery purses and cute iron-on patches. The shop is open six days a week from 10 a.m. to 7 p.m.; personal stylists are available, and customers also have the option of scheduling private appointments.
Mixology, 65 VerValen St., Closter, 516.341.7454, shopmixology.com
Let's Be Real
Gucci, Prada, Louis Vuitton. They're brands you love and want in your closet, and everyone knows it: boutiques, department stores and, yes, even counterfeiters. And while you don't think twice about buying from Neiman Marcus in Paramus or the Hermès store in Hackensack—there's no question that the clothes, shoes, bags and more are the real deal—how do you know the "designer" items at a consignment store are authentic?
High-end consignment shop Savvy Chic (30 Cottage Pl., Ridgewood, 201.389.6900, savvychicconsignment. com) is one of the businesses that goes the extra mile to guarantee the authenticity of the goods it sells. Not only does the staff consult with industry experts, they employ the services of Entrupy—a company that uses tech to examine microscopic images and distinguish between genuine and counterfeit versions.
Meanwhile, if you already own some swag but want to make absolutely sure that the labels are legit, Savvy Chic can authenticate them for you for just $30 an item
Editor's Pick: Erase It!
Frankly, the raccoon look never suited us. That's why we're really into Onomie's Bright Concealing Elixir. Not only does it act as a concealer, but a blend of botanicals and antioxidants helps erase dark circles over time. The proof: In one study, those who used it for two months had a 77% improvement!
"I've been using it for two weeks, and I love how it glides on and stays in place," says BERGEN Editor in Chief Rita Guarna. "It's too soon to tell whether it'll lighten my dark circles, but stay tuned."
Pattern Play
With spring ready to bloom, it's time to update your wardrobe with some of the season's hottest patterns.
Gingham
Gingham's checker board pattern is common on shirts, but now it's branched out to shoes. A pair of gingham heels or flats, like these by Edison D'Orsay, will be a playful addition to any wardrobe.
Talbots, Woodcliff Lake, 201.307.0102
Bandana
That familiar print found on the everyday bandana made its way to catwalks during New York Fashion Week thanks to Valentino, among others, who debuted several silk dresses and garments with the design.
Nordstrom, Paramus, 201.843.1122
Botanical
Botanical and floral prints are as timeless as good 'ol solids and stripes but with much more life. This season, innovation mixes with natural elements to create whimsical patterns for dresses and blouses—like in this piece from Elie Saab.
Neiman Marcus, Paramus, 201.291.1920
Rainbow Stripes
Somewhere over the rainbow, at New York Fashion Week, precisely, the multi-colored trend was made chic—and now it's hot for the season. Edie Parker's American-made Jean Striped acrylic bag features all the colors needed to add a little pop to your outfit.
Hartly Fashions, Westwood, 201.664.3111