Paradise, Twice
2 jaunts to refresh body, mind and spirit: The blissful beaches of Grand Cayman and Colorado's rugged vistas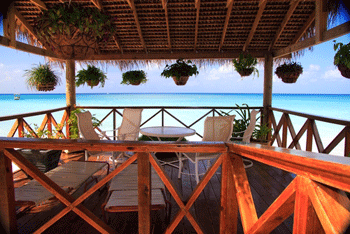 We just couldn't decide. Did our weary bones and deadline-battered souls cry out for the pure indulgence of lolling on a sandy Caribbean beach? Or should we restore ourselves with stunning views and vigorous adventures in a Western wonderland? So we flipped a coin, secretly hoping it would land standing on end. It didn't, but we took both trips anyway—and made some notes to help you follow along:
PARADISE NO. 1:
GRAND CAYMAN ISLAND
With our harried bodies clamoring for unadulterated relaxation, we headed for the renowned La Prairie Spa at the Ritz-Carlton Grand Cayman Hotel in the Caribbean (345-943-9000, www.ritzcarlton.com/en/Properties/GrandCayman; summer "leisure rates" begin at $219 nightly). On Grand Cayman, the sand is creamy white, the sea a magnificent azure and the net effect on your senses wondrous. As for the Ritz—well, you know the name. This hotel is situated on 144 acres facing Seven Mile Beach and stretching "from sea to sea"— from the Caribbean to the North Sound where the island's skinny western neck curves its way north. It boasts five restaurants, two outdoor pools, an ocean- front Jacuzzi and precisely 365 rooms—one for each day of the year, if it strikes your fancy—and many with oceanview balconies.
And ah, the spa. Called Silver Rain, it's a restorative sanctuary where crystal, silver and mirrored surfaces blend seamlessly with the energy of water—from glittering ice-crystal sculptures to softly splashing raindrops. Designed by Carl D'Aquino and Francine Monaco of D'Aquino Monaco, New York, the spa is 20,000 square feet of elegance. The "relaxation salon," where I waited for my therapist, featured oversize chaises, a tea-bar full of exotic teas and island juices.
I admit it—I'm easy to please when it comes to spa treatments. Of course, I know the difference between an A+ therapist and one with lesser gifts, but most of the time I'm too blissed out to care. When I underwent La Prairie's one-hour Caviar Massage, however, the perfectionist in me made a quick comeback—to inwardly shout hooray. Within five minutes, Caleb, a talented artist with magic hands, gently but firmly untangled the knot in the left side of my cramped neck. And who says caviar is only for eating? Known for their anti-aging effects, these lush products epitomize luxury. I swear I could feel the essential oils and extracts being soaked into my skin, which felt plumped, smooth and nourished for the next few days.
Even more divine was the 90-minute Platinum Rare Facial, a facial-plus-massage combo. It was so relaxing, in fact, that I found myself drifting off to sleep. Thankfully, I only dozed for a few minutes—I wanted to savor every moment of this pampering. It was quite simply the most amazing treatment I've ever had, and I'm a massage aficionado. If only such experiences could be bottled!
A table to try
Calypso Grill (345-949-3948, www.calypsogrill cayman.com) in the West Bay overlooks a harbor where the fishing boats can be seen returning to the docks with the day's catch. Indeed, the fresh fish served in this brightly colored establishment comes in daily from a dock next door; your own "catch" might be tuna sashimi, crab cakes, fresh shrimp or one of a number of other constantly varying—but always enticing—seafood dishes. The French doors are kept ajar so you can dine in a gentle ocean breeze.
PARADISE NO. 2:
SOUTHWEST COLORADO
For our thrilling Western journey, we headed for the rugged terrain of southwest Colorado. Inspired by an adventure described in the book Journeys of a Lifetime: 500 of the World's Greatest Trips (2007, National Geographic), we hopped an 80-minute flight on Great Lakes Airlines (800-554-5111; www.flygreatlakes.com) from Denver International to Cortez Municipal Airport (elevation 5,918 feet). Then it was on to the 81.4-square mile Mesa Verde National Park (www.nps.gov/meve/index.htm), which since 1906 has preserved the cliff dwellings, "kivas" (ancient ceremonial rooms) and other archeological treasures of a native American people now called the Ancestral Puebloans.
Tantalizingly, they left no written records, but the elaborate structures they built and the tools, basketry and pottery excavators have found here bespeak an industrious and resourceful civilization—centuries before Columbus. We gamely hiked on a Park Ranger–guided tour, seeing some of the park's 4,500 archeological sites, and for us one standout was a honeycomb of more than millennium-old residential structures known as the Cliff Palace. There we couldn't help noticing how multigenerational our group of sightseers was: Here was a spry septuagenarian, there a woman with a papoose.
Having never sampled buffalo or quail, we filled that experience gap happily at the award-winning Metate Room while staying at the park's Far View Lodge (866-875-8456 or 800-449-2288, www. visitmesaverde.com/ accommodations/far-view-lodge.aspx; rooms $116 to $150). Just don't ask us to pick a favorite between the succulent marinated grilled quail with red chili polenta and the hearty grilled marinated buffalo ribeye. Out the window, a bright full moon added to our spiritual uplift.
This was our exploration expedition, so we rented a car and drove to Durango, a town established in 1880 by the Denver and Rio Grande Railroad. We took a charming walking tour of historic Main Avenue (www.durango.org/fact-sheets/walking-tour.aspx), learning about the town's Old West denizens, respectable and not-so. The "roots of 'cowboys and Indians,' miners, immigrants and ladies of the night are still evident" here, writes local historian Frederic B. Wildfang, who proved well-versed in local lore when we met him during our visit.
The Rochester Hotel (800-664-1920, www.rochesterhotel.com) was not just our lodging place for the night, but also a riveting
destination. It's been in business since 1892, though renovated in the 1990s. In support of the hotel's theme, "Hollywood of the Rockies," each of the 15 rooms is named for a movie filmed in the area. (Paul Newman and Robert Redford made their famous "The fall's gonna kill ya" jump in Butch Cassidy and the Sundance Kid near here, though the promontory really wasn't very high.)
Would a Wild West immersion be complete without a steam-train trip? Of course not. So we hopped aboard the Durango-Silverton Narrow-Gauge Railroad (970-247-2733, www.durangotrain.com; 3.5 hours, $84.24 for "standard" class on up to $175.76 for "Presidential" class). The railroad, in constant operation for 127 years, was built to haul silver and gold ore down from the San Juan Mountains. As we snaked rhythmically around curves along the Animas River Canyon, mountain peaks loomed in all directions, so unforgettably majestic they did encores in our dreams. Take this trip and you'll be a slightly different person—we promise.
When we say Silverton is a sightseeing gold mine, we aren't being picturesque. We took the town's Old Hundred Gold Mine Tour (800-872-3009, www.minetour.com; $16.95 for adults, departs on the hour from 10 a.m. to 4 p.m., May 10 through October 15; you're underground about 50 minutes). It's a literal gold mine that shows off an operational 1930s-vintage Ingersoll-Rand drill. Panning for real silver and gold is included in the price of admission. Keep what you find, but don't expect it to finance the trip.
From Durango we drove the San Juan Scenic Byway to Ouray, 7,792 feet above sea level. We stayed at the Box Canyon Lodge and Hot Springs, (800-327- 5080, www.boxcanyonouray.com), and experienced a joyous rejuvenation—with scenic majesty all around us—courtesy of the warming waters in this establishment's hot springs, collected in soothing outdoor tubs.
Suitably renewed, we set out for more exploration. A thrilling Jeep tour with Switzerland of America (866- 990-5337, www.soajeep.com; this jaunt was $60 for adults) took us to Imogene Pass, the highest driveable pass in the San Juans and our journey's loftiest elevation at 13,114 feet. (Yes, the air is thinner and breathing is shallower, but you get used to it.) Then came a stagecoach ride from Ouray's sole remaining livery barn (970-708-4946, www.ouraymule.com; $10 per person, departing Monday through Saturday "after the noon whistle").
When editor Horace Greeley gave his famous advice about going West, he was onto something. Discovering the joys of this beautifully rugged countryside, we discovered new energies in ourselves as well.
So, which experience was more rejuvenating for body, mind and spirit: the Colorado adventure or the Cayman indulgence? You're no doubt waiting for a clear verdict, but it was awfully close. I fear we may have to try them both again—just to be sure.
A table to try
The Mahogany Grille (699 Main Avenue, Durango; 970-247-4433; www.mahogany grille.com). In just six years of operation, this eatery has established itself as a "must stop" for the culinary cognoscenti. We enjoyed the Pepper Steak Herbert, a pan-seared filet mignon flambéed with brandy in a peppered mango chutney and garlic mashers, and the Elk Tenderloin, served with cheddar polenta and vegetables.