Party Smart!
With these practical tips, make '18 the year of your best-ever backyard bash.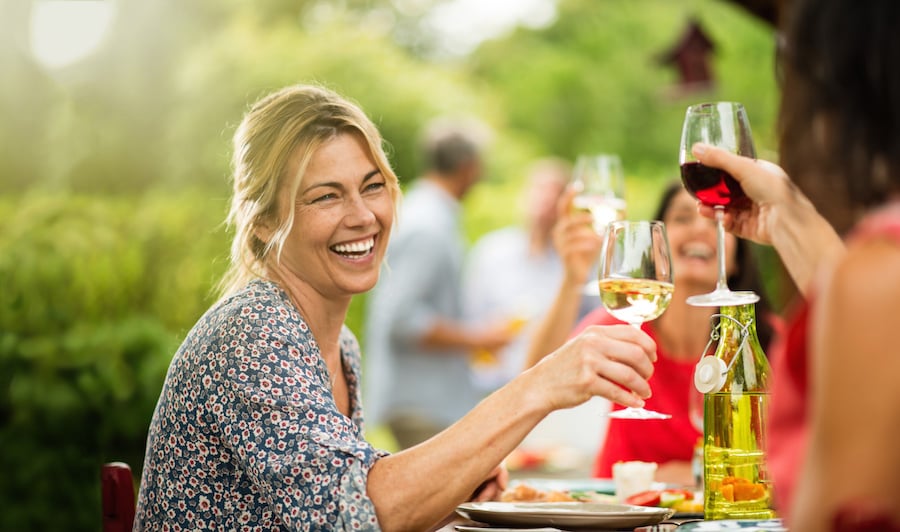 Whether you're planning a Fourth of July get- together or a weekend barbecue, you've got to face it: Successful outdoor parties don't just happen; they take planning. With that in mind, BERGEN roamed the county pumping the experts for advice on summertime hosting that delights guests— and makes it look easy. Their 18 tips follow. In Chinese folklore, the number 18 is considered lucky because its pronunciation resembles that of the word meaning "definitely get rich." We can't promise that our smart-party counsel will bring you a pot of gold. But will it help your hospitality prosper? Definitely!
1. Dress for comfort.
Guys typically have an easy time choosing what to wear for an outdoor party, but women may be in danger of overthinking. Bring on the sundresses! "Your perfect garden party dress should be made of a light, breezy material, so that you look classy yet comfortable," says Lara Henawi, owner of the fashion boutique Ludovica in Westwood. "Steer clear of denim, which tends to stick to you in the heat. And if you're playing hostess, a cute pair of slip-on sneakers lets you run around while staying stylish."
2. Save face.
Ladies, don't make makeup a hassle. "Before putting on concealer, moisturize your skin and use a face and eye primer," says Kylie Fritz, makeup artist at Runway Blowout Lounge in Ramsey." And finish your look with setting spray to keep makeup in place. A good setting spray is oil-free and has temperature control, so even if you're hot and start sweating, your makeup won't be going anywhere."
3. Think of a theme.
Just enjoying guests' company is fine, but the occasion can be more special if you give it a motif. 1980s attire? Stars and stripes? Think of something fun yet practical, perhaps an idea that you can incorporate into every facet of the event. "Luaus tend to be my go-to theme for summer parties," says decorator Diana Andriotis of Theodora's Gracious Gift & Design in Allendale. "You can easily turn your backyard into an oasis with artificial floral leis, tiki torches and umbrella covers." Menus and attire can reflect the theme as well.
4. Make sure flowers fit the mood.
If your event is a traditional one—a garden party or an afternoon tea, for instance—tropical flowers may not feel right. In that case, consider using daisies, pom poms and chrysanthemums. "Many people shy away from carnations," says Stephanie Barbagiannis, co-owner of Allendale Flowers. "But when clustered together, they look modern— almost like peonies—and are a less expensive and heat-resistant option for a hot day."
5. Start side dishes early.
The best barbecue and picnic side dishes are those you can make ahead of time. "I like to make grain salads the day before because they achieve a better flavor profile—the ingredients have time to mingle," says Billy Woods, co-owner of Chestnut Deli & Catering in Ridgewood. Salads made with wheatberry and farro tend to hold up well, he says, as do veggie salads made with corn and beans instead of greens.
6. Keep things cool.
If you keep dishes like pasta and potato salads cold as long as possible, they'll stay appetizing longer—and be more refreshing on a hot afternoon. "Fill a bowl that is larger than your salad container halfway with ice," advises Woods. "Then put your salad bowl on top and keep it in the shade. It'll stay chilled longer that way."
7. Be a smart cookie about dessert.
Pre-order a platter of themed sugar cookies to lay out for dessert—they're an interesting talking point and a treat to eat! Michele Braun at Mimi's Cookies in Waldwick offers custom cookies for many occasions: For your high school graduate's party, why not custom order cookies with the logo of his or future college (pictured)? They are pre- wrapped in plastic, so they make for mess-free and delicious party favors as well!
8. Pick powerful petals.
Everyone loves a colorful floral centerpiece, but "no cut flowers will survive in heat for too long," warns floral expert Barbagiannis. She recommends floral arrangements of heat- resistant flowers such as tropicals and hardy succulents (pictured). "Protea, cymbidium orchids, birds of paradise and anthurium are all great varieties," she says. "They're wonderful if your party revolves around a bright color palette. Try keeping them in a cool location for as long as possible before guests arrive."
9. Light the way.
Because parties can continue when the sun goes down, your outdoor space needs ample and safe lighting. A portable fire pit provides light and warmth, and it's perfect for making s'mores. Another option is string lights, which Christine Figliuolo of Creations by Christine Events in Waldwick says are easy to hang on a pop-up tent or entrance arbor. "You can also place battery-operated candles inside metal lanterns and use them as centerpieces for your tables," she says, adding that these are safer than wax candles and help you to avoid a drippy mess.
10. Brief the guests.
It's a drag to show up for an event unprepared or overdressed, so spare your partygoers that feeling. "When hosting something outdoors like a pool party, you need to let guests know more than for an indoor event," says Figliuolo. "On your invitations, include whether you'll be outside, around the pool or on the grass, so they know what clothes and shoes to wear. Also mention if you'll be providing towels, sunscreen and bug spray so they can come prepared."
11. Think natural.
Insect repellent containing DEET is fine for your next jungle hike, but for an outdoor bash—near the food—you may wish to consider natural alternatives. Lemon verbena is an excellent substitute for chemical-laden bug spray, and it can be purchased at garden centers like Eisele's Nursery in Paramus or Cedar Hill Nursery in Mahwah. Have your guests rub a few of the leaves on their skin instead of using spray.
12.Let your guests do DJ duty.
Want to add some vintage charm to your party? Pick up a stack of inexpensive vinyls from a local record store (Music Merchants in Westwood or Record King in Hackensack, for example) and set them up—along with a portable record player—for everyone to browse through and enjoy.
13. Book rentals in advance.
When it comes to renting tables and tents, beat the summer rush and book as far in advance as possible. Says Sean Scheidle of Valley Tent Rental in Hillsdale: "I recommend reserving your rentals at least a month in advance. Most rental places will be 100 percent booked some weeks out in the summer."
14. Play that funky music.
Save your personal playlists for the gym or commute and put together a string of classic tracks that your guests can sing and dance to. (Hint: The oldies are "goodies" for a reason!) "When my band does outdoor gigs, we play songs that are familiar to the crowd," says Carolyn Greenberg of Mary's Basement, a Bergen-based rock band (pictured). "We tend to do a lot of favorites from the '60s and '70s, like 'Sweet Caroline' and 'Rock This Town.' And in New Jersey, you can never go wrong with a little Bruce Springsteen!"
15. Please with a freeze.
Who doesn't love a slushy? If you're planning a party, reunion or cookout where both adults and kids will be in attendance, you can't go wrong with a frozen drink machine. "Frozen drinks are a favorite because they can be made with or without alcohol, then enjoyed by all," says Scheidle, whose company rents the machines. "You can choose from many different flavors such as piña colada and strawberry daiquiri, and these machines are less messy than something like a chocolate fountain."
16. Be imaginative with photos.
Take lighting into consideration when photographing your big event outdoors. Upper Saddle River-based photographer Gina Palermo recommends attaching a lens flare to your DSLR camera and using the bright sun to your advantage. "I also like to reflect natural light off a prism for a rainbow effect," she says. "It adds a unique touch."
17. Prepare to be surprised.
Hosts and hostesses aren't the only ones who can be creative—guests can too! Andriotis at Theodora's Gracious Gift & Design tells partygoers that bringing a thoughtful hostess gift is sometimes more fun than the traditional dessert or bottle of wine. "A cute set of serving spoons is always a nice idea because they're practical," she says. "You can never have too many, especially when you're throwing a party!" So don't be thrown if a guest's clever gift helps make your occasion easier or even more fun. Remember: It's also nice to receive.
18. Choose cocktails that hydrate.
Alcohol can cause dehydration, but that doesn't mean you and your guests can't enjoy a drink on a summer day. If you decide to serve alcoholic beverages at your outdoor soirée, opt for a cocktail that's tasty and hydrating (water and juices from fruits and vegetables will do the trick). Kathy Mahon, bartender at Park West Tavern in Ridgewood, recommends a batch of the "Basil-Cucumber Vodka Rickey." It's made with 1.5 liters of vodka, the purée of one cucumber, two cups of fresh lime juice, two liters of club soda and one cup of basil simple syrup. Combine ingredients in a large drink dispenser with ice, mix and leave out on the table for guests to enjoy.