Passion For Pets
A Morristown mainstay is redefining pet care thanks to truly dedicated, educated animal lovers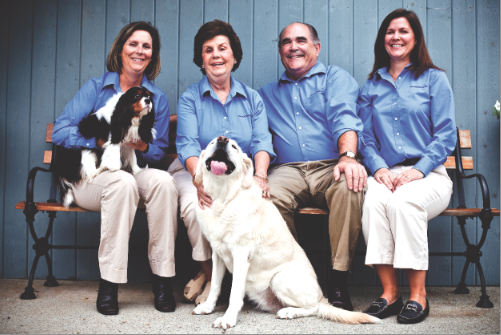 On a quiet country lane in Morristown sits the Morris Animal Inn, a luxury pet resort that's been family-run and -operated for more than 50 years. The inn offers overnight lodging, day care, grooming services and an amazing range of activities for both dogs and cats. Canine services can include group play, swimming or a run on the treadmill. Feline options range from toy chase and outdoor rides in the "kitty stroller" to quiet lap-and-brushing time (perhaps while the cat is viewing the beautiful fish tank or a film of birds on TV). Yet long before there was a 25,000-square-foot, full-service facility able to house up to 300 pets, there was a "mom and pop" grooming shop. We spoke recently with the inn's vice president, Joanne Morris:
How did the inn get its start? It began four generations ago with my grandfather, a professional dog handler. He won the Best in Show at the Westminster Kennel Club Dog Show in 1943. When he retired, he opened a small grooming shop called Poodle Palace. My parents had the vision to transform his shop into a modern facility, and in 1986 they designed and built just that with my granddad. In 2008, the inn underwent a multimillion-dollar renovation project, and doubled in size.
What sets it apart from other animal resorts? One thing is the higher quality of care. We really understand the relationship between pets and families. People trust us with their pets, and we take that seriously. We offer personal hands-on care, a safe and clean facility, comfortable accommodations and activities to fit the pet and the family's lifestyle. We also provide manners training courses, and for group and private classes, we refer to our sister company Morris K9 Campus.
Who takes care of the pets? We have 25 to 30 employees in areas such as guest services, grooming, pet technicians and training. We believe that the staff is the greatest asset to the success of our business. They're the ones caring for the pets day-to-day. We work hard to promote a positive environment and to motivate, train and retain quality staff, because if the staff isn't happy, it trickles down to the quality of care—and the pets sense that.
Did you see yourself running the business one day? I really didn't, even though I grew up working for my family. Years ago this wasn't seen as a viable career. But the pet industry has changed and we have changed with it. It took my going away and having experience elsewhere, then coming back to realize that I'm passionate about pets and our clients.
Who gets more anxious about boarding, the pets or their two-legged counterparts? One woman brought in her dog for the first time. She was nervous leaving him and brought a few items to remind him of home: a T-shirt she slept in, toys— which isn't unusual. But she was still uncomfortable so she grabbed a box of dog biscuits and opened it, and, as she stood at the reception desk, she proceeded to lick each one and put it back in the box. Of course I acted as if this happens every day. I assured her we would make sure her dog got them and he would be just fine. —JOANNA YEUNG