Peter E. Ciampi, D.D.S., M.A.G.D.
Spring Lake Dental Care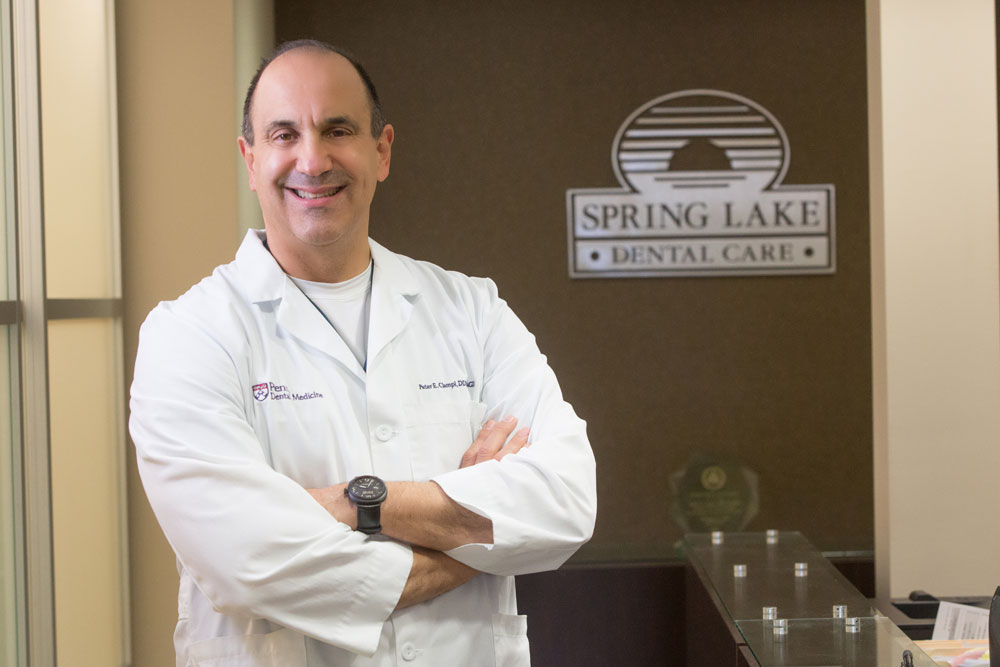 FOR 26 YEARS, DR. PETER CIAMPI has been providing the best in dental care to a very loyal, diverse group of patients. The head of Spring Lake Dental Care, Dr. Ciampi not only offers complete routine oral care. Dr. Ciampi and his team of Board certified specialists provide Dental Implant Placements, Periodontal Services and Surgery, Root Canals and all phases of dentistry all in one facility. He has received many accolades for his work in Restorative Dentistry, which includes Dental implants and Bridges and Porcelain Crowns. Perhaps the most dramatic of Dr. Ciampi's services, is his reputation for the practice of Cosmetic Dentistry, which includes the use of Invisalign®, Porcelain Veneers, Dental Bonding and Dr. Ciampi's unique Smile Design.
Dr. Ciampi works with his team to create a personal plan to improve or correct a patient's smile. Smile makeovers begin with an examination to confirm good overall oral health. At that point, patient and doctor work together to arrive at a goal that may include the desire to treat uneven or missing teeth, cracks, chips and discoloration. Before treatment begins, the patient has the opportunity to see a preview of his or her new smile, using the office's state-of-the-art computer imaging technology. Dr. Ciampi is not satisfied with just providing excellent dental care in New Jersey. He and his team, grateful for their own good fortune, believe strongly in "giving back" to others. Dr. Ciampi has done this globally. Recently, on an eco-tourism trip, he donated much-needed dental supplies to a school in the Dominican Republic. Dr. Ciampi also participates in an annual volunteer mission with Remote Area Medical. During his most recent volunteer trip, Dr. Ciampi was part of a group of dentists that provided free dental treatment to more than 800 patients. This is certainly proof that Dr. Ciampi wants the best for his patients.
310 Morris Ave., Spring Lake, NJ 07762 • 732.449.5666 • springlakesmiles.com