Peter Max: The Man Behind The Icon
Peter Max has painted six US presidents, music idols, a World's Fair mural and a super jet. Here, the artist talks about his craft, his recipe for a balanced life and what he can't live without.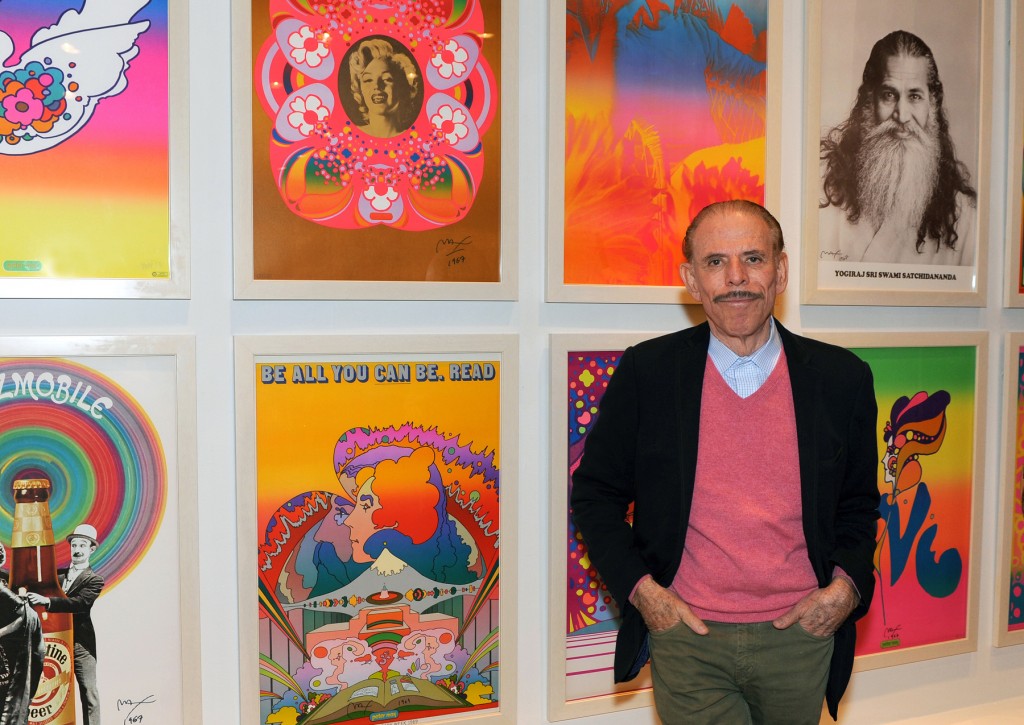 When did you know that art was to be your life's work?
For me it was never work. It was born of a playfulness. My father was a good artist, and he always made it playful for me. My mother had a flair for fashion. There was a playfulness in her too as she dressed in such beautiful colors. We'd moved to Shanghai when I was a year old. And by the time I was three, my parents noticed I liked to draw so they hired the daughter of a local artist. Her name was Umba. She didn't speak English, and I didn't speak a word of Chinese, but she sat with me constantly. She'd cut things out of paper and would have colored pencils and paints and brushes, and she got me to use those tools, and I loved it. We'd draw this and that. And within a month or two, we had words in common, and I started drawing non-stop. The nice thing was that she was a good artist.
Have you ever seen her again?
I don't know where in the world she is. I was in China recently, and two months before I got there I hired a very big public relations firm. I gave them her name and a couple of old pictures of us. When I arrived, those pictures were in all the newspapers in China. But we never found her. I was there for two weeks, always hoping that one day she would come by, and I would hug her and kiss her. Maybe your story will bring her back.
Any other early training?
When I was maybe 11, we moved from China to Israel. It was there that my parents were told by different teachers that I was talented and that they should get me a private art teacher. So they did. He was an artist, maybe 20 or 22 years old, and he had a flair for color combinations. He was an amazing color expressionist painter who was teaching little kids. From him, I learned how to mix paints; I learned how to use the brush; I learned how to color with colored pencils on colored paper. But the best part was that he taught me how to combine colors: like this red with that red looks nice against yellow, or this blue and this green looks good against gray.
You lived in Germany, China, Israel, France before settling in the U.S. Is it home?
I'm more American now than anybody I've ever met in the United States. I fell in love with Americans long before coming here. The first time I met Americans was when soldiers were visiting Shanghai. These G.I. Joes were all over the streets, and they were the most playful people I'd met. One day I was walking with a friend from school, and people were joyfully yelling in the streets. There were rickshaws all over, and this Ameri- can soldier had taken off his shoes and was running the rickshaw while the rickshaw guy was sitting in the thing smoking a cigar. It was so genuine, so cool, so groovy. It was amazing. And in that moment, I just fell in love with these people, these Americans.
Were there other influences?
My friend's father owned two small movie theaters in Shanghai, and they started playing American films. And my friend's father would let me go in for free every day. My mother was smart enough and sweet enough to allow me to go to the movies every day after school. I became a hippie American kid.
When you finally came to New York, to Brooklyn, was it what you expected?
It was so cool to be in the United States, you have no idea. The movies, the kids, everybody chewing gum. It felt like home, and I became this cool hippie artist. I learned all about colors, started collecting rock 'n' roll music. So I'm this hippie with music and painting in my heart, and loving America like you couldn't imagine.
What's been your most exciting artistic moment?
I live for the creative moment, being in the middle of it. So they are all exciting. When that moment starts, it could be 15 seconds long, it could be a minute long, it could be 20 minutes long. When those moments come, and the resulting creations that come from my mind, my hand, I'm in heaven. I adore every little thing that I've ever created. Because I created it, I know it and I love it.
Have you ever wanted to go back and alter any of your pieces?
No. I'm surrounded by the pieces I've done, and these are worlds I've created. They existed in my brain, and until I put them on paper, they didn't exist anywhere else, so it's an unbelievable feeling. When a woman gives birth to a child, it's creativity in its highest form. That's what these paintings are for me.
What's your recipe for a balanced life?
Yoga. It's a way of keeping your mind and your heart all in one place. That and believing that there is a higher power.
Tell us something that few people know about you.
I'm intuitive, and I love people. I'm a complete vegan, my wife has become a vegan too. If you study my art you'll see it's sort of like a yoga philosophy—but dressed in western clothes.
What made you fall in love with your wife Mary?
Her sweet spirit. Iwaswitha friend, and as we were going to a café, we saw two girls across the street run into each other. They started talking, and I looked at the girl on the right and said to my friend, "You see this girl? I'm going to marryher."And Idid.
What is the best advice you've ever been given, and from whom did you receive it?
My father always told me to make everything I did like a game rather than a chore, so I would enjoy it rather than be stressed. Instead of being told, "Here's a pencil and some paint, let me see you make an important painting," I was allowed to be playful. One day I wanted to paint on the wall, and he said to my mother, "Let him do it." So I painted it, and after about two weeks, I painted on every wall.
What do you have on your nightstand?
A remote control; I like flipping through the channels, and I always have my phone next to me. I love talking on the telephone.
Do you still collect cookie jars?
No. Andy Warhol and I used to be buddies, and we'd go to little antiques stores. At one of those places, the guy had lots of cookie jars, and we each bought four. For about two months, we'd meet up and go out for cookie jars. They're all over my studio now.
I read that you have said that if you weren't an artist, you'd be an astronomer. Why?
The planets and the stars are so unique. You can spot a tiny star in the sky at night, and that star could be 10 times the size of our sun. It just fascinates me. The world is made up of trillions and trillions and trillions of gifts from God. Every little ant, every little grasshopper, every little pigeon are all gifts. But the stars are the most mysterious of them all.
Your work is so whimsical, playful, vibrant. Are you ever unhappy or angry or depressed?
Hardly ever. I live in complete fascination of how wonderful this universe is. If there's anger out there, I stay away from it.
What can you not live without?
I cannot live without music; I am a music fanatic. I cannot live without color. I can't live without my wife. And I can't live without my new friend—you.
How do you want to be remembered?
However people remember me. I don't want to alter anyone's perception.