Planning a Kids' Bash
Don't forget the young ones when you plan the season's entertaining.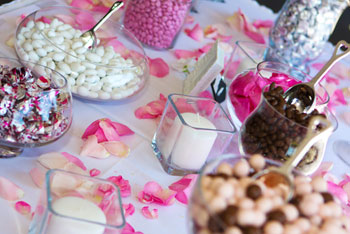 Don't forget the young ones when you plan the season's entertaining. Kids deserve to party too, and you may even catch a moment to hobnob with their chaperoning parents. You'll find that a savvy selection of colors, decorations and tasty treats can help make your bash a smash.
Keep children's ages and genders in mind—along with any special theme you've chosen—as you craft invitations to send to your child's friends. You might consider asking children to dress up and bring a favorite doll or stuffed animal as a "guest."
Set the table with a traditional tablecloth or perhaps an inventive alternative. Napkins are also a must to prevent sticky fingers. Choose colorful cloth napkins, which you can tie with yarn or hair ties.
TIP: "Kids love 'make-you own' mashed-potato sundae bowls, on which they can sprinkle toppings such as cheese, sour cream, chives and bacon bits."
~Christine Barnes, The Silver Platter, East Hanover
Party gurus suggest serving simple, easy-to-enjoy items that minimize mess. If pizza, ice-cream sundaes and superhero cakes seem trite, try tea sandwiches stuffed with peanut-butter-and-jelly or egg salad—or cookies, cupcakes or other finger foods. You can even use a cookie cutter to cut sandwiches and cookies into stars, hearts and other shapes. And top sweets with colorful frostings and toppings, such as M&Ms, jelly beans and sprinkles. Display desserts on cake stands and consider filling any gaps between the dishes with dolls, figurines, sports trophies or other eye-catchers. You can serve beverages in dainty teacups (or mugs if it's an all-male group), whether the children prefer traditional tea, juice, punch, milk or hot chocolate.
After the kids are suitably stuffed, a fun-filled game session is in order. Feel free to organize old-fashioned favorites such as the breaking of a holiday piñata, or dream up an innovative game of your own. At the party's end, be sure to give each child something to take home, perhaps a holiday "goodie bag" or a chocolate lollipop embellished with a colorful ribbon.
TIP: "Try mini-desserts such as petit fours or little cupcakes. And for a girls' party, sprinkle them with edible pearls"
~Laura Bianco, My Bellisima, Morristown