Plant Lover's Paradise
A Ho-Ho-Kus yard has become a green-thumb triumph—just ask the passers-by who rave about it.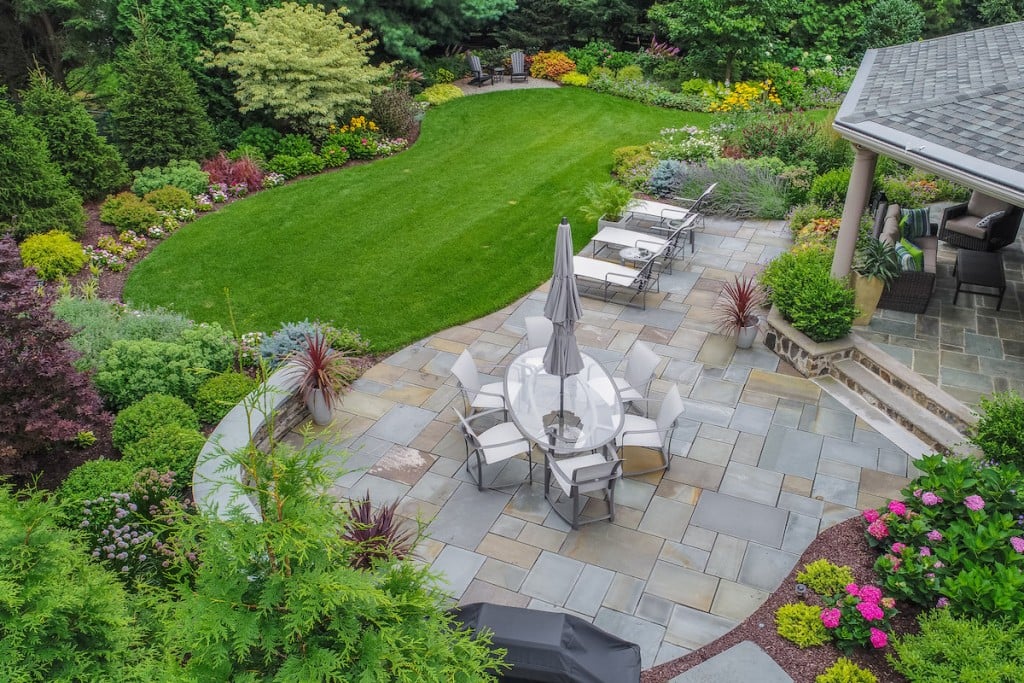 Everyone has a passion project, and for the owner of one Ho-Ho-Kus home, it's planting. His No. 1 hobby is going out to local nurseries to find different types of plants to put in his yard, and he wanted to renovate his lawn to reflect this green thumb. So, with his kids grown and out of the house and with more time to devote to this pastime, he and his spouse brought in the big guns—CLC Landscape Design in Ringwood—to help his planting plans blossom.
"This client is the biggest plant lover I've ever worked with in all my years," says Rich Cording Jr., project manager at CLC. "We wrote up a master landscape plan for him and helped bring a 'plant lover's paradise' to life." Cording says this partly involved integrating specific greenery the client requested, but was also about balancing colors and textures. "For example," he says, "there's some yellow-green foliage that we made sure was spaced out beautifully."
But what's a magic garden without comfortable seating areas from which to ogle? With that in mind, Cording and company created multiple destination points throughout the large yard, including a patio that's conveniently located right off the kitchen with a dining table; grill and seat wall made of stacked Pennsylvania fieldstone; a covered, raised patio with extra seating around the fireplace; and a separate area for chaise lounges, which Cording says is the "central hub" of the yard and the most private, relaxing part of the property.
"Diagonally across the yard we also made a seating area with two Adirondack chairs," says Cording. "This creates movement and gives the homeowners a reason to walk across the yard. Now they can look back at their house from that vantage point—it's a view they don't normally appreciate." Another design decision was the hardscaping. The patio is made of natural cleft bluestone in varying gray and tan hues that look natural yet not monotonous.
Finally, the CLC team opted for a curvilinear patio and aesthetic (rather than rigid lines) to match the free-flowing greenery. "Plants organically have rounded shapes, and the curving patio and lawn edges were essentially inspired by the plants we used," Cording explains.
The homeowner is thrilled with the finished product—and passers-by are quite impressed too. "He has people stop by all the time and tell him how beautiful his yard is," Cording says with a laugh. "He loves chatting with his neighbors about this project and is proud to show it off."
Text by Haley Longman
Design by CLC Landscape Design
Photography by Front Door Photography