Playing the Game
Bergen County educators explain how sports can boost a young applicant's chances.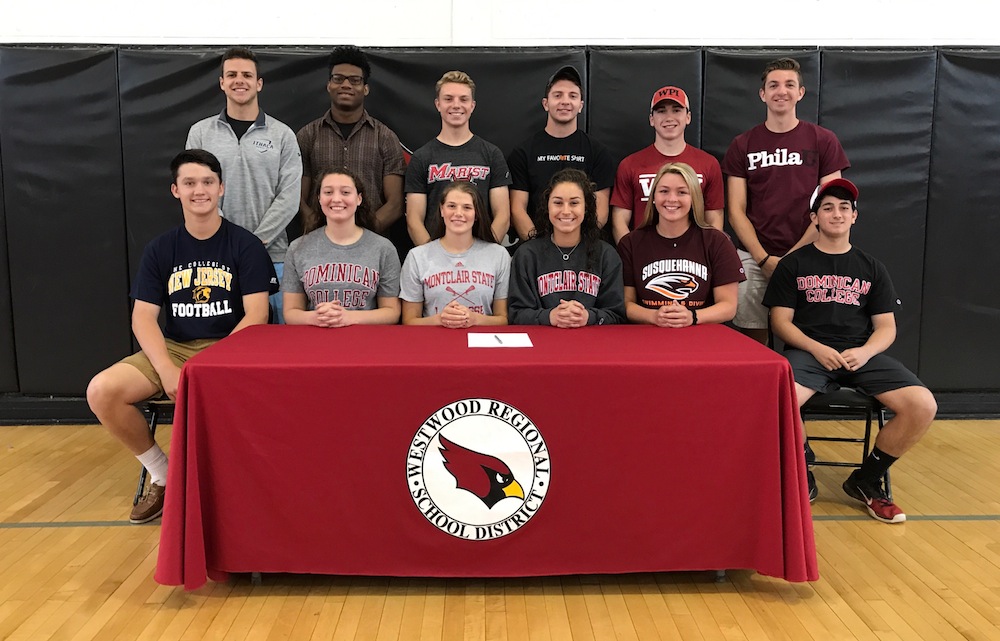 When your 6-year-old first steps into the batter's box to take a swing, you're probably not thinking "Princeton." But it won't be too many years before your youngster is looking at colleges, and athletic prowess—along with a good academic record, of course—can help in finding a place in one.
How to help a young athlete get recruited? High school athletic directors say the 15-minute student highlight reel is a popular tool. But Joseph Occhino, principal at Northern Highlands Regional High School in Allendale, believes game films and college recruiters attending games make an even bigger difference.
Danny Vivino, athletic director for the Westwood Regional School District, says technology has facilitated the recruitment process. "With highlight reels and recruiting websites, coaches can see a broad spectrum of players," he explains. "It complements in-person recruitment."
Parents, It's Not About YouThen there's the role of the parents: Do they help create highlight reels, research colleges, contact coaches? "Parents' involvement will vary based on the recruit and the number of colleges expressing interest," says Occhino. "Our coaches do a nice job getting involved with college recruiting and offering guidance to recruits and their families."
That doesn't mean moms and dads should try to live out their old collegiate playing- field dreams through their kid. Says Steve Quinn, vice president of enrollment at Caldwell University in Caldwell and president of the New Jersey Association for College Admission Counseling: "Ultimately it's the student who will be at the institution, so he or she must take the lead to determine what will be best."
Having put parents in their place, he moves on to coaches. Some coaches are part-time and may not know everything that's involved in the college acceptance process, including academic requirements and financial aid packages, Quinn warns. And while young athletes eager to be recruited for a college team may be mostly in touch with the coaches they hope to play for, they should check in with the admissions and financial aid offices too.
"Some of our students get needs-based or academic grants," says Quinn. "[Grants given for] athletics pales in comparison."
Those cautions aside, however, an athletic scholarship can definitely help. And once your child has found a college, time in the locker room needn't mean shunning the library. "At Caldwell, the student athlete graduation rate is 10 to 15 percent higher than that of nonathletes," Quinn says. "We require freshman study halls for athletes, which contribute to their academic success."
The university official offers two more tips. If you're hiring a professional consultant to steer your student through the admissions process, choose one who is a member of the National Association for College Admission Counseling. Also, be sure he or she has experience working with athletic recruiting.
Bergen Success Stories
Occhino from Northern Highlands says recruitment among male and female athletes at his school runs about equal. Roughly 10 to 12 percent of student- athletes are recruited into collegiate sports each year, with about eight to 10 signing national letters of intent at Division I schools.
The girls' soccer program at Northern Highlands "always seems to draw interest from colleges," Occhino says. But he adds that "all of our sports attract college recruiters here to visit with our student-athletes. College football programs continuously recruit our players."
Occhino echoes Quinn's view that athletics and academics need not clash. "Our director of athletics works closely with our school counselors and coaches, providing oversight with student grades, credits and requirements," he says.
Like many Bergen County schools, Northern Highlands is experiencing a bump in interest and participation in lacrosse. (See "The Lure of Lacrosse" on page 52.) But that sport doesn't get all the buzz. In the past five years, the school's teams have won state championships in girls' soccer, girls' volleyball, boys' soccer, fencing and baseball. Football and basketball coaches also maintain close relationships with college recruiters. Occhino says feedback from coaches who stay in contact with former students suggests that most grads complete their studies at their chosen institution—and play sports throughout college.
"Westwood has a long track record of sending athletes on to play at the collegiate level, particularly in football," Vivino adds. "Annually we see about 10 to 20 athletes move on to play with a college, mixed among the three college divisions."
He notes that in recent years Westwood has seen three of its top student-athletes go to Boston College: football's B.J. Raji and Nolan Borgersen and basketball's Corey Raji. "We've consistently seen student-athletes, male and female, receive Division I scholarships across a wide range of sports," says Vivino. "We currently have Division I track and field athletes at Northeastern and Maryland, a football player at Boston College and a girls' basketball player at the University of Richmond, all on scholarship. Not bad for a small school in Bergen County."
Sports physicians bemoan the tendency of many high school athletes to focus year-round only on their chosen sport, and Occhino agrees: "Our coaches work together to help students understand that playing multiple sports can help their performance in their dominant sport."
"High school athletes have not yet peaked," Vivino explains, "and playing multiple sports gives them room to grow. They may reveal stronger talent in a particular sport and then have time to develop it more fully. It's also important that they are exposed to several environments and coaching personalities. Playing three high school sports has become difficult, but it's still doable. And I'd like to see the number of student-athletes playing at least two sports increase. Another downside of sport specialization too early is burnout."
Less-Common Sports
Does your child have a passion for fencing, bowling or another less-traditional high school sport? If so, he or she is part of a growing trend, and the activity may be a college-application plus.
"Our bowling teams have performed well over the years," says Vivino of the program at Westwood Jr./Sr. High, "and this continues to be an important part of our athletic program, with possible college recruitment. We currently have a former student- athlete bowling in college."
For five years Bergen County Technical Schools (BCTS), which includes Bergen Technical High School and Bergen County Academies (BCA), has fielded a highly successful fencing program. This year the girls' team won a state championship, beating frequent winner Columbia High School of Maplewood.
"Bergen Tech/BCA graduates have an impressive list of college admissions including Princeton, MIT, Columbia, Rice, NYU and Brown," says Will Muller, athletic director for the county-wide, multi-campus school. "Some alumni continue to fence at the collegiate level— including Ridgewood's Helen Sakharova, who fences for MIT." This spring, Sakharova received the NCAA Elite 90 award and was named a Northeast Fencing Conference all-star. Sakharova majors in computer science and molecular biology and completed a summer internship in the neuroscience lab at the University of Chile.
"Students at BCTS are intellectually gifted and are chosen for their academic accomplishments," says Muller. "Athletics are a bonus, and some of our alumni continue to play competitively."
In some Bergen schools, bowling and golf are experiencing a surge in popularity. "We just added girls' golf to the sports lineup," says Roger Pelletier, athletic director at Mahwah High School. "We had a tremendous response."
Bergen Tech's Muller sees the same trend. "In bowling, the teams have been competitive regardless of the league, and the girls have won sectionals on a number of occasions," he says. "Golf is also strong—especially the girls' team."
For many Bergen youths, sports can be a potent part of a college application—and may even help pay the bills.
From field hockey to football to soccer and other sports, college recruiters frequently visit Bergen County high schools such as Northern Highlands to meet with student-athletes. Westwood High School officials say their school has a long track record of athletes signing to play at the collegiate level.
The Lure of Lacrosse
If one sport is "hot" these days among college- bound youth, it's lacrosse. There are plenty of reasons why the sport has taken hold. "It's inexpensive to play," notes Liz Kloak, a Ridgewood resident and parent of a high school student-athlete. "You already have the field, so additional facilities are not required. Equipment is also minimal so there needn't be a large financial investment."
"Lacrosse players and their families are very engaged, and they stick with the program," says Saddle Brook native Andy Alia, associate commissioner for marketing/ operations for the Northeast Conference (NEC), an NCAA Division I collegiate athletic association. "The sport lends itself to creating long-term relationships with alumni."
NEC members include colleges in New Jersey, New York, Pennsylvania, Connecticut and Rhode Island. Alia, who runs a men's lacrosse event each spring at Hobart College in New York's Finger Lakes region, says lacrosse has long been big on Long Island and in Maryland, is rapidly gaining momentum in California and Florida and is exploding in New England.
"It's very inclusive, with plenty of players on the field," says Alia, adding that NEC teams have large rosters of 40 to 50 players for both men and women. "That helps with recruitment and enrollment. The roster is much larger than those of other spring sports. There's constant action on the field, with players subbing in and out, and plenty of skill and physicality."
Alia notes that more and more schools are adding men's lacrosse programs—St. Bonaventure and the New Jersey Institute of Technology, both D-I schools, for instance—and women's programs are also forming nationwide. For athletes who want to play, there are also plenty of opportunities at the D-II and D-III levels.
Despite the growing popularity, some colleges have been unable to launch men's lacrosse programs because of Title IX compliance. Under Title IX, a men's sport may not be added to a college or university unless a women's sport is also added, and some schools may not have the resources to launch two new programs at once.
Roger Pelletier, liaison for boys' lacrosse with the Bergen County Coaches Association and athletic director at Mahwah High School, says lacrosse has become a major "player" in the college admissions process for the high school athlete. "We are very fortunate in Mahwah," he says. "Our program took off from the start and immediately became a large part of our athletics for both boys and girls."
Pelletier says college coaches are frequently seen at high school games and attend high school showcases and club games. "For both girls and boys, playing club lacrosse regularly is helpful because it's played when college coaches are not in active seasons of their own and have time to see high school players." Each year Mahwah sends several high school lacrosse players on to play at the collegiate level, he says.
Will Muller, who coached girls' lacrosse for a decade before becoming athletic director at BCTS, sees opportunity in this sport. "Towns have great feeder programs," he says. "And school programs have grown rapidly, providing more and more opportunities to play."
Northern Highlands girls' soccer draws a lot of interest from college recruiters, but its lacrosse program is experiencing a boost in student participation.