Poolside Party Place
When it's time to gather again, this Ridgewood home has the perfect setup.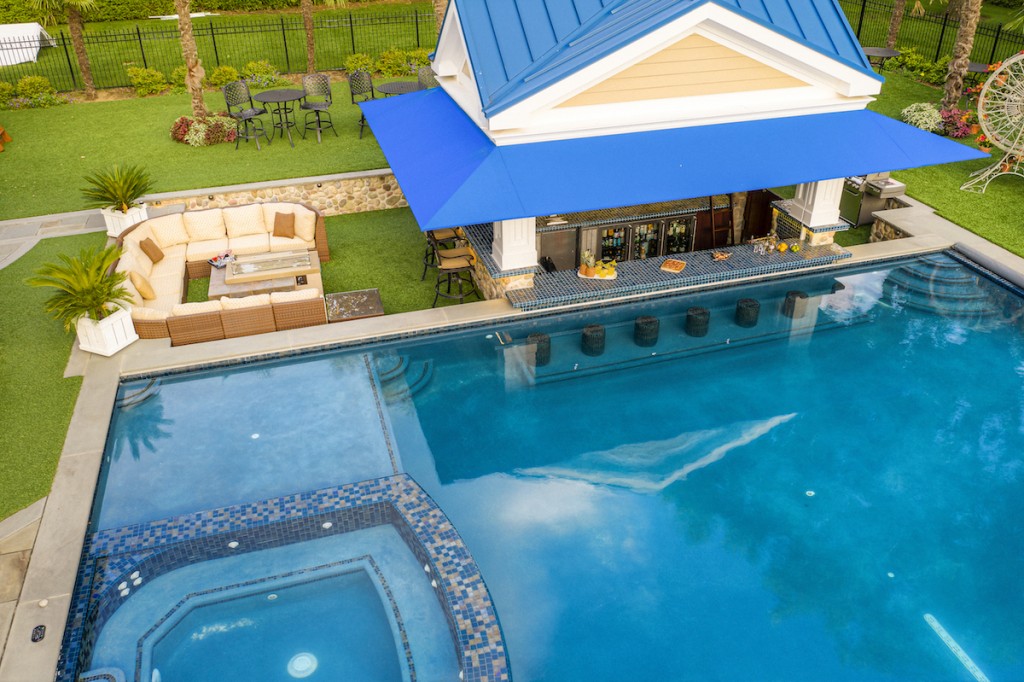 There are those who simply like to entertain, and those who truly mean business about it. You can put this Ridgewood family—a professional couple and their children—in the latter group. They decided to take their passion for parties to the max with a Vegas-style backyard reno that would rival many resorts.
"They lived there for years before deciding to invest in this project," says Derek Bagin, who, along with his father, Craig, operates B&B Pool and Spa Center in Chestnut Ridge, N.Y. "Their main purpose was to provide a space for entertaining guests. The yard was pretty much flat and had a lot of space." Indeed, there was almost a quarter-acre canvas for Bagin to transform into a real staycation paradise. He worked as part of a team that also included architect Jim O'Brien and landscape architect Joshua Hampton.
If you're lucky enough to be on the guest list for a pool party at this Bergen home, you need never be without a drink in your hand, even if you're in the water. The bar cantilevers over the pool, so there's no need to grab a towel. Just park yourself on one of the sunken bar stools fetchingly adorned in steel-blue-glass tile and get your brewski from one of multiple taps. No kidding around, it's all high-end, commercial grade, and the seating is surprisingly comfy. (Bagin put his design chops to work making sure comfort wasn't sacrificed to style.)
Do the palm trees and the luxurious draped cabanas, in blue and white like the bar's roof and awning, have you thinking of a piña colada? No problem! "There's everything you see in a normal bar," says Bagin—right down to the stainless-steel appliances for making your drink like the pros, and a dishwasher for cleaning up after the gang's gone home. Prefer your cocktail dry? You don't have to enter the pool to say "Cheers!" at the custom bar with rich wood tones and a glass tile countertop.
"Where you're standing at the bar is lower than the top of the pool, so it's like a sunken area with the pool walls exposed," Bagin says. Those walls show off a split-rock veneer in harmony with the home's exterior and landscaping.
There's also a cozy cluster of cushioned wicker where friends can relax around a firepit, and an army of bright-blue daybeds to soak in the sun. But you'll never miss your connection with the real star of the show: the 30-by-50-foot Gunite pool, which B&B designed with a Hydrazzo finish in Mediterranean blue.
Two-inch glass tile squares in iridescent steel blue by Light Streams go wherever some pizzazz and continuity are needed, says Bagin—such as at the perimeter of the pool. And with an automatic covering for both pool and spa, the design offers four-season fun, meeting one of the family's special requests. "They wanted to be able to run the pool year-round, and there's a large [10-by-10-foot] spa inside the pool," he says.
Not only is the spa large enough for 10 to 12 guests, but it also promises to be the ultimate in relaxation, with clusters of hydrotherapy jets in a serene setting where water cascades over the glass tile and into the pool. On either side of the spa are sun benches where you can plant your chaise longue and stay partially submerged. Burn easily? Built-in umbrella sleeves have you covered as you recline.
If there's any question that this backyard is meant for play, the pool puts it to rest. With a maximum depth of 4 feet, there's no need to tread water to hang out with friends or compete in a game of volleyball. Bagin recommends play pools for those serious about good times, and the popular trend fit this family's lifestyle to a T. Skid-resistant bluestone coping around the pool and artificial turf on the grounds make maintenance a snap.
Add to the backyard mix a barn converted into an indoor bar and four blue-and-white-striped cabanas fully equipped with ACs, TVs, bars and fridges—great for socializing in small groups—and you'll say, "Aloha, Ridgewood—hello, fun!"