Pop Art Party
One family took their daughter's costume Bat Mitzvah to the max for an Andy Warhol-inspired soirée that was a work of art.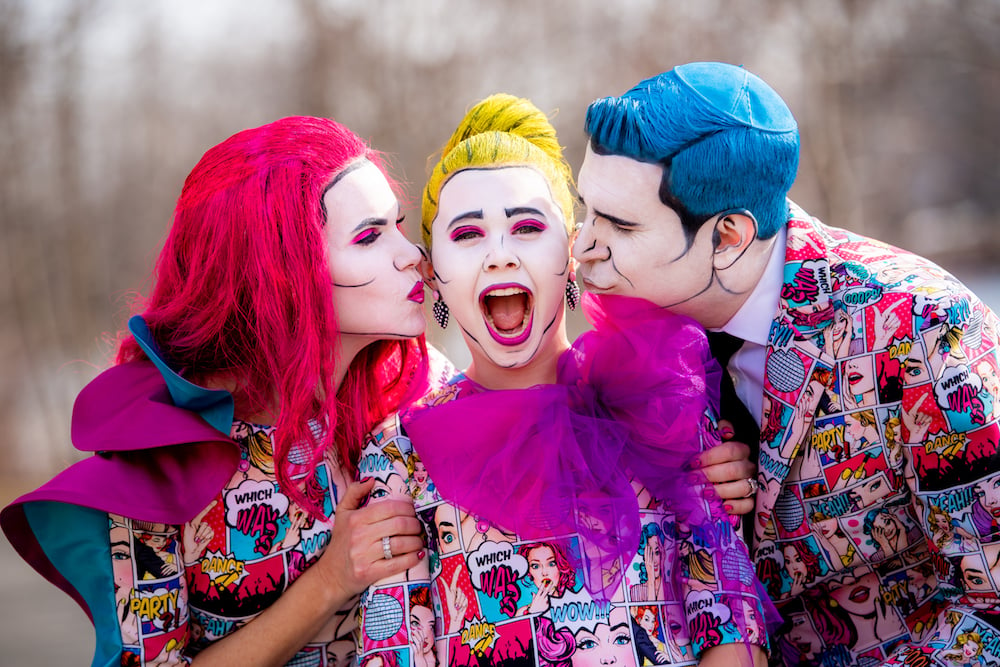 When Azi and Rachel Mandel were planning their youngest daughter Kayla's Bat Mitzvah, they wanted a theme that would make the party pop. The event was held on March 14, 2019, just days before the Jewish holiday of Purim, when it's customary to dress up. But instead of merely requesting that all of their 215 guests come in costume—which they did—the Bergenfield parents took things up a notch, going all-out with an Andy Warhol theme and dressing the family as pop art comic book characters.
"We found the fabric while in Slovakia [in central Europe] and wanted to create fun clothing," Rachel says of the custom-made dresses and suits she had designed by Nairi Barsegian for herself, her husband, the Bat Mitzvah girl and her three older siblings. "We wanted to look like comics out of our own comic book." And extensive hair and makeup—which took one hour each, per person—truly helped them achieve that. With the costumes taken care of, the Mandels needed the perfect space and décor to fully set the pop art mood. In addition to serving as the perfect blank canvas for their vibrant décor, they wanted a spacious venue with a large dance floor to provide ample room for the DJ as well as MC, dancer and party starter extraordinaire Shimi Adar, who would get all the guests grooving. The Mandels were able to achieve their vision with the help of Marisol Rossi at Glow Party Venue in Wald-wick. "The vibe of Glow was perfect," Rachel says. "We loved the large space and décor elements, like the light-up tables, couches and the reveal balcony," where Kayla was introduced to her guests amidst a round of cheers.
From there, they put together an all-star team to bring the pop art theme to life; Michal Weinstein of Events360 and MLWDesign conceptualized the logo and branding, and Deena Greenstein of LBK Events in Englewood helped set up. When guests entered the space, they signed an acrylic sign-in board, which featured a photo of Kayla given the Andy Warhol treatment that set the tone for the fun ahead. They then found their table numbers on soda (or "pop") cans with custom labels, and grabbed a drink at the bar wrapped with Warhol-inspired signage that read "Kayla's Kola."
After the cocktail hour, guests made their way to their seats before the Bat Mitzvah girl and her family were introduced onto the dance floor, which was adorned with Kayla's party logo. Adults' tables were decked out with black and white polka-dot tablecloths and centerpieces of Campbell's Kayla's Condensed Tomato Soup cans with oversized flowers. The kids' area had a fun purple, pink and blue balloon runner with 3D signs that read "Wow," "Pop," "Kayla" and "12," and the white leather sofas were accessorized with customized pillows with the same designs. Every single detail was deliberate and thought out. "We also had personalized Megillahs, which are read on the holiday of Purim, with Kayla's name on them," Rachel says.
The celebration appealed to the taste buds too. Those who favor fancy fare dined on a pulled beef appetizer and a chicken entrée, while kids munched on chicken fingers and fries. The soirée ended on a sweet note with a Viennese-style dessert bar, where guests stocked up on candy, fried ice cream, cake, cotton candy and waffles.
"My favorite part was that it was a costume party and the energy in the room was incredible," Rachel says. "We were so appreciative and blown away that our guests put so much effort into their costumes to make it a fun evening." We're sure family and friends were equally blown away by the Mandels' efforts. By taking the classic comic book theme to the extreme, it's no surprise this party was poppin'.