Prep Your Pantry Staples Like A Pro
Skip the crowded grocery store and whip up these yummy dishes using the ingredients you're already stocked up on!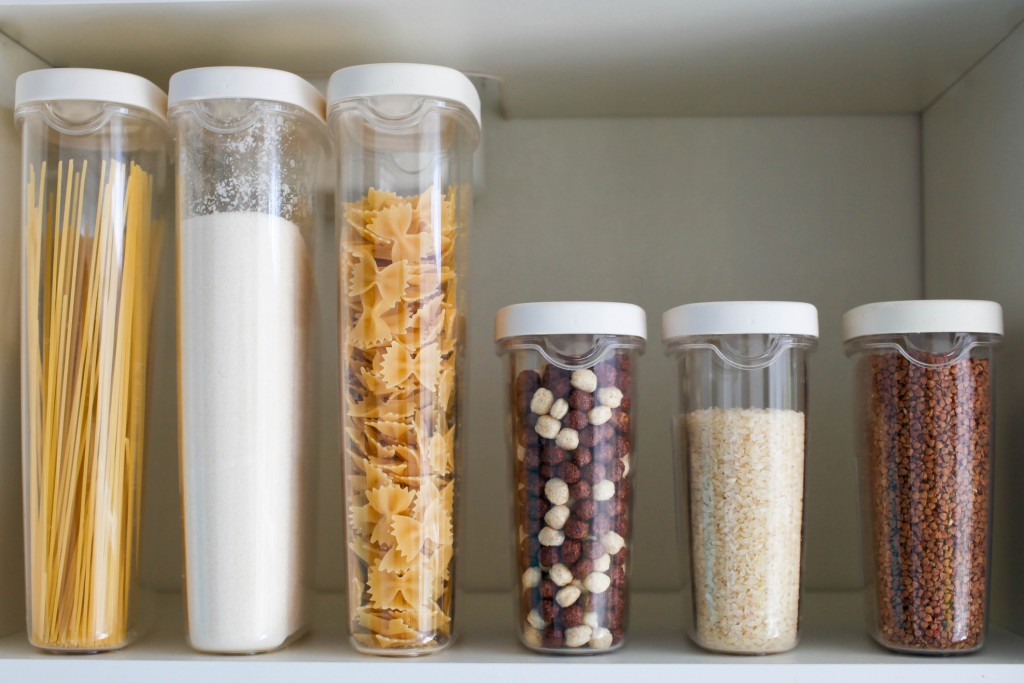 If you're hungry for some gourmet-level meal inspiration, look no further than your own kitchen! During the next few weeks of the COVID-19 crisis, the very last thing you want to do is make a mad dash to the grocery store for last-minute dinner essentials. Instead, clean out the pantry (and the freezer!) with some of these surprisingly simple recipes that'll put those overbought items to good use, resulting in a meal that's truly homemade:
Chickpeas
Ever-so versatile, a can of chickpeas can add a plethora of fiber and potassium to any dish. This protein-rich bean is a popular substitute for meat and a dieter's dream, as it promotes healthy weight control and can keep you feeling satiated.
How to prepare:
– Mix chickpeas with other hearty legumes like kidney beans, black beans and pinto beans and dress it all up with vinegar and fresh parsley for a protein-packed mixed bean salad.
– Prepare some roasted chickpeas as a snack. Drain and rinse a can's worth of beans, season them with your favorite spices and then pop them into the oven until dry and crispy.
– Channel the flavors of Morocco by slow-cooking a spicy chickpea stew to top off a piece of chicken or plain rice.
– For a vegan-friendly dessert, reserve the aquafaba (aka the liquid found in your can of chickpeas) and replace the egg whites in a recipe for meringue cookies (with plant-based sugar in the mix, of course).
Pasta
No matter what shape your favorite is, pasta is chock-full of necessary complex carbs that will keep you energized all day long. And if you're looking for an even healthier option, whole wheat pasta gives your diet a fiber boost.
How to prepare:
– Toss your jarred sauce to the side this week and challenge yourself to a homemade pasta marinara dinner for the family.
– Don't let that leftover pasta go to waste! You can easily transform next-day noodles into a crunchy and flavorful baked pasta frittata.
– Add some smaller pastas (think: pastina, orzo and dittalini) into your next batch of homemade chicken noodle soup for some added texture.
– Cool things down with a well-seasoned pasta salad, consisting of bite-sized pasta of your choice, crunchy veggies and some goat cheese for tang.
Frozen veggies
Depending on what you pick up at the grocery store to keep in your freezer for a rainy day, frozen veggies in general can pack just as many vitamins as the fresh ones at the farmer's market. The only catch with these chilly guys is to eat them within a few months of packaging so they're not losing any nutritional value over time.
How to prepare:
– Add some color to your main meal when you sauté the frozen vegetables of your choice into a cheesy chicken and vegetable skillet.
– A family-style shepherd's pie is a perfect plate to use up frozen peas and mushrooms in.
– Skip the take-out type and craft your own Chinese entrée with frozen broccoli and asparagus in a chicken teriyaki stir-fry.
– Throw whatever half-used bags of vegetables you've got in the freezer into a comforting vegetable medley soup.
Canned tomatoes
When you can't make it to the grocery store for the fresh variety, canned tomatoes can provide you with nearly the same health benefits! These ruby fruits (yes, they are a fruit) are loaded with vitamin C as well as beta carotene for keen eyesight.
How to prepare:
– Any Instagram foodie knows that shakshuka, a Mediterranean-inspired breakfast bake with poached eggs swimming in a spicy tomato sauce, is having a moment right now. Grab your favorite skillet, pop open a can of tomatoes and get to it!
– Attempt your own tomato soup with canned tomatoes that will put any pre-made variety to shame.)
– Spice things up while using your canned tomatoes in a meat and bean-rich homemade chili.
– Use leftover proteins like shrimp and sausage in a southern cooking staple: creole-seasoned jambalaya!
Potatoes
Known as a prime source of potassium, just one of these spectacular spuds also provides you with a generous amount of choline, which is beneficial for cognition and brain function.
How to prepare:
– Perhaps their most beloved form, whip up a batch of garlic-infused mashed potatoes for a filling (and crowd-pleasing) side to just about any main course.
– Pair your morning eggs and bacon with a sauté of classic breakfast potatoes jeweled with bell peppers and fried onions.
– Few things are more satisfying than potatoes topped with gooey cheese. Try your hand at a potato gratin to use up whatever you've got left over in your crisper.
– Feeling fancy? Fry up some precisely-cut potatoes to make restaurant-worthy potato sticks to serve as an appetizer for your next family dinner.