Pro's Fall Gardening Tips
Bergen experts offer advice—including what to do now to help assure beautiful foliage next spring.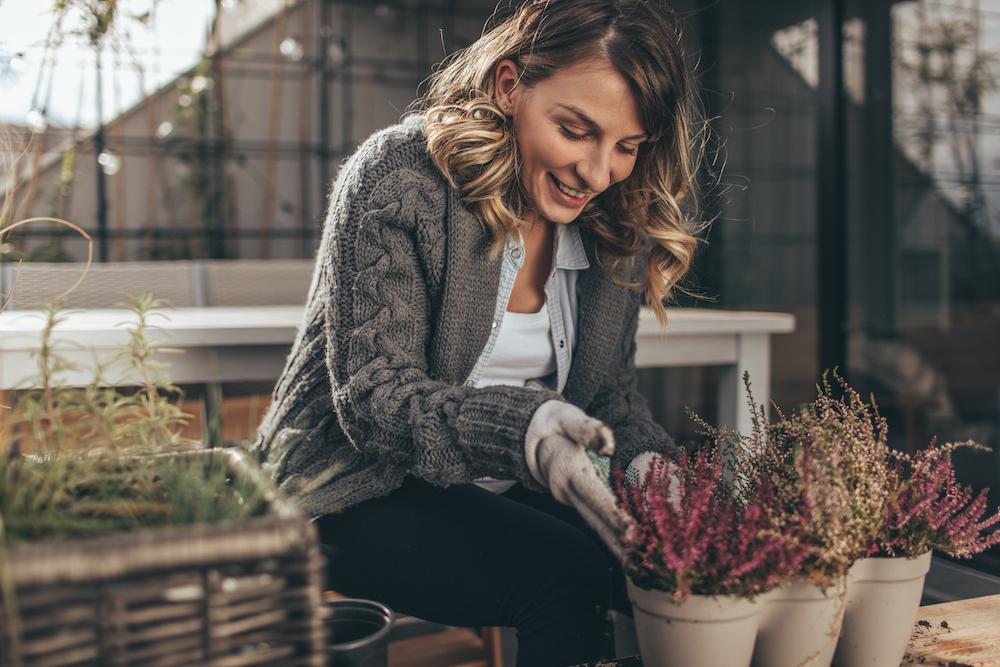 Time to forget your garden till spring? No way, experts say. Early autumn, when temperatures are cooler but still moderate, can be a delightful—and productive—season for working on an outdoor garden. Fortunately, the soil is still warm enough to let what you plant now put down roots before winter freezes the ground. And of course it's important to get your plants ready for the coming cold. BERGEN tapped the knowledge of local gardening gurus for tips on making the most of the season:
Keep watering. "Just because the nights are becoming cooler doesn't mean you should stop watering your flowers and plants," says Donna Dorsey, co-owner of Goffle Brook Farm & Garden Center in Ridgewood.
Cull your garden. Fall is a great time to remove any plants that are not worth keeping. Signs that a plant is suffering include curly, spotted or discolored leaves. If you decide to keep a plant, be sure to pick up any of its fallen leaves, which can grow fungus and attract insects.
Go for floral variety. Yes, mums are fall classics, but when it comes to fall planting mum's not necessarily the word. Other flowers that can thrive at this time of year, says Dorsey, include coneflowers, salvia and pansies.
Plant perennials. "Sedum blooms a beautiful pink in the fall, adding a great mid-range plant for your gardens with an attractive succulent foliage," says Sergio Gil, horticulturist and arborist at Gil Santos Landscaping in Park Ridge. (You'll have planted this perennial in the spring, but its seedlings can be transplanted into your garden in autumn.) Gil also recommends asters, as they come in a variety of colors. For backyards, evergreens will thrive year-round. "Early fall is a great time to plant boxwood and spruce evergreens," says John Butler, owner of Arapahoe Landscape Contractors in Mahwah. "You want to have these plants sprayed with Wilt-Pruf [a commercial product billed as a natural pine emulsion that is biodegradable] because they may not have time to acclimate to our climate." Evergreens, either in a row or standing alone, can leave your landscape looking organized and clean.
Protect your plants from frost… Plants, of course, are vulnerable to many forces of nature. With the mercury heading down, frost is an obvious one. When the water inside a plant gets too cold, it will crystalize beyond saving. As fall progresses, be sure to check the weather daily to decide if your garden needs special overnight protection from the cold. "If you are expecting a cold night, cover your plants with sheets or a Harvest-Guard [brand] material," says Dorsey. These coverings help keep your plants warm and moist during the cold snap. They act as a blanket to protect your foliage from frost—and smaller insects too. To use one, cut it to the size of the plant you want to protect and simply drape it over it. You may want to weigh it down if the wind or rain pick up. When covering seeds, you can lay the guard down flat, but be sure not to stretch it too thin.
…and from deer. There are an estimated 125,000 deer in New Jersey, far more than there were just a few decades ago. "Deer will eat all kinds of foliage," says Alan Sandberg, store manager at Victoria's Nursery in Paramus. "There are lots of different liquid repellent products such as Deer Scram. You can also plant sage and lavender in your garden because they give off a scent that keeps deer away." To apply Deer Scram, cover the ground around the plants liberally while the weather is warm. Sandberg recommends fencing off your garden to keep deer and other unwanted mammals out entirely.
Prepare your soil. Before the weather becomes too cold, it is important to add a good layer of mulch to amend your soil—that is, to enrich it, making it easier for plants to get the nutrients they need. Dorsey recommends cow manure and a brand of grower's mix called Bumper Crop to "improve your soil's physical and chemical properties." Sandberg also suggests planting ryegrass seeds over the mulch so the soil will not destabilize over time.
Enjoy indoor plants year-round. Your outdoor garden needn't be your only green-thumb effort—growing plants inside can add color and life to your home. Dorsey recommends house plants that have the added benefit of keeping the air clean. Plants such as peace lilies, dracaena, snake plants, spider plants, croton, pathos, and aglaonema can help remove unwanted toxins in your house, she says. "Not only do a lot of them help clean the air, but they also reduce your stress levels and boost your mood and concentration," she adds. And Butler says a switch to an indoor environment can be a boon for tropical plants such as the hibiscus flower. "It is possible to extend their life even through the winter," he explains, "when you put them inside."