Protect Your Family From Fire
Timely tips to help you guard against the hazards of the holidays and wintertime.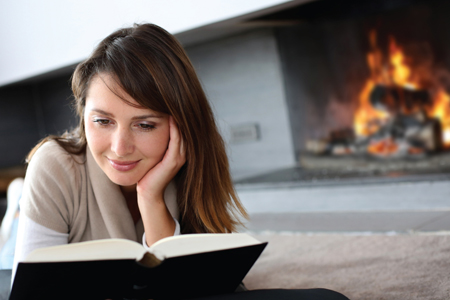 The Burn Center at Saint Barnabas Medical Center, New Jersey's only certified burn center, wants to keep your family safe this winter. Each year, thousands of residential fires start as a result of portable or fixed space heaters, and thousands more are associated with fireplaces and chimneys. (See "Practice Fireplace Safety," below.) These fires claim hundreds of lives.
Michael A. Marano, M.D., medical director of The Burn Center, warns residents to use caution with these heating devices. "Because this is the season when deaths and injuries occur from heaters and fireplaces, every home must have working smoke detectors and carbon monoxide alarms," he says. "Heaters that are placed too close to flammable materials such as curtains, furniture or bedding can cause fires. Fireplaces with cracked, blocked or dirty chimneys are also a fire hazard, as are embers that escape and reach those flammable materials."
Dr. Marano says residents should also be careful when using ovens, ranges and water heaters, as these can also produce fires and emit carbon monoxide. "Any fuel-burning appliance emits carbon monoxide, and if these devices are improperly installed, poorly maintained, damaged or not properly vented, they can cause serious health issues or dangerous fires," he explains.
Dr. Marano offers these safety tips for using portable heating devices this winter:
Use only new space heaters that have been tested by a nationally recognized testing laboratory and shown to meet the latest safety standards. Older electric, kerosene and gas space heaters (vented or unvented) may not be safe and may not have such features as automatic shut-off mechanisms to protect against fire in case they accidentally tip over.
Always place heaters on a level, hard, nonflammable surface. Never put these units on carpeting, rugs, bedding or similar materials. Keep each heater a safe distance (at least three feet) from flammable materials such as drapes, furniture or a Christmas tree or other holiday decorations.
Never leave a space heater on when you leave the house or go to sleep, or near a sleeping person.
Keep all children and pets away from space heaters at all times.
Do not use an appliance such as a kitchen oven to heat the house, as it could overheat and generate excessive carbon monoxide.
Adds the doctor: "I cannot overstate the importance of having working smoke alarms and carbon monoxide detectors, which should be on each floor of your home and in each bedroom or sleeping area."
Practice fireplace safety
A roaring blaze in the fireplace can be one of the season's greatest joys—but it requires special precautions to prevent a dangerous mishap. Heed this advice from Michael A. Marano, M.D., medical director of The Burn Center at Saint Barnabas Medical Center:
Inspect chimneys, flues and interior boxes of fireplaces before each season. Clean and remove all blockages, creosote or debris.
Keep the damper open before lighting a fire and until the fire and embers are completely out. (Closing the damper before the fire is fully extinguished can allow dangerous gases to build up in your home's atmosphere.)
Do not use accelerants such as gasoline or lighter fluid to start or restart a fire, as they can cause explosions.
Keep a screen or glass enclosure around a fireplace to prevent sparks or embers from escaping and igniting nearby flammable materials.
Take extra precautions to prevent children from touching the glass door of a gas fireplace. These doors can heat up quickly and cause a serious burn to a little one's curious hands.
—D.L.