Psari Skaras Ladolemono Me Spanakorizo (Grilled Fish Fillet With Olive Oil, Lemon And Spinach Rice)
By Alex Gorant, executive chef, Axia Taverna, Tenafly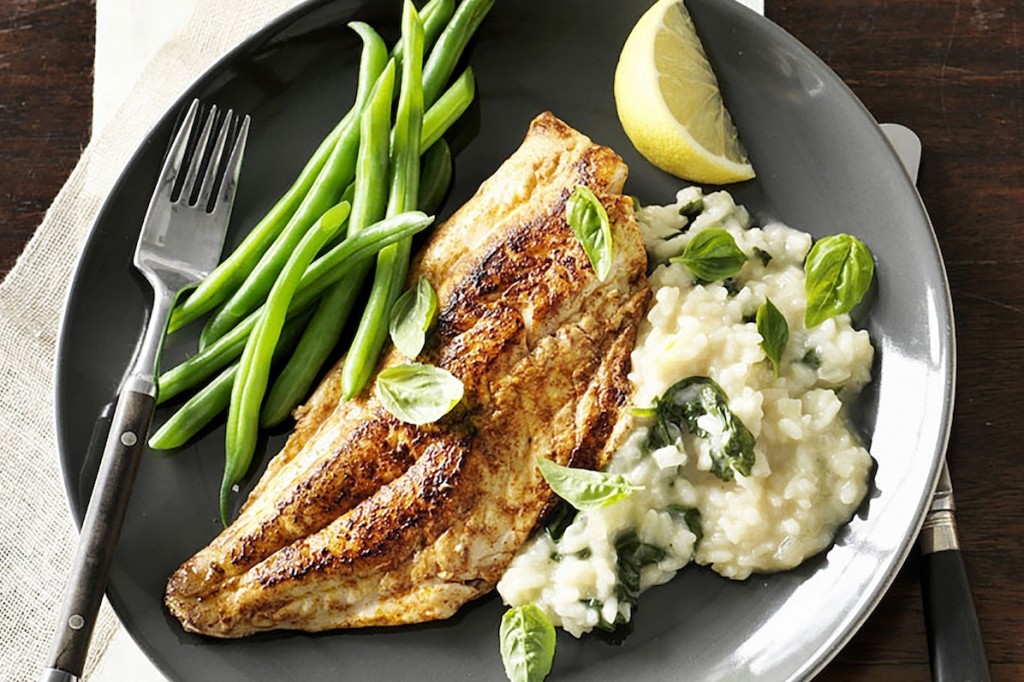 Yields about 4 servings
INGREDIENTS:
4 lbs. Florida red snapper filets (approximately 1 lb. per person)
extra virgin olive oil, to coat fish
dry oregano, to taste
salt, to taste
For the Ladolemono:
3⁄4 cup extra virgin olive oil
1/3 cup lemon juice, freshly squeezed
1 Tbs. water
1 Tbs. dry oregano (preferably Greek mountain oregano)
salt and pepper, to taste
For the spanakorizo:
3 white onions, finely chopped
4 cloves garlic, finely chopped
1 bunch scallions, sliced
2 cups rice, rinsed
3 lbs. spinach, trimmed
1 bunch dill, chopped
2 cups olive oil
lemon juice, to taste
salt and pepper, to taste
DIRECTIONS:
To make the ladolemono:
Slowly drizzle the olive oil into the lemon juice while whisking vigorously or using an immersion blender. Add salt, pepper and dried oregano. The result should be a thick viscous liquid.
To make the spanakorizo:
Place 2 Tbs. of oil in a pot and coat 1 cup of rice. Cover the rice with 2 cups of water and season with salt. Bring the water to a boil and then reduce to a simmer and cover for 18 minutes. After the rice cooks, fluff it with a fork.
Heat generous amounts of olive oil in a wide pot and sauté onions, scallions and garlic until soft but not brown. Add spinach in batches and stir down until all of it has been added. Add rice, dill and a splash of fresh lemon juice.
To make the fish:
Be sure the fish is dry on the outside, especially if it has skin. Wipe the grates of a clean hot grill with an oil-soaked cloth for approximately one minute before placing fish. Use enough oil to coat the contact surface of the grates, but not enough to drip into the grill.
Season fish with salt and Greek mountain oregano. (If the fish has skin, which when grilled comes out crisp and delicious, put three slits in the skin with a sharp knife to prevent it from curling.) Brush fish with olive oil and place it skin-side down on grill. When the edges of the fish turn white and start to move toward the center, turn the fish by gently lifting the edge with a grill fork and sliding a spatula underneath. Do this slowly and gently to be sure the skin comes off the grill and does not rip.
After turning the fish, it should only need 1–2 minutes to finish. The fish will continue to cook with residual heat, and you don't want it to dry out. Remove fish from heat and serve with spanakorizo and ladolemono on the side.