Put on a Brave Face
It's a new year—are you still in an old rut? Being pampered with one of these four surprising facial treatments may be just the thing.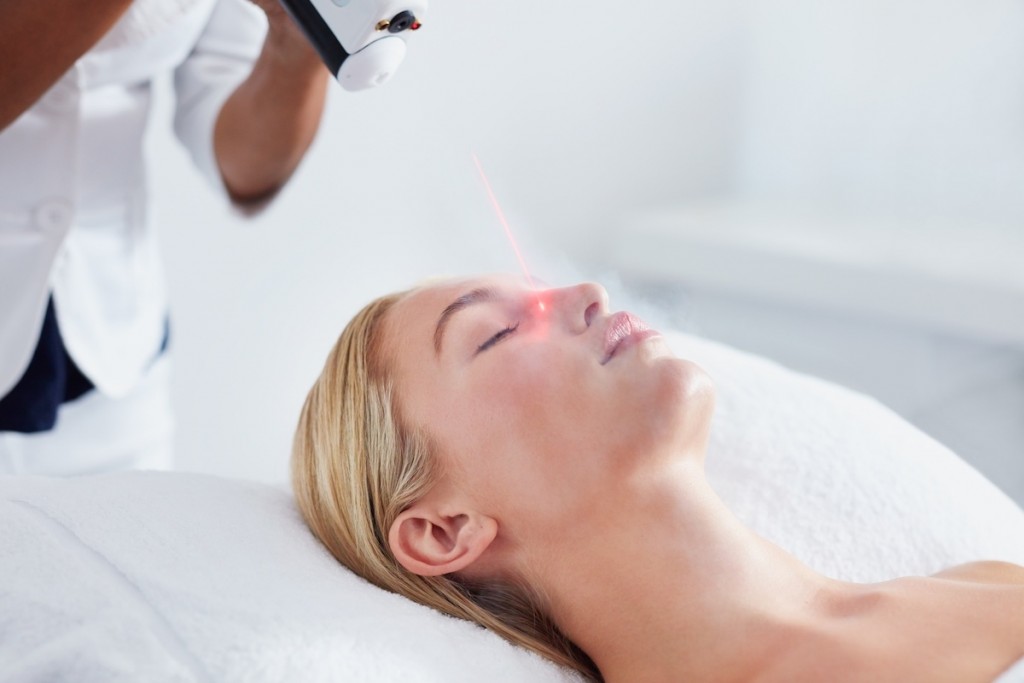 When spas and salons finally reopened following last year's prolonged shutdown, many of us returned with equal parts excitement and caution. We went for the basics: a haircut, a coloring, a manicure, eyebrow shaping. By now, Bergenites know and follow the safety protocols, and many customers are ready to give their personal care a boost. What better way to reward yourself for getting through 2020 than by sitting for a facial designed for A-list types but suitable for anyone?
The four kinds of facials described here are said to work wonders for aging and damaged skin. The only caveat is that they involve unconventional—and in some cases unusual—equipment, ingredients and procedures.
Cryotherapy facial:
We've all experienced getting slapped in the face by winter wind; the cryotherapy facial is a bit like that. Also known as "frotox," this treatment requires a machine that pumps liquid nitrogen onto the face for two to three minutes, essentially freezing the skin. No, your frozen face won't shatter, despite Hollywood sci-fi. Instead, the intense cold helps blood vessels contract and pores tighten. "It is a chemical-free way of tightening the skin," says Daniela Musano, master esthetician and owner of Araya Rebirth Spa in Ridgewood. "Think of why we splash our faces with cool/cold water in the morning to relieve puffiness and wake the skin up." There are some potential side effects, albeit rare, such as frostbite or temporary numbness. Expect to pay between $75 and $150 per session. Cryotherapy without the use of a machine is also available. At Musano's facility, the Soothing Facial uses porcelain spoons that are stored in a freezer prior to treatment and set in an ice bath during the procedure to deliver similar results.
Gold leaf facial:
OK, gold leaf facial masks are not pure gold, but they are pricey—though they're worth the $200–$1,000 price tag, according to treatment fans and supermodels Naomi Campbell and Irina Shayk. Why the appeal? Besides making for dazzling Instagram photos, gold leaf—typically used in concert with a liquid mask—contains antioxidants with anti-aging properties that help ward off toxins and relieve sun damage.
Musano says that although "gold has an anti-inflammatory response in the skin, so do many other ingredients that are less costly than this trendy treatment. It is the blend of vitamins and collagen that usually comes along with the [gold] mask that makes it fully effective." Inexpensive, at-home versions are available at retailers like Ulta Beauty and Sephora.
Caviar facial:
Before slathering your face with salmon roe from your sushi plate, first learn the basics of a caviar facial. It may sound fishy, but it's true: This treatment uses fish eggs that are either massaged onto the face or applied as a mask. It's believed that the salty eggs contain nutrients and amino acids that stimulate cell metabolism to help regenerate skin. Caviar also contains omega-3 fatty acids—the same omega-3s doctors say can help lower your risk for heart disease—that form a protective layer on the skin, giving the face a radiant glow, according to the Journal of Food and Nutrition Research.
New York-based esthetician Yelena Roezen, who owns an eponymous line of beauty products, once suggested that a caviar facial "takes care of everything: purification, hydration, anti-aging." Though more affordable than edible caviar, caviar masks and facials can put a dent in the wallet: A 50-gram container of Roezen's caviar mask costs $170 at Saks Fifth Avenue. One other drawback: Caviar facials can be pungent.
Snail slime facial:
It's easy to find clips online of patient foreign patients allowing snails to ooze across their faces in the name of skin care. But if you start in your neighborhood looking for a spa that performs this procedure, you may have to expand your search. Skin specialists in Asia and Europe have been offering snail-slime (it's actually mucus) facials for years, allowing live mollusks to crawl on clients' faces. The belief is that the animal's secretions contain healing nutrients such as hyaluronic acid and glycoprotein enzymes, both of which have anti-aging benefits.
One reason this facial hasn't taken off in the U.S.? (Well, we can think of a couple.) The Department of Agriculture still considers several snail types "agricultural pests," including types regularly used for cosmetic purposes. But that hasn't stopped companies from employing secretion obtained from other countries to create snail facial creams and masks. These are said to moisturize skin, fade acne scars and clear pores and complexion. They're also easily obtainable from Amazon, cosmetics retailers and stores like Target. And while manufacturers such as Skederm say their products are made without cruelty to animals, Musano says there are other ways to beautiful skin. "With so much out there that plants and flowers can offer by way of skin care, there is no need to use an animal byproduct," she says.
These four innovative facial skin treatments aren't for everyone, and they'll seem strange to some. But imagine the looks that must have greeted the first woman (her name lost to history) whose face was covered with a clay mask. She's got the last laugh now.
By Darius Amos