Putting the Garden into the Garden State
Tips for starting your own vegetable garden.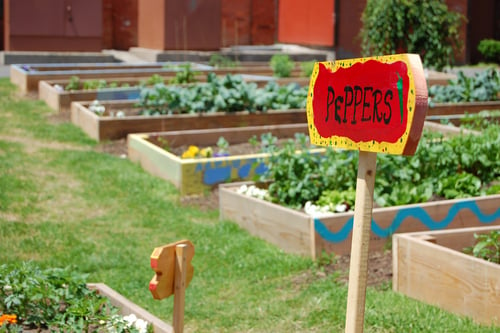 If you were playing word-association with the phrase "vegetable garden" five years ago, then you might have answered grandmothers or farming. But answers today could also include "green living" or "communal plots". In the past few years, vegetable gardening has become trendy. With the public interest in local food, farm-to-table cooking, and these uncertain economic times, everyone from young homesteaders to urban hipsters are starting gardens of their own.
It takes very little money to start a small vegetable garden, and people without a little plot of land can have excellent results with container gardening. You can't get more local than a tomato from your backyard. Home-grown vegetables usually have greater nutritional value than the stuff at the grocery store and they're obviously fresher than food that travels thousands of miles to reach you.
Five Tips to Starting your Vegetable Garden
1. Start Small
Whether you are buying young plants or starting from seed, remember to start small. The first year we started a garden, we expected half of our plants to die and were very ambitious in planting. We had a bountiful summer, but by late August we were begging our neighbors to take more of our tomatoes and cucumbers.
2. Do Some Research
Take note of your garden plot, the size of your containers, and the sunlight your plants will receive. Read Gardenguides or Gardenweb for soil cultivation and planting tips. Whether you are starting heirloom vegetables from specialty mail-order seed catalogues or buying young plants at your local home improvement store, your plants will need sun, water, and some good dirt.
3. Know your Dirt
New Jersey isn't called the Garden State for nothing. There are many vegetables that thrive in our mild, coastal climate. And we are lucky that our state vegetable, the tomato, flourishes in our climate and soil. Tomato plants are perfect for the first-time gardener, as they can quickly become good producers and tomatoes can be eaten raw off the vine or cooked in a thousand different ways. They can also be preserved for the winter. Cucumbers, asparagus, lettuce, zucchini, and summer squash also grow well in New Jersey.
4. Share and Compare
Find some neighbors or friends that might want to split seeds or compare notes. It's very cheap to start your garden from seed while it's still cold out (a small packet of seeds can produce twenty or more plants at the same price of a single plant from a nursery), but usually there are way too many seeds for a first-time vegetable garden. Or plan to do a vegetable share: grow just tomatoes and cucumbers and arrange to exchange produce with a neighbor or friend who is growing peppers and asparagus.
5. Have Fun!
Gardens do require some care and attention, but try to look at it like a hobby and not a chore. Get the family involved and have fun giving away your harvest. Vegetable gardening remains a steadily growing trend not just because it fits into the green ideals that we'd all like to have, but because it reconnects us to nature, working outdoors, and the simple joy of eating and enjoying the fruits of our labor.
RELATED ARTICLES:
4 Ways to Eat Greener
Just around the corner: Spring Gardening