Q&A with….A Fertility Doc
For National Women's Health Week, a Bergen-based fertility specialist answers all your questions about fertility treatments in the time of COVID-19.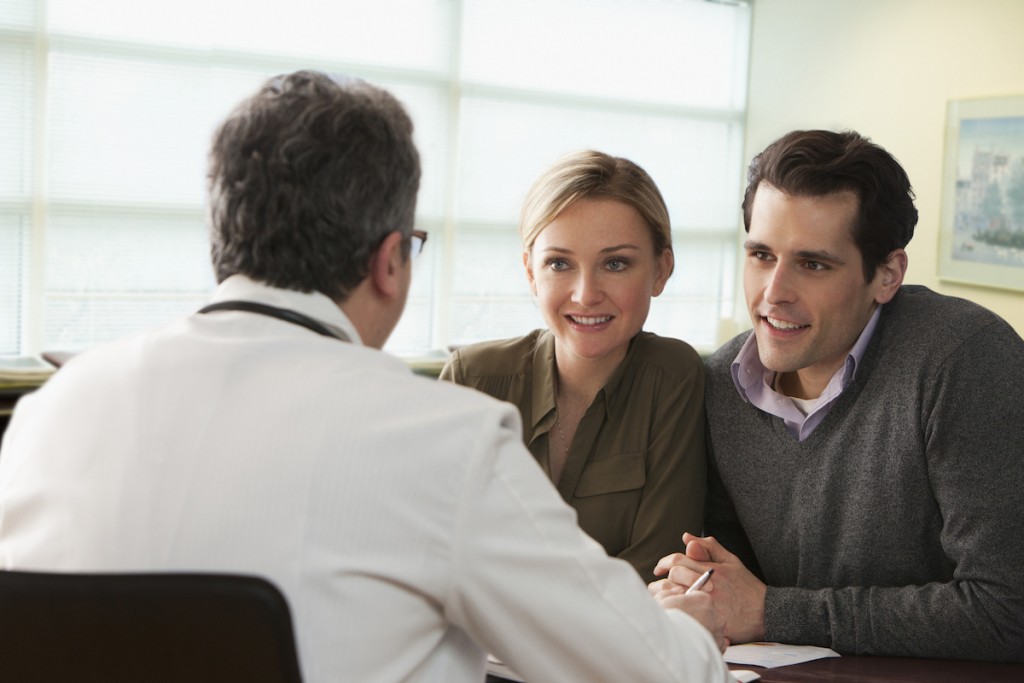 COVID-19 is a scary time for a lot of reasons, but it's especially anxiety-inducing for women who are trying to conceive. Fertility treatments are often time-sensitive, either because of the patient's age, her cycle, or both, but unfortunately, such medical treatments have mostly been put on hold by the state of New Jersey during the pandemic.
But there's good news—University Reproductive Associates (URA) in Hasbrouck Heights has been mostly open for business throughout the duration of the pandemic—albeit with a few key changes. For National Women's Health Week and for women who are thinking of becoming pregnant, BERGEN spoke with Adam Fechner, M.D., a Harvard-educated reproductive endocrinologist and infertility specialist at the practice, who explains the process of seeing an infertility doctor for the first time and what this pandemic has meant for both new clients and existing clients undergoing treatment.
Plus, he shares the current options available for couples who want to get pregnant and, understandably, just don't want to wait until this pandemic is over to start their families.
BERGEN: Can you give us a brief overview of the different types of fertility treatments available at your practice?
Adam Fechner: We are a full-service fertility center, so we do all the diagnostic testing, IUI (intra-uterine insemination), IVF (in vitro fertilization), [and we work with] donor eggs, donor sperm and gestational carriers.
BERGEN: How does initial testing work when you see a patient for the first time?
AF: If it's a couple coming in saying they've been trying for a year and haven't gotten pregnant, then the first step is consultation. We get the full history and evaluate the things that have to work properly, which usually involves a basic ultrasound and some blood hormone testing for the patient to check on her eggs. The partner schedules a semen analysis to check the sperm and then usually there is some sort of imaging to check the patient's anatomy, called a hysterosalpingography (HSG), where we put liquid dye into the cervix and take X-rays to confirm that the fallopian tubes are open and the uterus looks normal.
BERGEN: Which if any of these procedures have you been doing during coronavirus?
AF: We were never actually closed, but we were only doing pregnancy scans and things like that that had to get done. We initially paused new IVF cycles based on government recommendations, but now we are back up and running.
BERGEN: Why did you decide to stay open when so many other practices are closed indefinitely?
AF: The seven doctors in our practice have struggled with it a lot and are going back and forth; one day we feel like we should be open and the next day we hear bad news [about the virus]. On one hand, our society is telling fertile women to go and get pregnant, but if you need help doing so, then sorry, you have to wait indefinitely. There is some level of risk doing anything [right now], but I think it's important to at least have the option for women who need help getting pregnant, and that was the driving force [to staying open too].
BERGEN: What are some of the biggest changes you've made at your offices as a result of COVID-19?
AF: We are doing higher-level disinfecting in between patients of things like doorknobs and high-touch areas. We were obviously already cleaning exam rooms and disinfecting the ultrasound probes with disinfectant. Fortunately, a lot of the stuff we were already doing is helping to minimize the risk. But the biggest difference is now we're doing a lot of appointments by telemedicine via a video chat app, including follow-ups and new visit consultations.
The biggest change beyond that is the process of the morning monitoring. In the past, patients who need to come in for blood tests to monitor their cycle would arrive starting at 7am and come to the office and sign in and they wait in the waiting room and we call them in one at a time. Now we have someone stationed at the front door when patients arrive. They check in, we do a temperature screen and a symptom questionnaire and they wait in their car until it's their turn. It slows things down some, but we feel like we're doing things as safely as we can to strike the balance to be safe but also let people go ahead with their treatments.
BERGEN: Are you allowing partners into the exam rooms?
AF: We are not. We are allowing them to Facetime; we can film it or show the screen when we do the pregnancy ultrasound, so that's been difficult as we typically would allow the partners in for the embryo transfers after IVF. But I have told patients that if something like that is important to them, then they may want to wait a bit longer [for treatment].
BERGEN: A lot of fertility treatments are time-sensitive, especially for women of advanced maternal age. What advice do you have for these couples?
AF: Long-term, the mother's age is the biggest factor [in getting pregnant]. Telling someone that she has to wait a month to do a treatment cycle is not going to make a big difference. But now it's not just a month or two, it's quite some time, so we're finding patients who are starting to come back and realizing they don't want to wait indefinitely. But I like that that's the patients' decision. For patients who aren't comfortable coming into the office, there are a lot of resources available such as telemedicine appointments. In some cases, it may only be a matter of proper timing of intercourse or counseling that may increase the chances [of getting pregnant]. There are things that people can do now so they're ready for treatment when they're comfortable.
BERGEN: Have you had any success stories during the past two months or so?
AF: We definitely have patients getting pregnant! And more than half of our pregnancies are not from IVF—they're from [intrauterine] insemination, timed intercourse or less aggressive treatments. But we're seeing IVF pregnancies again too, so people are still going at it. It's hard to explain the uncertain nature of the virus as it relates to pregnancy, but there's no evidence that it's riskier for pregnant women than non-pregnant woman. That's a testament to how strong these women are and their drive to build a family.