Q&A With…A YouTube Educator
This math and science teacher at Lyndhurst public schools knows kids are watching YouTube anyway—so why not use it as a tool for online learning?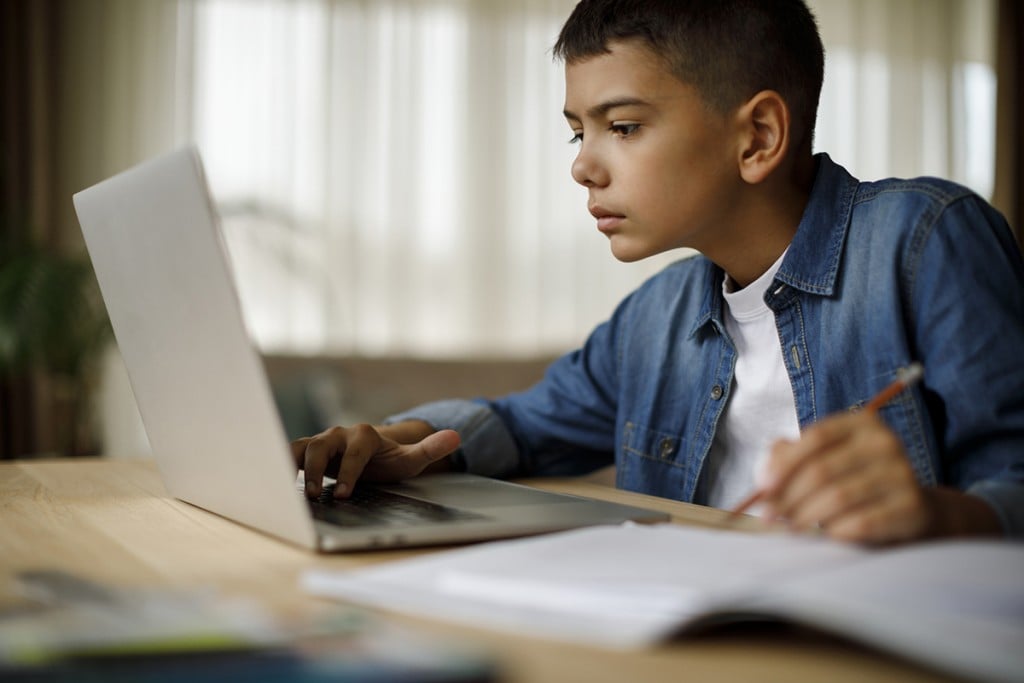 News flash for parents who may be struggling with "homeschooling" their kids while schools remain closed for COVID-19—educators are not trying to make your lives harder. In fact, through the clever use of technology and online resources, many Bergen County teachers—some of whom we've spoken to for this newsletter—are making the transition to online learning as seamless as possible for both students and parents.
This week, BERGEN chats with Felicia Lott, a fourth and fifth grade math and science teacher at Roosevelt School in Lyndhurst. Lott has been relying on technology to help her in the classroom since she started teaching six years ago. But now, with no end in sight to remote schooling, she's been using her education-related YouTube channel as an everyday tool. How? Lott records brief videos of herself teaching her "lessons of the day," and posts them to her channel so students (and parents) can refer to them if they need a refresher before moving onto new material. Here, Lott shares how this strategy helps her ensure the kids are actually understanding what they're learning—and why it takes the pressure off moms and dads.
BERGEN: Now that we're weeks into online learning, how has it improved?
Felicia Lott: It has gotten much, much better. The first week was like starting September again. I've been using Google Classroom since September, but it was brand new for the kids to access this at home; there was definitely a transition. Now they've gotten used to it. I've kept a consistent routine for the kids, which has helped these past few weeks. I keep telling them, 'next week is the same thing, just different content.' I get 100 percent of my students doing their work. They're doing a good job. I'm really impressed.
BERGEN: What's your typical day like now?
FL: The kids have between 8 and 9 a.m. to check in and mark themselves in on Google Classroom. Then I post a video of the "lesson of the day" on EdPuzzle, which is a platform where teachers can post a video and ask questions within a video that the kids have to answer before moving forward. It holds them accountable for [watching] it. Then I post the same video on YouTube, so they can look back any time if they want to brush up on the lesson. Finally, I give them two assignments via Google Forms based on that day's lesson. After part 1, I let them reach out to me on Google Classroom and ask me questions about what they got wrong. When they feel ready they move onto part 2, which is counted toward their classroom grade.
BERGEN: So you had a YouTube channel prior to the pandemic?
FL: Yes. I love playing around with YouTube, and I love the technology, but I only had so much time to do it. I'd be doing it during my prep [periods] and there were some videos where you hear the bell in the background. There were a lot of distractions! But now I've had more time to devote to it.
BERGEN: Tell us a bit more about how your YouTube lessons work.
FL: I used to teach five grade levels as a special education teacher, so I have different playlists for different grades. But for the purpose of online learning I've created my own videos. Every day I post a new video of the day's lesson that's between 8-12 minutes long—one for fourth grade, one for fifth grade—and that allows me to move forward with new content. It's my voice and actually me teaching and not someone else, so the kids feel like they're in my classroom. These videos really teach the lesson, so they don't need their parents to teach it to them.
BERGEN: How else are you engaging your students via technology?
FL: I'll do a Google Meet or Zoom session whenever I introduce new material. I purposely do it at 9:30 to give students time to watch the lesson of the day so they can pop on [the chat] if they have questions. And every Friday at noon I also do a giant Zoom with all my 4th and 5th graders and we do something fun; a dance party, workouts. It brings the class together and ends the week. They love these Zooms and seeing their friends.
BERGEN: What's your best piece of advice to other educators and parents who may be struggling right now?
FL: This is the time to learn the tech and give it a try. If you don't know how to make your own videos, you can simply use others'. There are a lot of resources out there like YouTube and I encourage teachers to try it. My advice for parents it to let their kids do this work on their own. The teachers are doing their best to prepare lessons, so let the kids do it on their own so they feel like it's a normal school day.