Q&A With…A New Mom
Expecting the unexpected, all right! Meet one Bergen County mom who birthed her second child during COVID-19.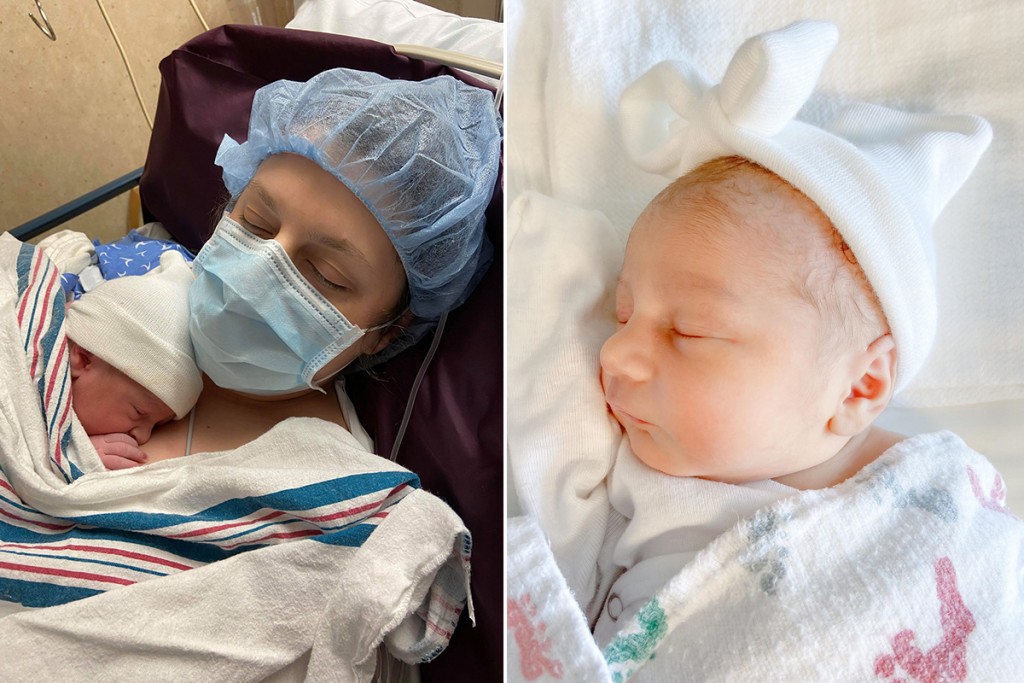 Having a baby always brings with it some stress and anxiety, but giving birth during a global pandemic? That's another level. But unlike with big events that can be postponed until after the so-called coronavirus dust settles, the stork doesn't wait!
Below, a local mom from Township of Washington, Maria Liberti, shares what it was like to welcome her second child, Emma, during COVID-19, including hospital protocols, the major differences between her first birth and her second and more.
BERGEN: Congrats, Maria! Let's start with the basics. Where and when did you give birth to Emma?
Maria Liberti: Emma was born on April 9 at The Valley Hospital in Ridgewood.
BERGEN: Was your husband allowed in with you for the birth and your hospital stay? And if so, were there any limitations on what you and he could do there?
ML: My husband, Michael, was allowed with me the entire time. However, we were confined to our room and were not allowed to leave. When we arrived at the hospital, we were screened before entry. We had our temperatures taken and were asked several questions, including whether we have been in contact with anyone confirmed or exposed to the virus, whether we traveled outside the U.S., etc. We were ultimately cleared and allowed up to Labor and Delivery. Luckily, we were not tested for COVID.
BERGEN: Did you and/or your husband have to wear masks at the hospital?
ML: I had a scheduled Cesarean section and I was required to wear a mask the entire time—both during delivery and throughout my entire stay. My husband had to wear a mask the entire time too. We also both had our temperatures taken multiple times throughout our stay, but luckily we never developed any fever.
BERGEN: On top of nerves around having a baby, were you extra anxious due to the virus?
ML: All of the doctors, nurses and staff were wonderful and did their absolute best to make us feel in the moment, safe, healthy and excited, but it was eerily quiet at the hospital. We couldn't wait to get through the stay and make it home safe, and we couldn't help but wonder whether we would be exposed to coronavirus [while there] despite the precautions.
BERGEN: Aside from visitors being prohibited, what were the biggest differences between your hospital stay this time around and two years ago when you had your son, Luca?
ML: My husband and I joke that our hospital stay for the delivery of our son felt like a vacation; we had lots of visitors and enjoyed all the help provided. It was very different this go around with our daughter! There were no menus from the cafeteria; we accepted whatever food was delivered. There also was no hospital photographer on the floor, so we had to take our own newborn photos to capture the moment. A company called Fox Images Photography offered to edit some photos of Emma (and photos taken by other mothers giving birth during the pandemic) for a project called "Labor in the Time of Corona."
BERGEN: How long was your hospital stay overall?
ML: I was discharged less than 48 hours after giving birth rather than the usual four-day stay for a C-section. It was physically hard leaving so early, but it was the right decision for us for our peace of mind.
BERGEN: Since you brought Emma home in mid-April, have you had any support or help from relatives?
ML: We were lucky enough to have my parents self-quarantine for weeks before our delivery so they could watch our son while we were delivering our daughter and then help us again when we came home. However, we have a ton of family members, siblings included, who haven't been able to meet the baby other than through visits at our sliding glass door. We miss everyone tremendously and cannot wait for us all to be together and for our baby girl to officially meet her relatives in person!
For more birth stories about some of Bergen County's "COVID babies"—including a set of triplets!—check out the June issue of BERGEN magazine.