Q&A With…Two Docs About 2020 Flu Shots
When should you and your family get the flu vaccination this season, and why is it important to do so during the pandemic? A local pediatrician and a local internist tell all.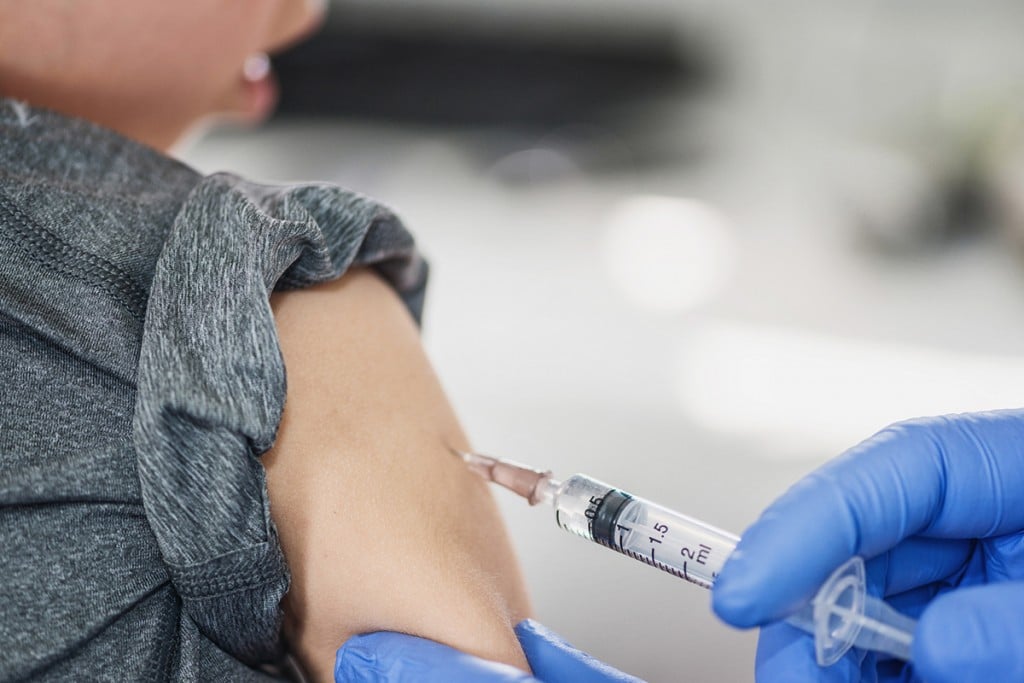 The experts are already sounding off: We should prepare ourselves for an especially rough winter due not only to a typical flu season, but to the ongoing coronavirus pandemic as well. That's why medical professionals are urging everyone over the age of 6 months to get a flu shot, to—at the very least—protect themselves from the flu while a COVID vaccine is (hopefully) in the works.
As is often the case with health issues, there are plenty of conflicting opinions on the flu vaccine of 2020, such as when during the season we should get it, whether or not it's safe to go to a medical office right now for non-emergencies and if the vaccine can make certain populations more susceptible to the flu (or coronavirus). So, BERGEN asked two physicians—Erika F. Tievsky, D.O., of VMG Primary Care in Paramus and Chris Nicpon, M.D., of Valley Pediatrics in Ramsey and Ho-Ho-Kus—to answer our most burning flu shot Q's.
BERGEN: When should folks get their flu shot this season? Is September too soon?
Erika Tievsky, D.O.: The ideal time is late September/early October. The flu season usually ranges from October to March and at times has continued through April (like it did this past season). August and early September may be too soon because the protection declines over time (due to decreasing antibody levels and mutations of the virus).
Chris Nicpon, M.D.: The key with the flu vaccine is to administer it late enough so that it lasts the whole flu season but early enough that it has enough time to become effective before the first outbreaks. Our office is giving the same advice as the Centers for Disease Control and Prevention, which has not changed its recommendation on timing this season. The flu vaccine should be given in September or October.
BERGEN: Is it true that you should get the vaccine earlier in the season this year because the vaccines may run out due to high demand?
ET: It is unlikely that they'll run out, especially if you get it in October. From my experience, the batch usually lasts until March.
CN: Based on the conversations I've had with the pharmaceutical companies that produce the flu vaccines, a record number of them have been ordered by doctors in order to accommodate this expanded demand. Currently, there are no reports from manufacturers that there will be shortages or delays in distribution, but we are certainly encouraging our patients to start scheduling appointments to have the vaccines administered sooner rather than later just in case.
BERGEN: Are there any patients who shouldn't get the shot?
ET: Babies younger than six months and/or those with severe, life-threatening allergies to the flu vaccine or any ingredient in it. Those with egg allergies can receive a different type of flu vaccine that is manufactured without the use of eggs.
BERGEN: What are the chances of a person simultaneously contracting both the flu and COVID?
ET: It is very possible to contract both at the same time, which will bring up some challenges to healthcare providers. The chances of contracting both viruses are much higher in the certain populations: those with chronic conditions such as lung disease (including asthma), kidney disease, liver disease, cardiovascular disease, blood disorders, those with Diabetes Mellitus, women who are pregnant or will be pregnant during the influenza season, those working in health care, nursing home residents, older people (50 +) and those that are immunocompromised.
CN: The flu and COVID-19 are both contagious respiratory viruses; therefore, it is possible to contract both. Of course, the likelihood of this is influenced by a number of factors, including vaccination rates and efficacy as well as the prevalence of each virus in the community this season. Reducing the possibility of contracting either or both viruses should be a primary goal. Prevention will be key—continued mask wearing, social distancing and frequent handwashing have been important in the reduction of COVID-19 spread, and these measures will also have a positive effect at decreasing the spread of influenza in the community.
BERGEN: What precautions should patients take and what protocols should they follow when getting the flu shot amid COVID?
ET: We have changed the way we are seeing patients in our practice and are planning to continue in this manner when administering the flu vaccine. For example, we are not allowing walk-ins—we have everyone making appointments ahead of time and are screening them the day before by asking them questions regarding symptoms, exposure, travel, etc.
CN: Families should take prudent measures when they bring their children in for flu vaccines, but no more so than we would recommend in any other environment where there is potential exposure to other people. Continuing to wear masks and frequent handwashing remain the most important ways to reduce your risk of contracting COVID-19. It is also a good idea to contact your pediatrician's office and ask if there are safety protocols in place such as dedicated office hours for flu vaccine administration, social distancing measures and office staff wearing PPE.
BERGEN: What do you tell patients who say the flu vaccine gives them the flu?
ET: The flu shot cannot "give" you the flu, as it is made from dead viruses. The reason you may have some flu-like symptoms is due to the immune response that the vaccine produces. For those that may not get the full protection from the vaccine due to their lower immune response, they may end up with some mild symptoms. Also remember the flu shot protects you against the flu but will not protect you against other flu-like illnesses such as the stomach flu, the common cold, bronchitis and pneumonia.
CN: Parents should be reassured that the injectable flu vaccines are made of inactivated viral components that stimulate an immune response in the recipient without actually injecting live virus into the patient. A small percentage of people who receive the flu vaccine may experience side effects ranging from pain at the injection site to fever, rash and malaise, but these side effects are usually short-lived and self-limited, and, critically, are much less impactful than an actual flu infection.
BERGEN: Is there anything else about the flu that we should know?
ET: It is important to note that deaths can occur from the flu, especially in older adults, those with chronic conditions and those living in nursing homes. These people have a 50–60 percent chance of being hospitalized from the flu and its complications, especially pneumonia. Furthermore, 70–90 percent of flu-related deaths have occurred in those older than 65.
CN: Flu vaccines are extremely important for everyone, but for individuals who are in high-risk categories, they can be lifesaving. The high-risk categories are defined as those 65 and over, those under age 6, and anyone with a chronic medical condition or immunocompromised state. Flu vaccines may not offer 100 percent protection, but they still can provide a degree of partial protection that produces minimal symptoms for a shorter duration as compared to those individuals who do not get a flu shot. I strongly encourage parents to discuss any concerns they have with their pediatricians—that, along with making sure their kids stay healthy, is what we are here for!