Ramzan Zakir, M.D.
"Medicine was my father's dream for me, and I always had a deep interest in science." — Ramzan Zakir, M.D.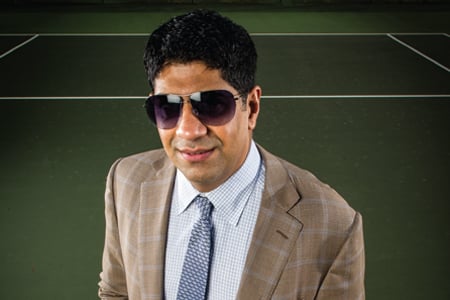 The moment Ramzan Zakir, M.D., knew he'd specialize in cardiology came early during his residency at the University of Medicine and Dentistry of New Jersey, when he unblocked the clogged artery of a heart-attack patient, saving the man's life. On staff at Saint Peter's University Hospital since 2009, the 39-year-old lives in South Brunswick Township with wife Nusheen; sons Humza and Husan, 9 and 7; and 6-month-old daughter Jannah.
Did you ever consider another profession?
I can't remember a time when I didn't want to be a doctor. My father and mother, Mirza and Azra, immigrated to Bergen County from Pakistan in 1968. Dad was a civil engineer, and medicine was his dream for me. This influenced my decision, but I always had a deep interest in science, so the connection was there. That said, I briefly considered becoming a pro tennis player.
When did you fall in love with tennis?
Third grade. I became a McEnroe fan while watching matches on TV. We had a ping-pong table in the basement, and my father played tennis. When he saw me hitting little balls indoors, he took me out to whack the bigger ones instead. I played first singles for Bergen Catholic High School, received All-League and County recognition and got a few college offers, but ultimately ended up shooting basketball— strictly recreationally—at Rutgers University.
Athletics seem to be a big part of your life.
I love the competitive aspect of sports, and they're a great escape from a stressful work schedule. Currently I play tennis several times a month with friends, but I'm joining a league for weekly matches. I also coach my sons' Little League teams and play basketball on Sundays.
Any other hobbies?
Traveling is fun. My wife and I went to Paris when I presented a case on a new cardiovascular device for opening arteries—and, as a result, we now have our little girl! —F.M.