Ratatouille and Goat Cheese Napoleon
Recipe from Latour in Ridgewood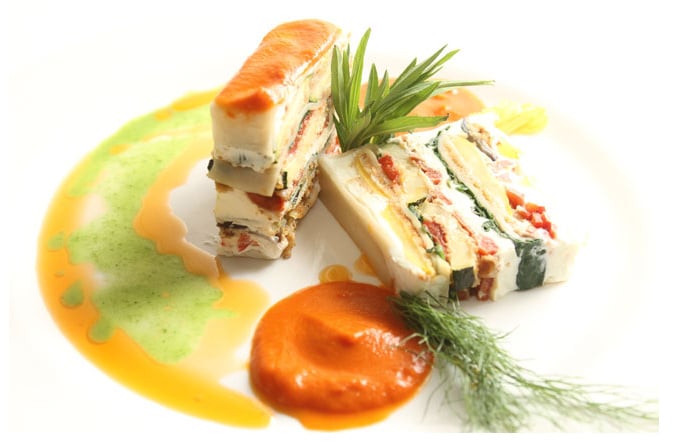 "The Ratatouille Napoleon is a wonderful way to display the style and flavors of cuisine in the south of France with fresh vegetables and creamy goat cheese." —Chef and owner Michael Latour
FOR THE TOMATO COULIS
INGREDIENTS
2 28-ounce cans plum
tomatoes (San Marzano)
3 cloves garlic
Pepper to taste
Salt to taste
4 ounces olive oil
1 large carrot, diced
White wine
1 medium leek (white part only)
DIRECTIONS
Heat olive oil in a large sauce pan. Add garlic, brown lightly, then add carrots and leeks.
Sweat vegetables for 2 minutes, deglaze with white wine and reduce.
Add tomatoes, water and salt and pepper to taste.
Cook on low flame for about one-and-a-half hours.
Let cool and puree in a blender.
FOR THE BASIL OIL
INGREDIENTS
10 basil leaves
4 ounces olive oil
Salt to taste
Pepper to taste
DIRECTIONS
Puree ingredients in a blender.
FOR THE VEGETABLES
Place the bread crumbs on a plate or shallow bowl. Place the flour on a plate or shallow bowl. Combine the eggs and a splash of water in a shallow bowl. Heat a large saucepan over medium heat. Add enough oil to coat the bottom of the pan. Add the eggplant slices to the flour and turn to coat, shaking off the excess flour. Next, dip the coated eggplant in the beaten egg and then the bread crumbs, turning to coat. Add to the hot saucepan and cook until the eggplant is tender and golden, turning once. Repeat this procedure with the remaining eggplant, zucchini and squash, adding oil as necessary. After sautéing, set the vegetables aside.
Prepare the pasta sheets according to package directions for al dente.
Assembly: Heat the oven to 325° F. Add a heaping spoon of tomato coulis on the bottom of an ovenproof baking dish. Layer the sautéed vegetables and roasted red peppers, alternating with the cooked pasta, crumbled goat cheese and Pecorino Romano cheese. Bake until heated through, about 45 minutes. Garnish with the basil oil. Cut into smaller pieces for hors d'oeuvres or larger pieces as an entrée. Serve warm or cold.
Prep time: 30 minutes; total time: 2 hours
Related Read: Garden Party Recipes