Reaching out to Chinese patients
A new health initiative targets this rapidly growing population.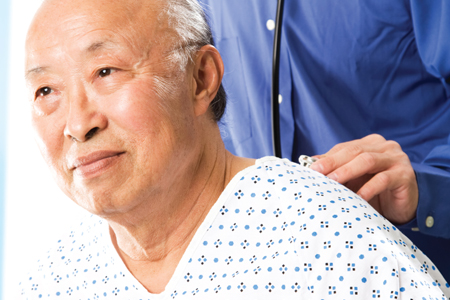 If you are Chinese and living in Morris and Essex counties, you may feel the need to travel to New York City, with its large Chinese population, to find a doctor and medical services. But thanks to a new program at Saint Barnabas Medical Center, that's no longer necessary.
New Jersey is home to the country's fourth-largest Chinese population—a population that has jumped 33 percent in the last 10 years. In some areas of Morris and Essex, the Chinese population makes up as much as 10 percent of the total. Faced with barriers of language and culture, many Chinese fail to take full advantage of appropriate health care services.
To better serve this community, Saint Barnabas Medical Center has launched a new Chinese Health Initiative as part of the Center for Asian Health and Wellness. Su Wang, M.D., M.P.H., an internist, came to Saint Barnabas in July to serve as medical director of the initiative, after many years serving the Asian community at the Charles B. Wang Community Health Center in New York City.
"Now, here in New Jersey, we can offer medical care with fluency in Chinese and sensitivity to Chinese culture," says Dr. Wang. Chinese people, more than some other Asian groups, tend to prefer using their native tongue when discussing private issues like health, says Dr. Wang, who was born in the United States and speaks Mandarin Chinese. "Even those who speak enough English to do well in the workplace are more comfortable in their own language when it comes to health care," she says. The new program will make healthcare navigators and translators available to ensure that patients understand their conditions and their doctors' recommendations. Research has shown that this can dramatically improve both compliance and outcomes.
Many Chinese also utilize traditional Chinese medicine practices, such as acupuncture and herbal medicine. "For them this is not a different kind of health care; it's just part of their everyday lives," Dr. Wang says. "Physicians may not be aware of it and it can impact their medical care." There are also cultural customs and beliefs that must be accounted for. For example, new mothers may observe a traditional postpartum period in which they remain home for one month after giving birth. "There are special soups they eat, and they avoid exposure to anything cold, including ice in their drinks," she says. "But for all stages of life, concepts such as yin-and-yang and the hot and cold properties of foods—unrelated to their actual temperature—are part of a deep belief system about health and can be mystifying to many health care providers. So both language and cultural factors can be barriers to Asians getting optimal medical care, and we hope to address both."
The Chinese Health Initiative will conduct outreach through Chinese community associations, language schools, places of worship and community centers, and will be promoted at area wellness fairs and with an open house in November. "The goal is not just to serve as a bridge to high-quality medical care," says Dr. Wang, "but also to increase overall health awareness and improve health outcomes in our community." —D.L.