REBUILDING AFTER SANDY
Volunteers Repair Damaged Homes Along the Jersey Shore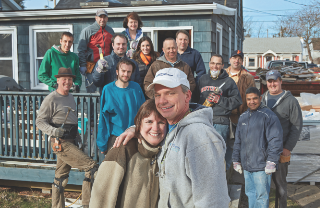 When Bob Mulcahy isn't busy with his duties as vice president of Facilities, Safety and Environment of Care for Saint Peter's Healthcare System, you'll usually find him out on the ocean, fishing with his buddies. So when he learned that one of those friends had his home destroyed by last year's Superstorm Sandy, Mulcahy offered to help rebuild it. He didn't know it then, but this initial gesture of support would quickly turn into a second "job," as he and others from Saint Peter's and elsewhere have now worked to restore seven homes, with two more in line, up and down the Jersey Shore.
Mulcahy, 54, and his wife, Barbara, live in Frenchtown and have a grown daughter, Eileen Ryerson. Right after the storm, he found out that a fishing buddy in his 70s had been flooded out of his home in Waretown and did not have enough insurance to cover the dam- age. Mulcahy had owned a construction company in the 1980s—"and I still have all the tools," he says. He took a look at the damage. "I called a few friends and we all went to help," he says. Though they didn't all have construction experience, "they followed directions pretty good," Mulcahy says with a laugh.
Working nights and weekends, the group tore out the water-damaged flooring and sheetrock and replaced the insulation. But first they helped cart away all the man's destroyed possessions. "He had lost everything and it was all piled on his front lawn," he says. "Talk about heartbreaking."
While working on that house, he got a call from another fishing friend in need and his team—which also included fellow Saint Peter's employees such as safety director John Arent and Mulcahy's son-in-law, Matt Ryerson, a hospital security guard—started work there as well. Then he learned that the mother of a friend of his daughter had been "really hit hard." He couldn't say no, but he needed more help.
He approached Ronald C. Rak, J.D., president and CEO of Saint Peter's Healthcare System. "I told him what we were doing and asked if we could run it as a hospital venture because the liability was now an issue," Mulcahy says. Rak agreed. "Without Mr. Rak, nobody would be helped here," he says. "He greatly affected the lives of these people, even though he'd never met them. I can't thank him enough."
Mulcahy's band of builders now num- bers more than 30. (As a Christmas present, he bought many of them new tool belts.) They only accept projects involving someone's primary residence, typically the home of an elderly person or family, that is underinsured and, as he says, "in dire straits and really in need of our help." Until recently they bought all the materials themselves, but in January they received a grant from the Robin Hood Foundation for $25,000 to help cover costs.
Why does he devote so much time, money and effort helping others? "It's just the right thing to do," says Mulcahy. And he believes it's actually not very different from the mission of the health- care system he works for. "People come to Saint Peter's for one thing: hope," he says. "They all want hope that their child will be OK, that their surgery will go well and they will be fine. We just transported that mission 60 miles down the parkway, to give hope to those victims of Sandy. How can you not help them?" —D.L.
VOLUNTEERS ON VIDEO
You can see Bob Mulcahy and his team of volunteer builders at work repairing a home damaged by Superstorm Sandy at middlesexhealthandlife/restoretheshore.