Reclaim Your Closet
Organizers explain 5 ways to make wardrobe and clothing storage make sense again.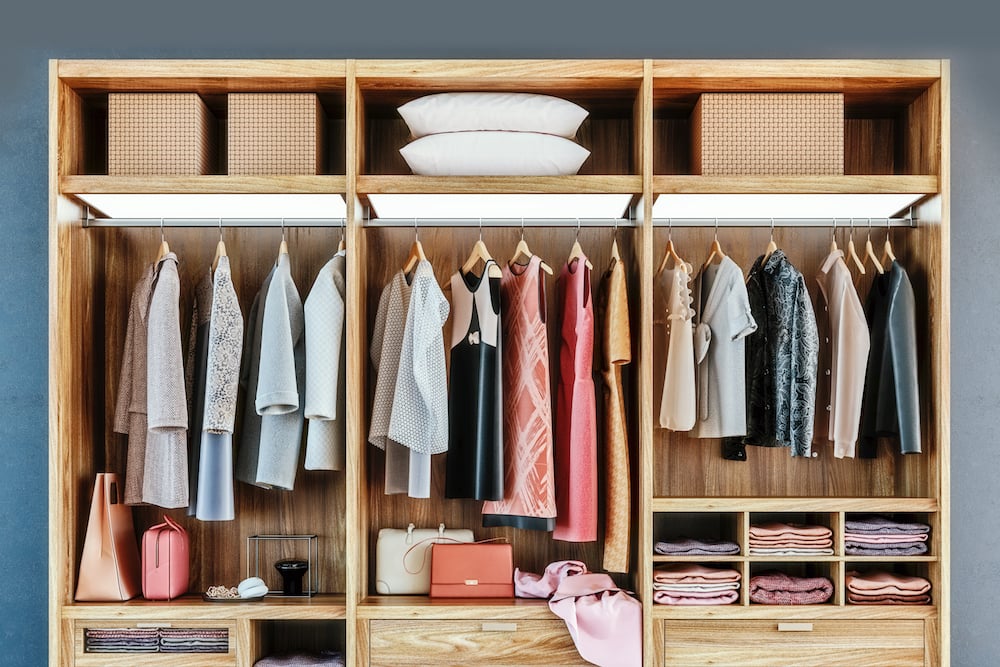 Who says cleaning can only happen in the spring? As the kids return to the classroom with fresh notebooks and new backpacks, you can give yourself a fresh start too with a renewal of your closet. BERGEN enlisted the help of two Bergen County-based professional organizers, who share tips on how to "make over" your closet for the season, and how best to store and display fall and winter clothing, just as the chill of September returns.
DONATE OLD OR ILL-FITTING CLOTHES.
The first step is getting rid of what no longer works for you. If you need an entire overhaul, start at one end of your closet, look at each item individually and ask yourself if you still like it and if it is still a flattering fit on you. If not, or if the item is in bad condition, you haven't worn it in a year or two or it's just not in style anymore, put it aside in a box or bag for donations. "I think it's important to let things go and realize they will end up in the hands of people who want or need them," says Lisa Harris, founder of Paramus-based Organize With Lisa. Her favorite places to donate to include theater companies, missions and facilities that collect business-wear for low income people. But other local charities, such as the Lupus Foundation, Vietnam Vets and the Salvation Army, will come to your home and pick up your donations to make it even more convenient.
STOW AWAY SUMMER CLOTHING.
Next, ensure that your off-season clothing is stowed away so that only your current clothing is using up valuable closet space. Our experts recommend storing summer clothes in plastic bins labeled by item (dresses, tops, swimwear, etc.) and putting them in an extra closet. "Be sure to vacuum these closet shelves and floors and wipe the walls to remove dust at least once or twice a year," Harris adds. If there are no extra closets in your home, store labeled bins in an attic or under the bed, but never in the basement. "Basements are often too damp," advises Barbara Maniscalco, owner of Barb's Home Organizing in Wyckoff.
ENSURE THAT EVERYTHING HAS ITS PLACE.
Perhaps the most imperative step in closet organization is, well, actually organizing what you have. This means storing like items together so that they are easy to access. Maniscalco suggests putting bulky coats and jackets in a separate coat closet (and on sturdy wooden hangers) because they take up a lot of space, but keeping blazers, denim jackets and leather jackets in your main closet, as you'll likely put outfits together with them. She likes to hang sweaters on felt hangers—"they're much easier to see there than in a drawer," she says, and won't leave marks on the shoulders—and to save drawer space for items such as athletic gear, T-shirts and pajamas. Meanwhile, fold jeans with the pockets facing up and either place them on shelves or, if you have the space, hang them on pants hangers. Maniscalco recommends categorizing denim by wash (light to dark), while Harris prefers sorting jeans by fit (bootcut, skinny or flared).
TIDY UP ACCESSORIES. The worst thing about getting dressed for cool weather is not being able to find your scarf or hat when you need it. To ensure this doesn't happen, organize items by family member—Harris likes an over-the-door pocket organizer, while Maniscalco recommends small- or medium-sized decorative bins or baskets. If you're going the latter route, fold each hat and scarf and stand them up sideways in containers so you can find what you're looking for in a hurry.
As for boots, both organizers recommend placing boots in see-through plastic storage containers to keep them clean. "The Boot Box from The Container Store in Paramus keeps boots dust-free, and they can be stacked and labeled for ease of identifying each pair," Harris says. Or you can arrange them "standing next to each other at the bottom of the closet," says Maniscalco, with an inexpensive item in each shoe to hold its shape. Pro tip: Roll an office file folder diagonally and insert one in each boot to keep it upright, or cut a pool noodle for the same effect.
GO SHOPPING. We don't mean for more clothes (though if you've identified a need, who knows?). Spending just a few bucks on new organizational bins can make all the difference in your closet space. Maniscalco likes Target in Paramus for bins and baskets in a large variety of sizes and colors, and Harris is a big fan of The Container Store, located on Route 17 in Paramus. "It has everything I need when I'm putting together a 'gourmet closet' for my clients," she says. The "Sweater Box," "Boot Box" and "Shoe Box" are among her favorite products because of their practicality and functionality. Other good options for those who want to create their dream closet without an expensive renovation? The Home Depot and Lowe's. Just don't buy containers until you've sorted through what you have. "Most of the time you end up buying more than you need and in the wrong sizes," Harris says. "Containers should be purchased only after the decluttering process."
"I think it's important to let things go and realize they will end up in the hands of people who want or need them." —Lisa Harris, owner of Organize With Lisa, Paramus
"Hang sweaters on felt hangers in your closet. They're much easier to see there than in a drawer." Barbara Maniscalco, owner of Barb's Home Organizing, Wyckoff